Mylar bags are famous in the food industry as many new or famous brands have been using them. These bags have become even more popular these days. Just check out any retail store, and you will find many food items presented in these bags. The question that comes up now is, can you use mylar bags with FoodSaver? Well then, if this inquiry has been roaming around in your mind for a while, this article is for you. To help you better understand, we will take you a closer look at these trendy bags!
A Brief History and Definition of Mylar Packaging Bags
Mylar packaging bags are a packaging solution for any product you can use in your business, especially food. The bags are made of durable, high-quality packaging material to protect food items from external moisture, odor, and heat. By using these excellently designed bags, you can keep your edibles fresh for a longer period of time. Even better, the bags can extend the shelf life of your food items as well.
You can get mylar bags to be available in a variety of sizes and shapes you need. You can have a different bag for each food item you have. Moreover, the custom mylar bags from Instant Custom Boxes meet the standards and specifications of federal and state policies regarding food-grade materials. You know that when your food items are inside these bags, they will be safe and protected. Additionally, your food items will not come in contact with any materials that might be unsafe for consumption.
What Different Types of Mylar Packaging Bags You Can Get?
You will find these Mylar packaging bags available in different sizes and designs. Eventually, you can get the chance to apply the design that suits every need you have. For example, you can design the bags with:
Punch holes for the display
Come with tear options
Resealable tops
A child protection option on the design for additional protection
In simple words, it is fair to say that these bags are sturdy to accommodate any type of food product. You can pack them securely inside the bags from solids, liquid, jelly-like items, powder, to granules.
Which Brands Use Custom Mylar Bags?
Until now, the food and consumer goods industry are the most common industries using custom mylar bags. You can easily see the bags contain groceries that customers can take out of the store.
Another great thing about mylar packaging bags is that they are very convenient. In fact, these bags can store groceries safely for a significantly longer period. Hence, if you are running a food brand or a grocery store, you don't have to worry about sacrificing quality when using these fantastic bags.
Interesting Facts about Mylar Packaging Bags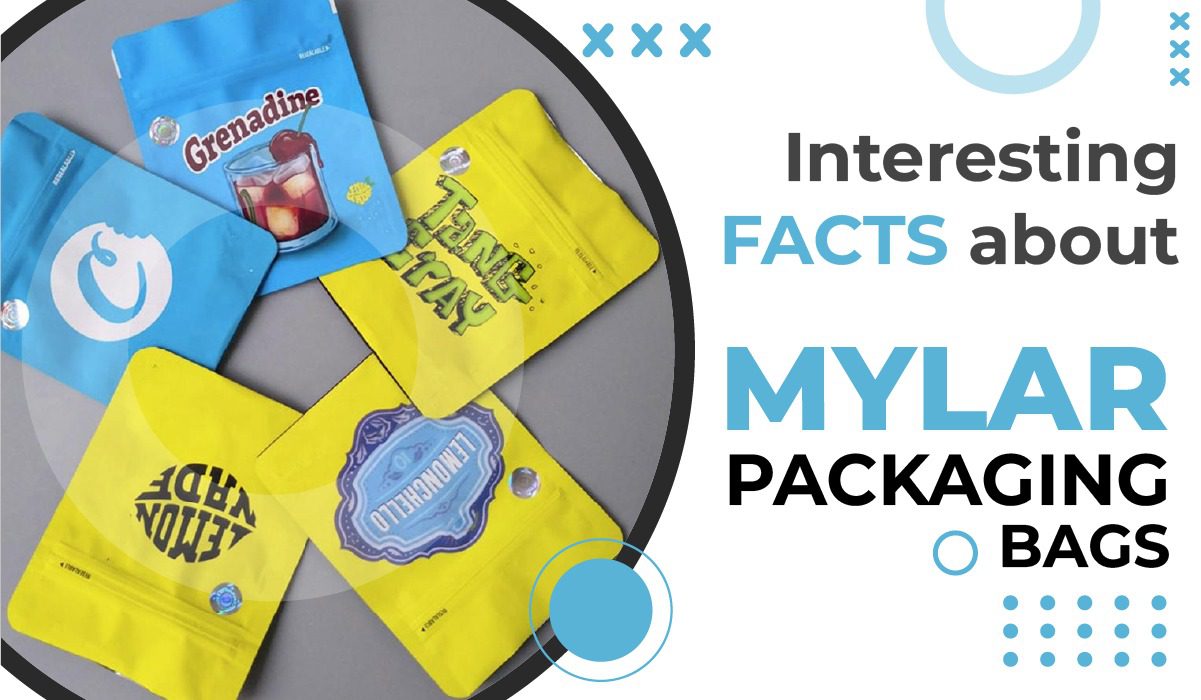 One of the most exciting facts about mylar packaging bags is that they have been used for various purposes throughout history. This fact itself should tell you everything about how safe they can store your food items and how long you can store them! The bags were first released to the public in the 90s and were especially popular with survivors and end-of-life predictors.
The best thing? As soon as you open the bags, the food items will look like new. Nothing goes in or out, so they will remain the same in terms of quality. Or you also read our blog which is about Why Mylar Bags are the Best Food Storage Solution in 2023.
Is It Safe to Use Mylar Packaging Bags?
Mylar packaging bags from Instant Custom Boxes will be made from premium quality and food-grade materials. Our packaging experts will help you make bags that comply with all federal and state food contact regulations. This way, the bags are an assurance to protect your food items from rodents, heat, moisture, and dust. Additionally, these bags work well in protecting your food products from other factors that may compromise their integrity.
In other words, we can confidently say that these bags are the safest food packaging your brand could ever have. In addition, they can accommodate almost all types of food in the market. Here comes the best part, these bags will display your food products transparently. Thus, your market customers can see what they are buying. Mylar bags can be self-supporting or die-cut for hanging if available on a transparent or transparent front display. What's more, you can also print the required labels and brand logo, along with the necessary label information.
If you are wondering about the coloring and printing processes of the bags, well, you shouldn't be. The processes will be done only on the outside of the bags. Yes, the processes will not penetrate or touch your food products inside. Therefore, these bags can be a safe, clean, and efficient packaging material. Moreover, you also read our blog things to Know about mylar bags.
Can You Use Mylar Bags with Foodsaver?
Well, you can use the FoodSaver machine to reseal mylar bags that come in durable, thin polyester or hard plastic bags. On the other hand, you can never reseal the bags that have potato chips and pretzels inside as they will be crushed.
Do We Need to Seal Mylar Packaging Bags?
Mylar packaging bags will need to be heat-sealed to protect your products effectively. In addition, you should not forget to add an oxygen scavenger. The most effective you can get are oxygen scavengers.
Mylar Packaging Bags vs. FoodSaver – Which One?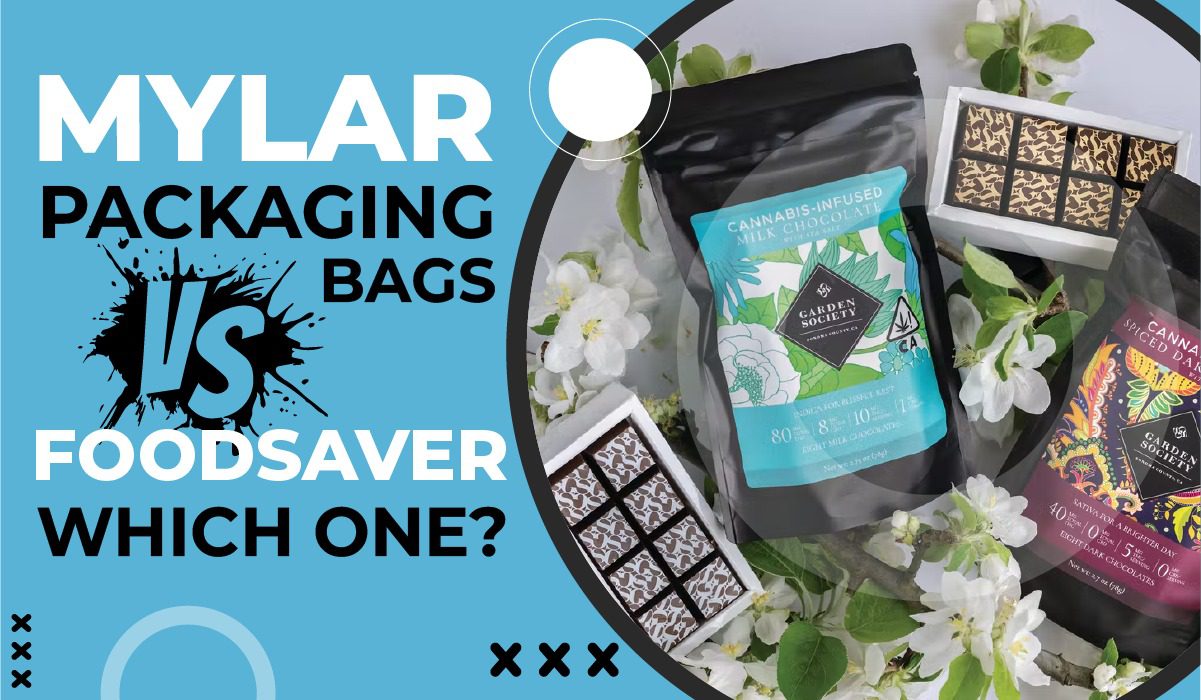 Well, both mylar packaging bags and FoodSaver will keep your food items fresh. On the other hand, you would want to know some important differences between these bags.
Well, the fact is, neither one of them is better than the other. Yet, one of them may be desirable for end-use.
FoodSaver can be very suitable for short-term meat storage and placed inside the freezer. Additionally, it prevents burns in the freezer and protects the meat better than the Mylar bag.
On the other side, the FoodSaver might not be the best option for storing dried food for a longer time. So, if you plan to store groceries for more than a year, a Mylar bag will surely be a better choice.
Over the course of hours, the FoodSaver bag can be leaked and allow air to enter the food items inside. Another thing you should consider is that FoodSaver will be made of see-through material. In this context, heat and light can turn out to be significant issues. Why?
If a food item is stored for a very long time, light can seriously affect the quality of the food. However, the Mylar bag is opaque with little leakage and will effectively block the light.
So, we should say that depending on the situation, Mylar packaging bags can certainly be better than FoodSaver. Or vice versa.
What Custom Mylar Bags Offer to Your Food Brand?
So, now that you know more about custom mylar bags, you might be wondering about what these bags offer to your food brand. Let's dive in.
Increase your product value by appealing to the customers' sensibility
As the name describes, custom mylar bags from Instant Custom Boxes are highly customizable. This means you can specify the colors, sizes, designs, and labels as you like. These complete customization options will help in improving product quality and adding value.
After the product itself, we know how the product packaging is an important factor that influences the customers' purchasing decisions. These exceptional bags can increase your product value by appealing to the customers' sensibility. How? Keep on reading!
We know that most customers today prefer products made from more environmentally friendly materials. Mylar bag is made of metalized polyester, but it is durable and safe. Die cut mylar bags are highly recyclable, reusable, and biodegradable. Therefore, those customers who are seeking to reduce carbon dioxide emissions will easily get attracted to your food products in this bag. In addition, you can also convert the bag into your brand ambassador. You need to print it with your company logo, design it with company colors, and print the required food labels.
Provide product transparency to gain customer trust
Modern customers are no longer dependent on product photos and labels. Instead, they probably want to inspect the product by themselves. You can design mylar packaging bags to provide a transparent window that allows customers to see your products inside. Alternatively, you can also use a transparent Mylar bag to make it easier. You tell your customers that you are offering your food products honestly and transparently by making the effort. As a result, you can gain customer trust without any hassle.
Where Can You Order Mylar Packaging Bags?
You can get the bags in hardware stores and retail stores. On the other hand, if choosing the one that suits your needs is a hassle, you can find an expert packaging supplier. Instant Custom Boxes ensures that our mylar packaging bags will meet industry standards and required security guidelines. In addition, we offer complete customization options to let you design the bags.
Another great thing is that we have a special discount offer and the best free design support you can enjoy. Are you worried about the shipping fee? You shouldn't be! Instant Custom Boxes will deliver these outstanding mylar packaging bags to your doorstep for free! Contact our customer support now!