To make those customers purchase your bakeries, you need attractive white bakery boxes with window. Learn the ways these boxes level up your business here!
We all love to get bakery items for ourselves or present them as delicious gifts. Bakery items always drive customers with their delightful product display. In order to make those customers purchase bakeries from your brand, you need to deliver the most attractive product display. Unique white bakery boxes with windows will be your best option in this regard. But how do these boxes work in leveling up your bakery business? Let's dive in.
Custom Bakery Boxes with Window – Are They the Best Option?
If you frequently deliver your bakery items to your customers, you surely know the importance of durable and appealing packaging boxes. Discreet layered materials are the main line of product protection on the trail.
The use of customized bakery boxes for most shipments is a motivator. These boxes are suitable for good marketing and successful advertising purposes. What's more, choosing these boxes will give your bakery brand distinct advantages. Eventually, the innovatively attached window shape on the boxes will make your bakery items stand out. In the ocean when your competitors use standard boxes for presenting their bakery items, these boxes will show off your bakeries better.
So we can clearly say, yes, these boxes are the best option for presenting your bakery items with pride!
The Fantastic Ways to Present Your Bakery Items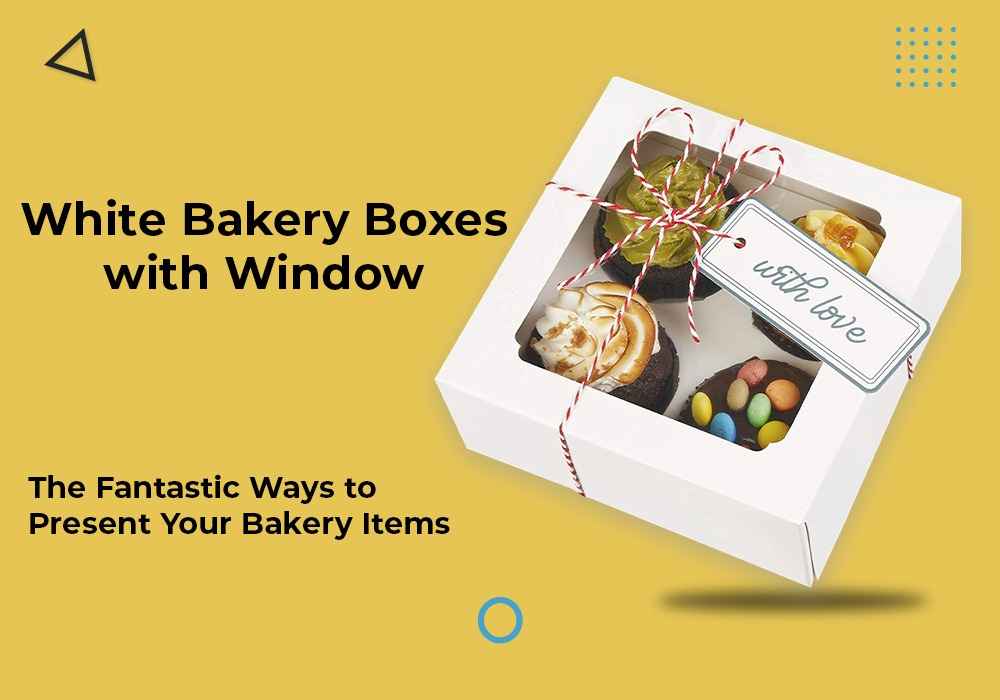 When you think about bakery boxes, you have probably already seen some benefits. For some bakery brands, white itself provides an advantage. This color looks extraordinary and often looks more elegant. In addition, white is the ideal printing substance for all the dynamic tones.
Let's find out more about the amazing ways these boxes present your bakery items!
White Color Makes the Boxes Look Pristine
Other than using custom printing, white color for your boxes is a simple and smart way to make your brand stand out. When so many custom boxes from brands come in plain, your boxes in white color will surely pop up.
In fact, plain, unprinted white packaging will look better than a standard plain, unprinted brown box.
White Color Creates High Color Contrast
It will not be a mistake to say that white is generally a very pure, clean, and aesthetically pleasing color. Better yet, the white base accentuates all the colors.
What's more, printing on white bakery boxes will make the colors richer and become more realistic. This way, you will not have to worry about which color to choose with white cardboard. What is the reason? Because all colors will automatically look special. Yes, the unique thing about the white boxes is that you can use any color you like.
Moreover, white cardboard with sharp color and finish creates a sense of luxury. You can use cardboard boxes to create shaded illustrations to mark the entire boxes. As a result, your customers will immediately feel the added value and luxury of having your bakery items in these boxes.
In addition, flexible customization options to apply to your boxes also help a lot. These options ensure your customers have a great unboxing experience with your bakery items. Even better, the window shape will work well to build a trustworthy factor as well. Ultimately, these boxes will surely be perfect for improving brand promotion.
The Attractive Design Makes Your Bakery Items Stand Out
Let's admit it. We will never purchase any bakery item that comes in messy packaging. On the other hand, seeing a bakery item such as a cake in beautiful packaging makes us want to get it. The same scenario happens to your market customers.
To make your bakery items stand out and fly off the shelf, you need to present them in a special way. The genuine design of custom luxury bakery boxes complements your bakery items.
The most important thing is that cake boxes with windows will show customers:
The excellent quality of your bakery items
How your bakery brand takes great care of customers' shopping experience
A unique brand identity with a genuine packaging design
Attractively displaying your bakery items is the smartest way to make them stand out in a sea of ​​many bakery brands. As a result, it will be very easy to increase sales of your bakery items. If your customers love seeing your items lined up on the shelf, they will not need a long time to make their purchasing decision.
The Exact Size of the Boxes Convinces Customers
It is important to place your delicate bakery items in the correct size boxes. Not only does this help present your boxes in a more appealing way. In addition, packing delicate items in the correct size boxes can prevent damage from entering your items, which can impair the flavor and shape.
Plus, the exactly measured boxes help build more trust. How?
Well, no one wants to receive a big package just to find a tiny slice of cake inside. On the other hand, if you present your cakes in the right size packaging, those customers will trust your brand more.
Recyclable
One of the smartest marketing tactics you can do today is to go green. Why?
Because we know today's customers love to purchase eco-friendly products. To increase your sales, you can make your bakery boxes with windows recyclable and eco-friendly. To make the boxes, you can use eco-friendly packaging materials such as Kraft paper or cardboard. Ultimately, you make those customers happier when shopping with you!
Provide an Unforgettable Unboxing Experience
With standard packaging, your customers will only focus on your items inside. Small bakery boxes with window, on the other hand, can turn the moment of unboxing into a special experience. Even better, the experience can be unforgettable for your customers. By designing your boxes with your authentic brand theme, you can give your customers a better shopping experience. Ultimately, they will definitely tie the experience to your brand.
Custom Boxes Ideally Reflect Your Brand Identity
Those customers need to be familiar with your brand whether you sell your bakery items in your own bakery shop or online. To do this, you need to reflect your brand identity through your custom boxes.
Yes, thanks to an innovative printing process, it will be easy to place all the elements you need for your branding onto your packaging boxes. Additionally, a unique and striking logo will help your brand stand out in the market faster.
To make your bakery brand shinier, these boxes will provide your customers with an exciting experience. We know that some bakery brands still use a boring brown boxes to pack and deliver their delicious bakeries. This is how uniquely designed bakery boxes will work well to make your bakery brand stand out.
Custom Bakery Boxes Are Easy to Personalize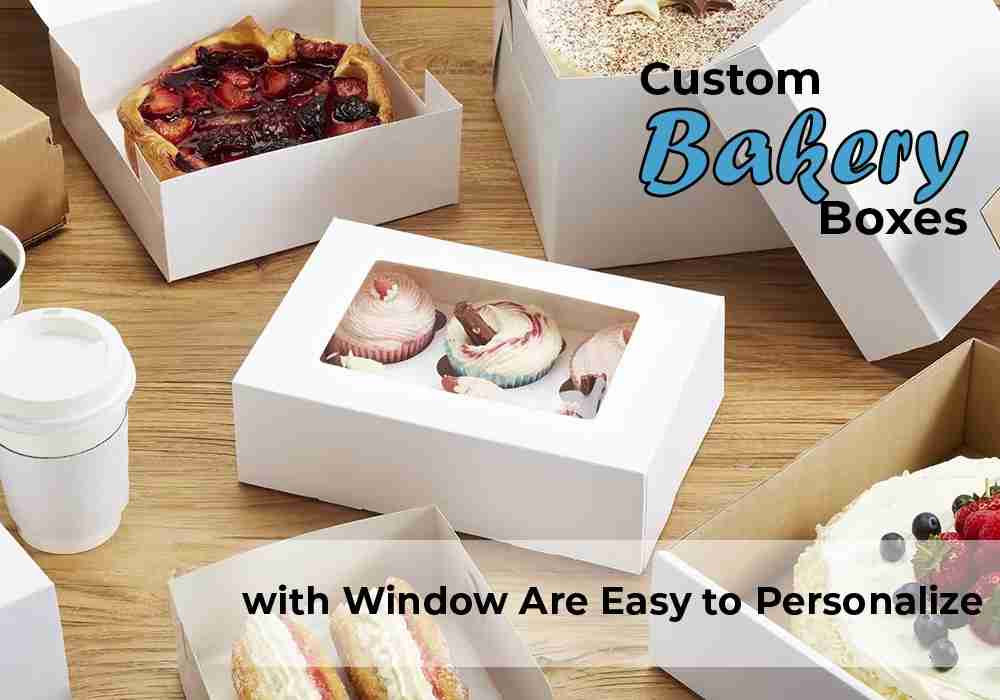 Personalizing your boxes is the best marketing move to make your customers love your brand more. To drive the future purchase of your bakery items, personalizing your custom bakery boxes with window is perfect for this.
For instance, you can simply add a handwritten thank you note to every order. This will be the best way to make your customers feel satisfied and valued. Personalizing your boxes will also help you build real relationships. Most importantly, this type of interactive marketing strategy can greatly impact your sales.
Durability and Flexibility Are Guaranteed with These Exceptional Boxes
When you choose custom boxes, you will get the opportunity to work with qualified packaging designers. This way, you can get unique boxes to display your bakery items beautifully. Yes, the flexibility feature of these boxes will enable you to design them to meet your every expectation. At the same time, these boxes can be highly durable to secure your soft bakery items inside.
Simply put, both durability and flexibility are guaranteed when you choose these boxes to pack and display your delicious bakery items.
Final Thoughts
Without any single doubt, there are various amazing ways to level up your business with unique white bakery boxes with windows. All you need is to run free of your creativity and branding ideas. In the end, you can get the best boxes as your best tool to sell your bakery items successfully. Hence, don't you think that these boxes are worth having? If you want to design them perfectly, you can always rely on the experts at Instant Custom Boxes!