Almost everyone loves having coffee, especially on cold nights. For those coffee lovers, having coffee is a relaxing moment. Thus, they will choose the coffees that make them feel relaxed. Some coffee lovers have their favorite brand for this. For brand owners, you need to convince them that your coffees are of premium quality. How to do this? By presenting them in exceptionally designed packaging. Worry not! You can eventually design your exclusive custom coffee bags with the top 5 successful packaging ideas below!
Reasons to Use Custom Bags
Whether for strong espresso, a frothy latte, or a rich, full-bodied cup of coffee, we can see more people are drinking coffee these days. With a variety of blends, beans, and combinations, it is not surprising that coffees are one of the world's most popular beverages.
Do you know that coffee is now produced in more than 50 countries around the world? Brazil is famous as the world's largest exporter and has been shipping around 5.7 billion pounds of ground coffee each year. Thus, we can say that drinking coffee on the way has become part of everyday life.
As a brand owner, you might wonder how to differentiate your products in this crowded market.
Well, apart from producing an excellent coffee, the best way to get huge product recognition is through your product packaging. This is where custom coffee bags come in handy.
These bags serve more than just simple product packaging.
More than that, they act as:
Your brand ambassador
Reflect your company's values
Responsible for keeping your coffee fresh
Notwithstanding, they will ensure the quality of your coffee beans. Thus, you should never treat them as an afterthought. Instead, you need to give them the attention they deserve.
Why Should You Choose Printed Coffee Bean Packaging Pouches?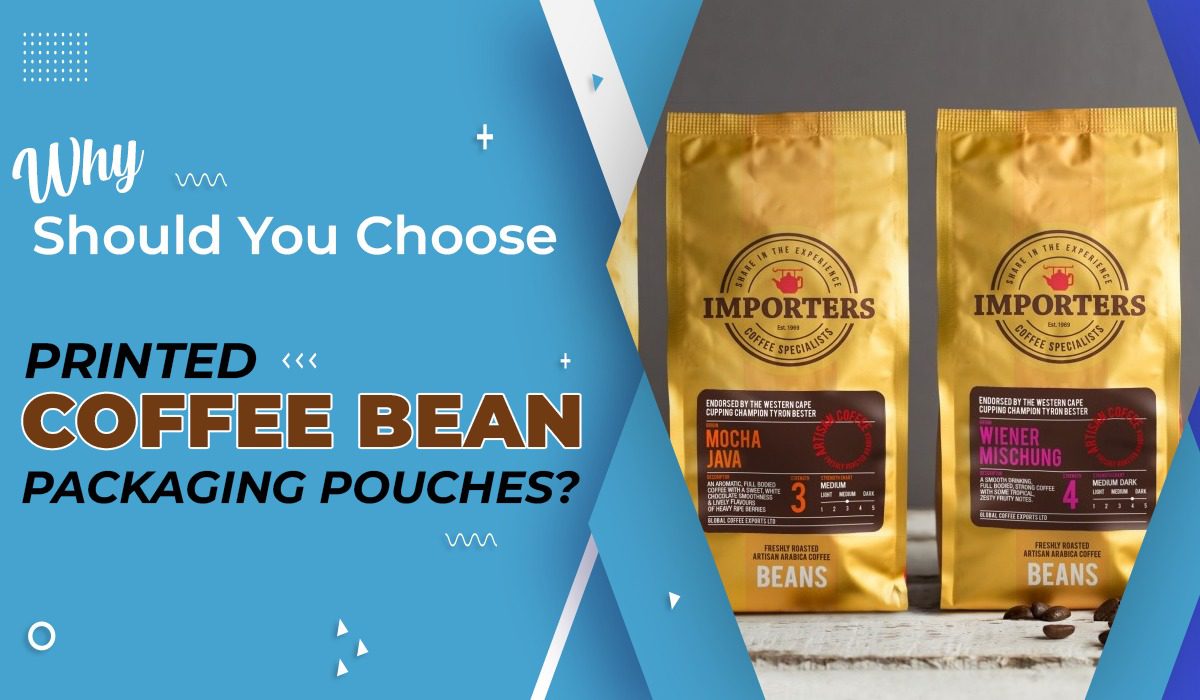 If you look at the shelves of any coffee aisle, you will probably see many types of packaging boxes for coffees.
For example, there are:
Among those options, creatively printed coffee bean packaging pouches will let your coffees pop up on the shelves. What's more, designing them by applying your branding theme will help you make your brand more visible to customers.
Yes, there are various reasons to use this packaging to present your coffees. So, if you still use standard packaging to present your coffees, well, sorry to say, but your business is going nowhere.
Things to Consider When Designing Custom Coffee Bags
Before we move further to the successful packaging ideas, let's get to know first what you need to consider when designing exclusive custom coffee bags.
The Freshness Factor
Will you distribute your coffees to shops, cafes, or businesses? Or will you ship them to domestic or international end users? Either way, we know that your coffee beans should stay fresh.
In this regard, make sure you pay attention to the freshness factor when it comes to designing the right packaging for your coffee. Also, make sure you choose and use the proper packaging material to produce your bags.
Clear Labeling Is Important
The proper labels are required to communicate the origin of your coffee beans. You need to explain where you process them when you roast the coffee beans. In this regard, we also know that modern customers want the whole story in plain language, not obscure language.
This is why clear labeling is important when designing your custom printed bags. Make sure you describe everything those customers would want to know about the bags.
A Simple Design Works Well
The market customers are already overwhelmed with choices, images, and data when they purchase coffees. This is why your packaging design should minimize the graphics. Instead, using bold and solid patterns in a simple packaging design will make coffee selection easier.
The Packaging Process
Do you fill your custom coffee bags manually? Or are you looking to automate the packaging equipment?
If you plan to fill the bags by hand, you should choose a style with an opening at the top wide. This will provide you with enough space to hold a spoon or filler.
However, do note that while manual packaging can keep initial costs down, it severely limits throughput, accuracy, and the ability to increase production. So, if you already have an automatic coffee packing machine or are considering buying one, the options for custom coffee bags are nearly endless.
Let's Design the Most Exclusive Custom Coffee Bags That Boost Your Sales!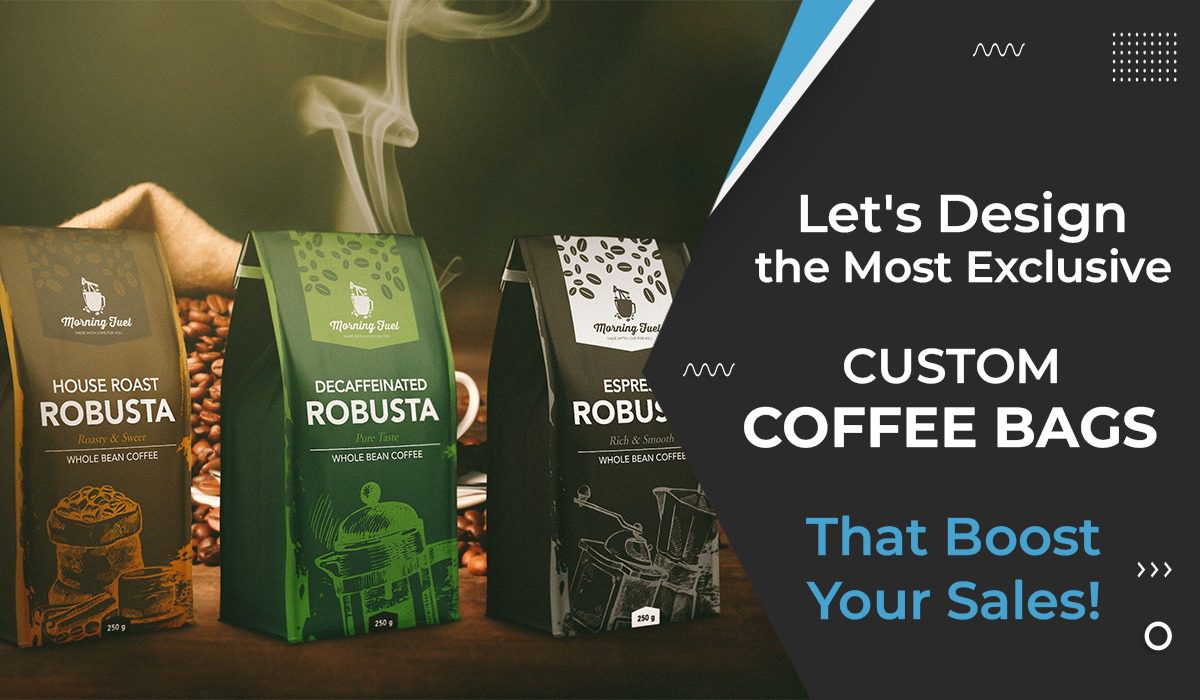 Now let's get to the point! When it comes to designing the most exclusive custom coffee bags that boost your sales, your creativity has no restrictions. Yes, all you need to do is be creative with these successful packaging ideas below!
Be Creative and Think Out of the Bag
In these modern days, we can see many successful coffee brands come up with a mission to incorporate sustainability. To achieve this, they include sustainability design into each step of production. In addition, they embrace natural-looking packaging that is recyclable and eco-friendly. Printed coffee bean packaging pouches are a popular option. This packaging helps you to evoke a positive response in customers by looking to purchase ethical and fair trade beans.
Indeed, these varieties of printed bags can serve as the perfect blank canvas for your brand to get creative with your designs. Far better, you can take a step further by rethinking the elements of the bags. This way, you can create interactive experiences with your product packaging.
For instance, eye-catching printed coffee bean packaging pouches that include a vibrant insert will wow your customers.
The point here is that you need to attach all the importance to your packaging design and presentation. In addition, you need to appreciate the idea of using this type of packaging to educate customers about your brand and your products.
Try Out "Moving" Graphics
New research has mentioned that the brands that use images that show movement or action on their packaging were perceived more positively. Yes, customers, today love to see these graphics instead of static graphics. Most importantly, customers will perceive your coffee beans as fresher. Even better, customers today are more excited when they see a picture of your coffee being poured into a bowl or glass on the product packaging.
In addition, some coffee brands have been using live photography to decorate their pouches and bags. These brands focus on showing customers exactly what their coffees will look like when poured. How? Well, this visualization is a great way to provide your customers with a sensory experience.
Think about a popular coffee commercial where it emphasizes the joy of taking the first sip of coffee in the morning. Yes, that's how your customers will feel when they see your custom coffee bags.
Sustainable Packaging Design Never Goes Out of Date
The coffee industry has been embracing sustainability in packaging design for years. Responding to this, many coffee brands announce their 'eco-friendly coffee packaging' on the front of their labels.
If your coffee brand uses sustainable packaging design as a primary purchase factor for your coffee beans, you can try out this mindset. Well, it might not be a strong differentiator to stand out from the competition. However, many coffee products use sustainable packaging design as the best tool to attract green coffee drinkers.
How About Modern Packaging Design?
The term modern is a contradiction, as examples of brands can be considered modern coffee designs, although the design has certain elements that add a modern flair.
You can try combining matte coating with foil lettering to follow this trend. This design will deliver something casual with a little flair. Thus, even if your coffee beans are rustic, this design comes with enough brilliance to evoke the "cool factor."
A Simple Packaging Design Is Still Favored
The hipster coffee movement has inspired many coffee brands to come out with a minimalist look. The simplicity here doesn't mean that you cannot go as far as the no-logo movement. Instead, the only brand identity you can apply to your custom coffee bags is a simple stamp with your logo. Believe me, this classy method works very well if you are targeting a direct-to-consumer business model.
You can make your printed coffee bean packaging pouches to evoke the right sense of calm. This will deliver a memorable experience your customers want to envision and feel while having your exclusive coffees.
Wrapping Up
Custom coffee bags can serve as your best tool to increase sales and build your brand at the same time. Yet, you will need to design them exclusively. Hopefully, the top 5 successful packaging ideas above will help you to design the best packaging for your coffees. You can work with experts at Instant Custom Boxes to get a better result!