You might have heard many times about mylar bags and their various purposes. Many food and beverage brands have been using these bags to pack and deliver their items. Thus, purchasing high-quality customized mylar bags is quite important for this reason.
In this article, we will give you some tips on what to keep in mind when making a purchase decision. Of course, we will also guide you where to buy mylar bags.
A Brief Into About Mylar Bags
Mylar is basically a trademarked term to describe polyethylene terephthalate contained in flexible plastic packaging material. It comes with multiple layers of laminated plastic. Comes along with an excellent oxygen scavenger, so you can easily store your items and make them remain in the best possible condition.
The properties and qualities these bags offer make them suitable for packing food and beverage items. In fact, we can confidently say that the Mylar bag is a plastic packaging bag. It means bandages, just as people call them a band-aid.
Mylar bags come in a variety of sizes and shapes, including flat pouches, stand-up pouches, and ziplock bags. They can be heat-sealed or vacuum-sealed to ensure airtightness, and they can be printed with logos, instructions, and other information. Mylar bags are often used in conjunction with oxygen absorbers or desiccants to further protect the contents inside.
Top Reasons Why Mylar Bags Are the Best Option in the Food Industry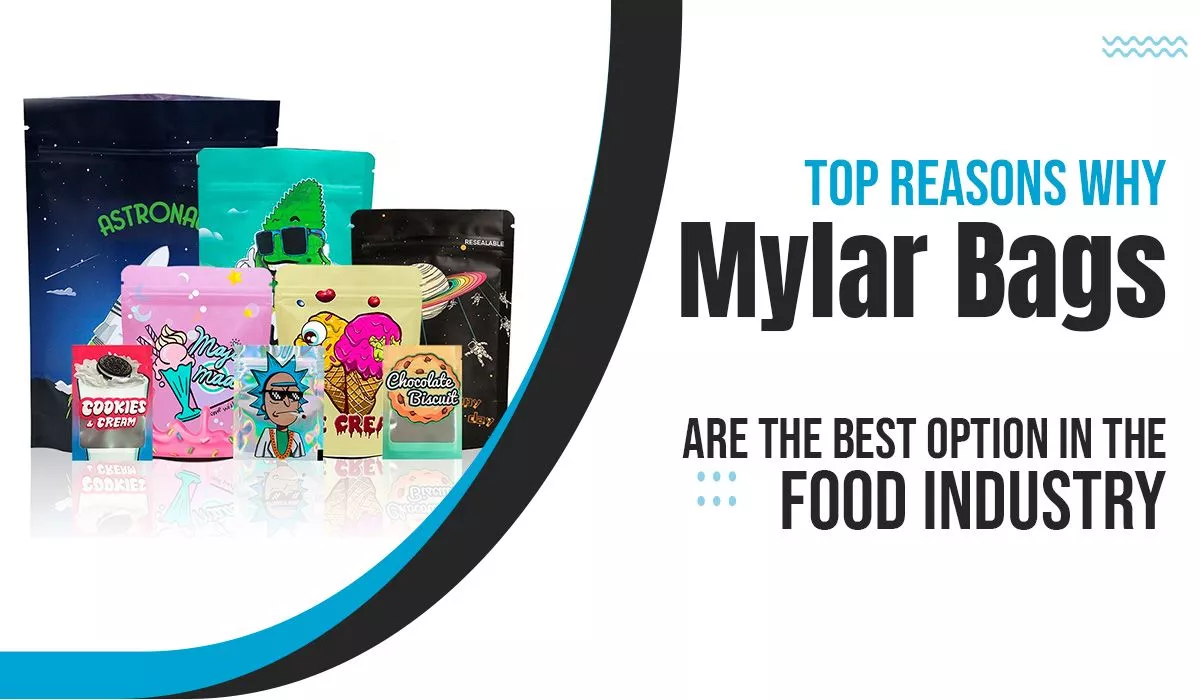 Many food and beverage brands have been using customized mylar bags for convincing reasons. Obviously, no business wants to get failed in presenting its items. When it comes to winning the food market, product presentation matters even more. So, what are the top reasons that make these bags to be the best option in the food industry? Keep on reading!
A mylar bag acts as a barrier to oxygen, light, and moisture
Do you ever think about what sets this bag apart from most other containers? Here they are!
The bag prevents oxygen from entering your food items when sealed. As a food brand, you might know that an oxygen-rich environment in the storage container will destroy your food items. How? All the oxidation causes aerobic bacteria along with mold to grow. The worst part is, oxygen oxidizes food and changes its taste, color, smell, and texture.
Plastic buckets for food do not protect your edibles from oxygen
High-fat foods are rancid regardless of whether the environment is deoxygenated. For example, you might know that white rice has a shelf life of 30 years due to it being low in fat. Meanwhile, brown rice has a shelf life of 6 months because it is high in fat.
Come with a moisture-proof barrier
A mylar bag helps to block moisture. We know that moisture can be a food killer. In fact, moisture is the one that allows anaerobic, aerobic bacteria and molds to grow. Another great thing about this bag is how it helps to retain the moisture in the container. The ability of the bag to retain moisture in its containers is one of the reasons why food contains less than 10% moisture in oxygen-free packaging.
Customized mylar bags come with high tensile strength
Customized mylar bags are tough. These bags come with a flat tire prevention function. When you walk, the ultra-thin of the bags becomes translucent and allows light to enter.
Mylar bag is lightweight and flexible
The Custom Shaped Mylar Bag comes with a flexible nature. This way, you can choose the shape of the bags and fit them with the shape of the food you store. What's more, these bags will be lightweight.
Does the Thickness Effect On the Characteristics Of Mylar Bag?
Yes, the thickness of Mylar bags can affect their characteristics and performance. Here are a few ways thickness can impact Mylar bags:
Barrier Properties: Thicker Mylar bags generally provide better barrier properties, including protection against moisture, oxygen, and other contaminants. The thickness of the Mylar film affects the ability of the bag to block out gases and prevent the ingress of air or water vapor.

Puncture Resistance: Mylar bags are generally more puncture-resistant than thinner bags. This can help prevent the contents inside from being damaged by external forces.

Seal Strength: Mylar bags may have stronger seal strength due to the increased surface area available for heat sealing. This can help ensure the bag stays tightly sealed during transport and storage.

Rigidity: Mylar bags may be more rigid than thinner bags, which can make them easier to stack and handle. However, if the Mylar bags are too thick, they can become stiff and less flexible.
It's important to note that the thickness of Mylar bags should be chosen based on the specific requirements of the product being packaged. If the Mylar bag is too thin, it may not provide adequate protection, while if it is too thick, it may be over-engineered and more expensive than necessary. Therefore, careful consideration of the thickness of Mylar bags is required while choosing a packaging solution.
How Can You Choose the Right Thickness? 
When it comes to choosing the right thickness for your mylar bags, do note that the appropriate thickness should be according to the package size.
Consider the size of your items
In case you need to pack small-sized items, you can go with 3.54.5 mils. On the other hand, for larger sizes, you can choose from 4.5 to 6.5 mils.
If your items are included in long-term food storage, then you should consider using a thicker Mylar bag. The reason for this is that thicker bags will perfectly provide better insulation. This insulation will then protect the bag from external elements that can affect your items inside. 
Pay special attention to handling and storage
Keep in mind that mylar bags with a thickness of fewer than 4.5 mils will not be suitable for long-term storage items. Why? Because they will not have enough non-barrier, poor protection, and perfect insulation. 
On the other hand, if you want to go for something more budget-friendly, you can opt for the 3.5-mill Mylar case. On the other hand, it is always a good idea to pay special attention to handling and storage processes. Always choose the thickest Mylar bag that will hold and preserve your items inside. Additionally, you need to make sure you can store your items in a bag, regardless of weight. Of course, you need to choose a sturdy bag to prevent damage to your items.
Why Choose Customized Mylar Bags?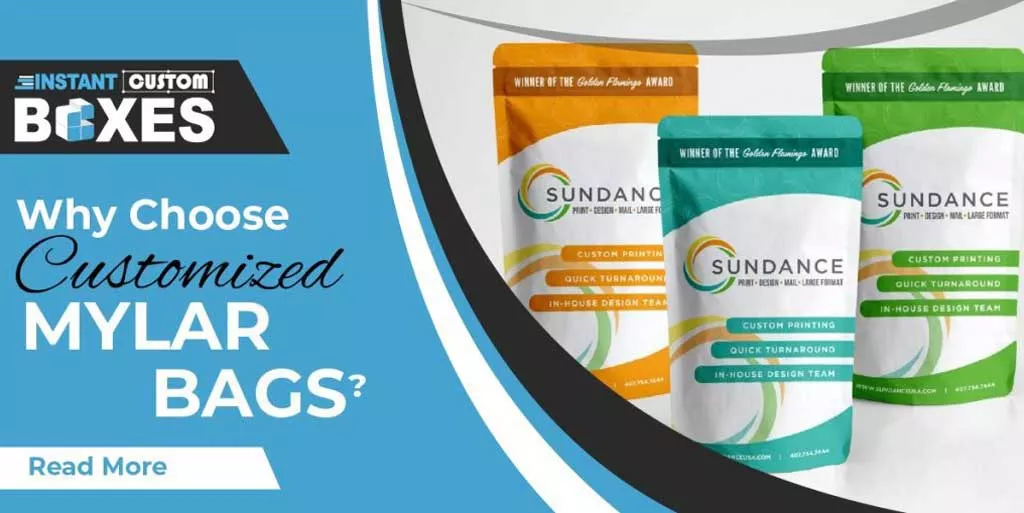 Customized Mylar bags offer several benefits over standard, off-the-shelf options. Here are some reasons why you might choose to go with customized Mylar bags:
Branding: Customized Mylar bags can be printed with your company's logo, artwork, and other branding elements. This can help your products stand out on store shelves and reinforce your brand identity.

Unique Sizes and Shapes: With customized Mylar bags, you can create bags that fit your product's unique size and shape. This can help ensure your product is properly packaged and protected.

Special Features: Customized Mylar bags can be designed with special features such as tear notches, hang holes, and ziplock closures. These features can make your bags more convenient and user-friendly for your customers.

Better Barrier Properties: Customized Mylar bags can be designed with specific barrier properties to meet your product's needs. For example, if you are packaging a product that is sensitive to oxygen, you can choose a Mylar bag with a higher oxygen barrier to better protect the contents inside.
By printing your brand logo and company name on the bags, you will achieve more product visibility. At the same time, your food items inside will grab more customer interaction to enhance sales.
Work With a Professional Packaging Provider
This is very important. If you need durable mylar bags to store your sensitive food and beverage items, working with a professional packaging company is very important. At Instant Custom Boxes, we only use selected packaging materials to ensure that you receive only the best boxes.
We know that many providers prioritize price over quality and focus on revenue at the expense of true value. Well, this is not the case with us. At Instant Custom Boxes, we are dedicated to only giving high-end results. We are not looking for increasing profits without sacrificing the quality of our bags.
Mylar Bags Focus on Food Safety
As we mentioned above, mylar bags are famous to pack food and beverage items. This is why food safety is another very important factor to consider when getting your customized mylar bags. There is no way you can appeal to your customers without sending fresh items when they order.
The good news is, all the products offered by Instant Custom Boxes are of food-grade material. Hence, when you work with our professionals, you can be assured to get the right bags that seal your items.
Is It Possible to Reuse Mylar Bags?
Yes. In fact, this is actually one of the best things anyone can get from using mylar bags.  When you use these bags to pack and send your food items, your customers can reuse them for food storage. This way, you can take part in saving the planet while also convincing those environmentally conscious customers. With these bags in your hand, it will no longer be difficult to build a strong customer base.
If you wish to reuse a Mylar bag, you can do the simple steps below:
First, you should cut off the top of the bag under the heat seal, rinse and dry it completely
Refill and reseal the oxygen scavenger in the bag
Next, make sure to reseal the mylar bag as close to the top of the bag as you can
Marks the type of food contained in the bag
Final Ideas
Mylar bags are famous in the food and beverage market for convincing reasons. Not only will these bags preserve the original taste and flavor of your items. Instead, these bags work very well to secure your sensitive food items inside. More than that, custom printed mylar bags can be reused easily. In this regard, you can shape a reliable brand image as well. So, now you can stop browsing the Internet. When it comes to deciding where to buy mylar bags, Instant Custom Boxes are always your best option. We provide the most top-notch quality products to help your brand strive and win the market. Whether you need these bags for your individual purposes or business purposes, we have the best options for you. Look no further and simply give us a call now!