Are cereal boxes compostable? The right answer to this question is yes. We all know that one of the challenging concerns for an e-commerce business to handle is delivering its products. But what about considering the impact your boxes can make on the environment? We know how packaging waste comes up to be one of the influential factors in pollution. Thus, it is time for your cereal brand to take action and take part in creating a better environment. How? Let's take a closer look at the boxes you should have for your cereals!
Why Do We Need Compostable Boxes for Cereals?
In the context of cereals, the packaging boxes you use must protect your items. More than that, the boxes should also ensure that your cereals will reach customers in the perfect shape and condition. Most importantly, another function of custom cereal boxes is to reflect the company's values ​​and image. Having compostable boxes will deliver a positive experience to your customers regarding your brand image.
What's more, compostable boxes for cereals will work perfectly in highlighting your brand image. How? Modern customers still judge the book by its cover. So, when you use recyclable boxes to wrap your healthy cereals, all things will be easier. In addition to being eco-friendly, these recyclable custom cereal boxes will bring your brand into the limelight.
But Are Cereal Boxes Compostable?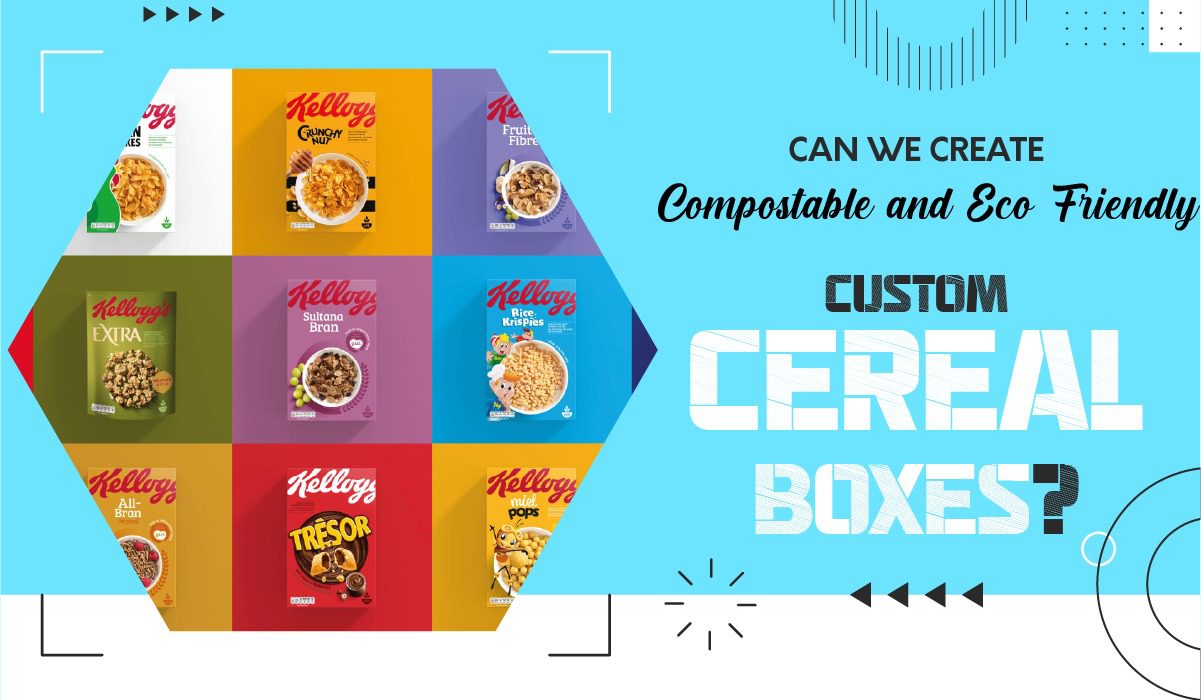 Cereals have been famous for being one of one of favorite breakfast meals all over the world. Some people even have them as a late-night snack because of their convenience. Mostly, these delicious cereals are popular amongst kids and adults' customers. Thus, it is no wonder that cereal boxes make up the majority of the junk that accumulates at home. But the good news you can note here is that these boxes are easily compostable.
On the other hand, it comes back to your local government's rules. In some places, it may be possible to recycle custom cereal boxes in the same place where shopping bags and cleaning bags are recycled. Yet, you may also be able to mail the boxes to a recycling facility.
The Importance of Using compostable Custom Cereal Boxes
The pace at which many industries have been generating their waste is unmaintainable. In the United States alone, we can find about 30 million paperboard and other packaging waste each year. Even though some of this waste can be compostable and reusable, most of it cannot. In the worst-case scenario, the boxes will have no other use once discarded. In the end, this waste will end up overloading the landfills and waste management systems all over the world.
This is where many brands (including your brand) need to take real action. Online shopping today is the most strategic place for people to buy and sell. In fact, we can confidently say that the number of online purchases is increasing each year rapidly.
In short, brands (including your brand) need to start thinking about how to produce and ship their products safely. It would help if you thought of the most ideal way to reduce waste and use the earth's resources more responsibly. compostable custom kraft cereal boxes are the best option for you in this regard.
compostable Facts About Custom Cereal Boxes
In most cases, custom cereal boxes are made from lightweight paperboard and cardboard. Both of these materials are eco-friendly and very easy to recycle. In addition, the process of recycling these materials is quite the same as recycling many other paper products.
Some recycling plants will easily accept the boxes and then process them. Yet, you can eventually make the process even easier for your recycling facility. How?
Breaking down the boxes into pieces before placing them in the recycling bin will be a good idea. By doing this, your boxes will not require plenty of space. Additionally, they will go through recycling machinery more easily than if they are still a complete package.
To be noted, not all cereal boxes are created from compostable packaging material. Using packaging that is not compostable means that the boxes will be, of course, unable to recycle. This is actually a wake-up call on cereal brands, though.
How should your customers dispose of the boxes? Instead of merely throwing them, your customers could try repurposing your custom cereal boxes as a substitute for wax paper. Or else, they can reuse the boxes to hold other objects such as paper and magazines. For example, if customers can easily tear your boxes like paper, or has a plastic resin number on them.
Can We Reuse Custom Cereal Boxes?
Yes, we can reuse the boxes.
To reduce the packaging waste, you can encourage your customers to reuse your boxes of cereals. You can do this by mentioning the boxes with a verse such as "Reuse the box to save our environment!"
Another great thing about custom cereal boxes is that it will be easy for your customers to reuse them. In fact, they will enjoy reusing the boxes with their kids.
Your customers can reuse the boxes for:
A wax paper
Kids school project
Photo frames
Unique wall decorations
And other creative things
With the cardboard being just the right weight, the craft opportunities for your customers to reuse the boxes will be endless.
How Does Recycling Cereal Boxes Contribute to Global Warming?
Well, if you can't recycle everything, you don't have to recycle.
Another alternative to minimizing packaging waste is using custom cereal boxes as compost. For example, plant-derived products. Because they can be used as organic matter, they have the capacity to deteriorate in landfills like any other organic waste. Yes, your customers can even take them and compost the boxes. In the end, composting the boxes will be a better option instead of throwing them into the trash.
However, if your boxes contain plastic packaging material, then the boxes can never decompose. This is a huge problem. The bad news is that the microplastics are formed as particles get smaller and smaller.
Can We Create Compostable and Eco-Friendly Custom Cereal Boxes?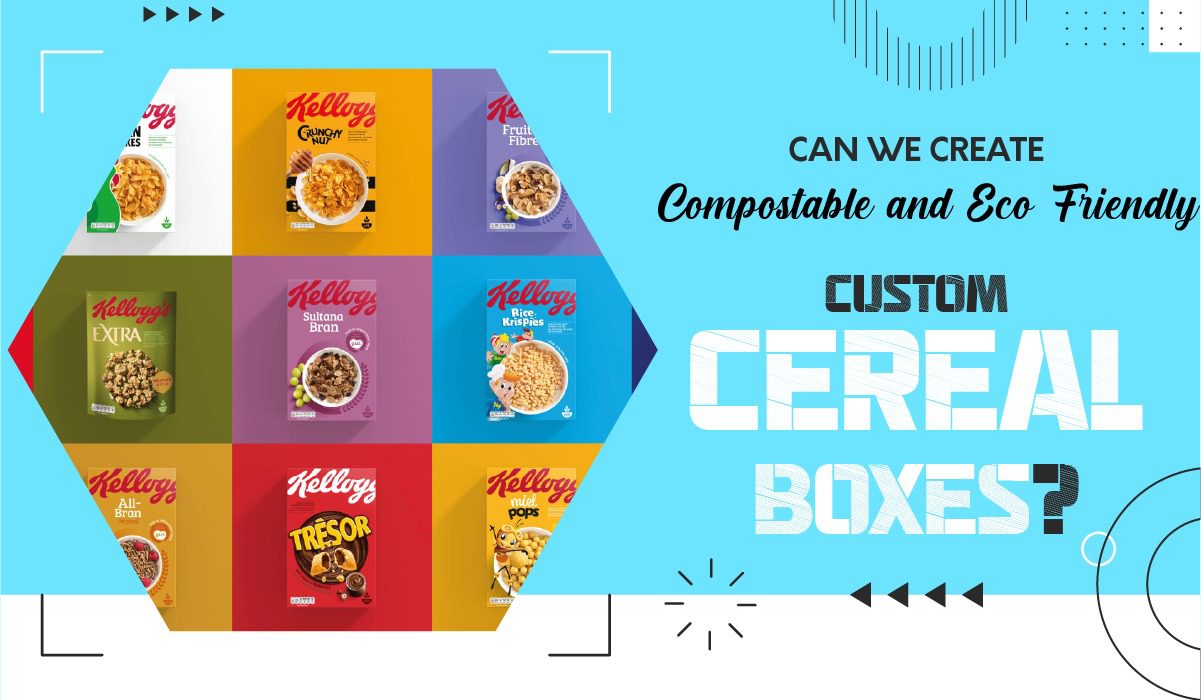 Yes, we can!
If your cereal brand wants to pay more attention to the environmental issue, you are on the right path. You can eventually create compostable boxes if you have an expert packaging partner. Instant Custom Boxes will be your best choice to get recyclable and eco-friendly boxes. Our packaging professionals will love to help you design recyclable custom cereal boxes. Before designing the boxes, there are some essential things you will need to remember. What are they?
Always Choose and Use compostable Packaging Materials
When it comes to getting eco-friendly custom cereal boxes, using compostable packaging materials is the first thing to consider. The good thing is that you will find various packaging materials with eco-friendly nature, such as:
Cardboard packaging material
Kraft packaging material
Paperboard packaging material
Corrugated packaging material
Depending on your needs, you must choose the suitable packaging material to protect your healthy cereals.
The Accurately Measured Boxes Reduce the Packaging Waste
Accurately measuring your cereal boxes will help a lot in reducing packaging waste. By applying the right sizes and dimensions, you are minimizing the packaging waste. Even better, this will be the smartest way for you to minimize the production and shipping costs as well.
Use Eco-Friendly Ink to Print Your Boxes
Once you have decided on the right packaging material for your boxes, you should also focus on the link you will use. Of course, you need to use eco-friendly ink to print your custom unique design cereal boxes. After all, what is the definition of compostable boxes if you are not using eco-friendly ink to print them?
At Instant Custom Boxes, we use raised ink with an eco-friendly nature. This way, we guarantee you will get only compostable boxes to pack and present your delicious cereals. In the end, you can easily grab more customers' attention! Well, doesn't that sound great?
Apply a Minimalist Design to Your Boxes
Perhaps you are wondering why you need to apply a minimalist design to make the boxes eco-friendly?
Well, the answer is still related to the ink used for the boxes. A minimalist design will not require much ink to print the boxes. Thus, you can reduce the use of ink. In addition, this minimalist design requires a small amount of packaging material. Hence, you can also reduce the packaging waste in the end.
Final Ideas
Having compostable boxes will help a lot in growing your business in the long run. These boxes will be environmentally friendly. Thus, these boxes will let you grab attention while also highlighting your brand at the same time.
So, are cereal boxes Compostable? Yes, we can confidently answer that they are compostable. As a brand, you can even design eco-friendly and compostable boxes with Instant Custom Boxes. Call us now for more details!