It would be easier to say that it is the most difficult to make a product outshine in a bundle! Even more so than high-end or fashion bakery boxes. This is because your product is not just some generic box. It's a custom box made specifically for you and your brand. To make your food brand more reputable you should follow attractive Bakery Packaging Ideas!
The design and style of your packaging should be unique to show differences from all the other brands in the market. It makes you different from the crowd. You cannot just use these boxes for your brand but also for others like wholesalers and retailers.
Wholesalers need to be able to place their products inside boxes to sell them in their stores. Retailers also need these boxes. They need to store their products before selling them to customers. Wholesalers can use these boxes to store their products before selling them in their stores.
Custom Bakery Packaging – No Easy Feat
Let's get one thing out of the way. Custom bakery packaging is no easy feat.
Bake your goods and getting them in front of people who will love them enough to buy is a challenging task. It is even more complex when you start thinking about the bakery packaging itself.
A good bakery packaging design can be a make or break aspect for your company.
How can you craft a bakery packaging that reflects your brand, makes your products look good, AND gets you top dollar?
We've got some ideas for you — from basic bakery packaging ideas to those sure to wow the crowd.
Bakery Packaging Ideas that Definitely Work!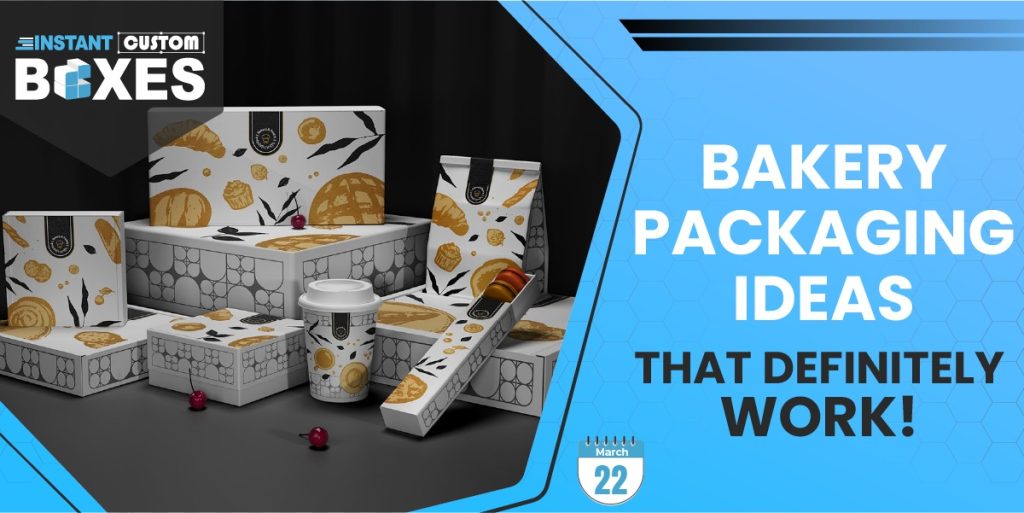 Add A Label
This might seem obvious, but adding a label to your box helps people identify at a glance that it's something special. It also makes them feel like they are getting something more than just another piece of bread or loaf of cake—it lets them know that this is an experience worth having and sharing with friends!
Get A Custom Box With A Window Or A See-Through Lid
This is a great way to make your custom bakery packaging ideas stand out! If you are sending a gift of cookies or cupcakes, people will love to be able to see their treats through the packaging. It makes it feel more like an "actual" gift and helps showcase your work. You can get this done by getting a custom box with a window or a see-through lid.
Add A Handle
This is a simple way to add visual interest and give your customers the ability to carry their treats easily. You can even go one step further and turn it into the branded handle by adding a sticker with your logo or colors!
Pop Your Brand with a Custom Sticker
For one, you can't go wrong with a custom sticker that personalizes your bakery packaging. It makes a statement about who you are and what you care about. And it also makes your customers feel like they're getting something unique and one-of-a-kind even if they're stopping by for a quick treat at their local coffee shop!
When it comes to custom stickers, the possibilities are endless. You could opt for a design that complements your logo or bakery, or even one with an iconic image of your city or neighborhood.
You could even go with something cheeky and fun, like a "Best Baker In Town" decal to show how proud you are of all the hard work you put into everything, from making sure each cupcake is perfectly iced. To design beautiful wedding cakes for happily married couples!
Don't Forget About Paper Bags!
Paper bags can be a great way to differentiate your cupcakes and other baked goods from the competition! You can put a sleeve or wrapper around your cupcakes to include your branding space. It's a simple, inexpensive way to build brand awareness and increase customer loyalty.
Add A Sleeve Or Wrapper With Your Branding
You can wrap each cupcake individually in a sleeve or wrapper that features your business' branding and logo. This will allow customers to see your company's colors, designs,and name when they take home their treats providing you with effective advertising!
What are the Benefits of Bakery Boxes to Users?
Bakery boxes have several benefits to users, including a wide range of customizability and the ability to easily customize design. Bakery boxes also allow for convenient storage, transportation, and display, making them an essential part of any bakery operation.
The best part about bakery boxes is that there are so many sizes and styles available for you to choose from. You can find everything from small packages that hold just a few pastries to large containers that can hold dozens of them. There are many shapes to choose from, so it's easy to find one that perfectly fits your needs.
Another benefit of bakery boxes is their ability to keep your product fresh and delicious all day long. They provide a protective coating over the top of your pastries, which keeps them safe and secure while providing excellent insulation. This means you don't need to worry about leaving them out in the sun or crushing them underfoot by customers walking in off the street.
Bakery boxes are also easy to transport because they're lightweight and portable. You can easily take your pastries from one location to another without worrying about them breaking down in transit or damaging due to weather conditions like rain or snow.
Bakery Packaging Styles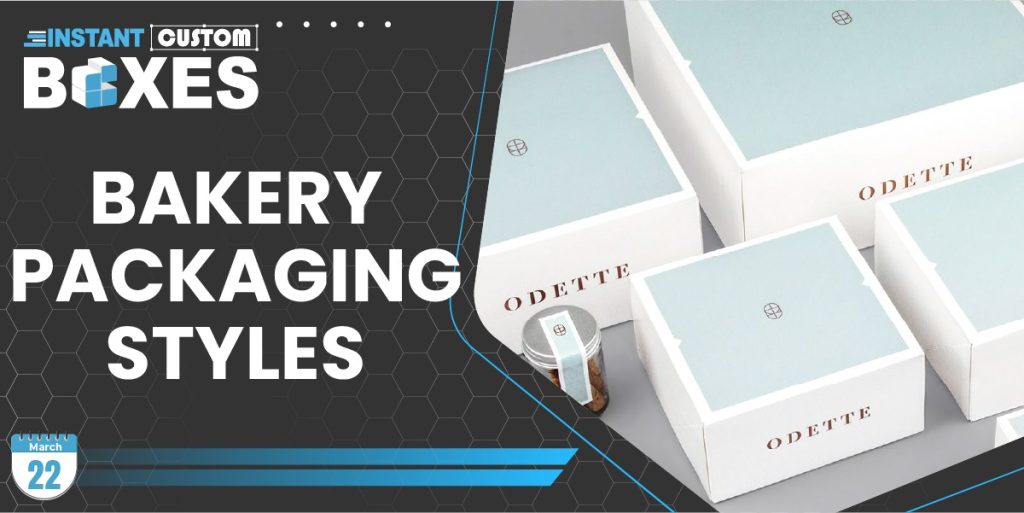 Envelope-Style Boxes
Envelope-style boxes are incredibly unique, as their shape is like an envelope! They are one of the most popular bakery packaging styles. You can produce these boxes from cardboard, and they have a foldable top flap. You can glue or tape the top flap to keep it closed. Envelope-style boxes can come with or without handles. They're ideal for packaging cookies, brownies, bread, and other baked goods.
Die-Cut Boxes
Die-cut boxes are usually made of cardboard, but they can also be plastic. The main defining feature of a die-cut box is its cut-out windows that allow you to see inside the box. These windows are usually rectangular, but other shapes are available too (like circles). Die-cut boxes are generally used for cookies or pastries that need to stay fresh for longer periods than other baked goods. However, these custom bakery packaging ideas may not be ideal if you want your baked goods covered entirely from view (unless you get them lined with paper).
Cupcake Boxes with A Window
When it comes to packaging cupcakes, there's no better way than with our cupcake boxes that have windows. These beautiful holders are functional and stylish and make transporting cupcakes easy!
Cupcake boxes are perfect for those who want to show off their treats. These clear windows will display all the delicious details of each cupcake while keeping it safe from damage during transport or storage!
Cake Slice, Donut or Macaron Boxes
These are ideal for transporting individual portions of cake, donuts or macarons. They are easy to assemble and feature a convenient window for showcasing your baked goods to customers.
Cube-Style or Flat Pack Boxes
These self-assembled boxes are ideal for sending out large quantities of baked goods. They can be designed with a window if you want your bakes to be on display.
Muffin Boxes
Muffins are always a popular treat, but they can be tricky to package because of their small size. Consider using muffin boxes as part of your bakery packaging options to avoid this problem. These boxes are great because they keep the muffins in place while also providing a fantastic way to transport them to and from the store. If you want something more unique, try using custom-printed paper bags instead.
French Fry Carton-Style Bags
French fries are another popular item that many bakeries have trouble finding a good way to package. Instead of using the typical cardboard box, you can use these carton-style bags as part of your bakery packaging ideas. These bags come in all sorts of sizes, so you should be able to find one that will fit your needs perfectly. They are also very durable, meaning they can last for years without any problems whatsoever.
Kraft Paper Bags With Handles
If you have ever wondered what kind of bag would be best suited for your bakery, then consider using Kraft paper bags with handles as part of.
Mailer Box With Die-Cut Foam Inserts:
This packaging solution is perfect for cake pops, brownies, cookies, and other baked goods. Your customers will receive their orders in pristine condition!
Also Read: Custom Bakery Boxes – Your Business Success Partners
Bakery Packaging Boxes Showcase Your Branding!
You have a bakery. You need packaging. At Instant Custom Boxes, we've got a few ideas to get you started
Bakery Packaging Boxes perfectly showcase your branding! For larger orders, try our cake boxes. They'll hold both small and large cakes and cupcakes securely. Add some fun and whimsy to your bakery items with our custom scallop top boxes!
If you have a more specific need, we can help you there too! Just reach out to our team of experts, and they will assist you with all of your bakery packaging needs! If you're looking for Bakery Packaging Ideas, chances are you have a lot of options. But if you want your packaging to be a part of the experience of your product, you should consider custom packaging. These versatile boxes can be used to showcase anything from macaroons to donuts.