If you offer Chinese food, you know you are not alone. Instead, you will get many hustles and obstacles to compete with the competitors in this market. You will need to make customers love you to come up as the winner or at least gain more profits than other competitors. Have you ever heard about the Chinese Takeout Box? Perhaps you have. But do you know that this box comes with wonderful features to help you level up your business? Yes, let's explore everything you would want to know from this box!
The Importance of Customizing Your Box
One of the wonderful features of the custom takeout boxes is that it is highly customizable. This also means that you will be able to design and customize your box according to your packaging needs. Now you might be questioning why you need to customize the box. Is it important to present your Chinese food in a customized box? Well, yes, it is! Let's know why!
Customizing Your Packaging Box Allows You to Apply Your Creative Design Ideas
Wouldn't you love it when you can explore and express your creativity? As a brand owner, you are the one who knows better about your food items and brand. So, if you design your custom food boxes with your creative design ideas, you can reflect your brand's unique identity. How?
Just imagine if you can apply all your branding essentials, such as:
A genuine brand theme and pattern
A matching color combination between your packaging and your brand's logo
A brief and interesting brand story to captivate more customers
An exciting brand slogan to show off your business personality
Contact detail of your business, including official address, official email id, official websites, and so on
In simple words, customizing your packaging boxes can really help a lot in your branding and marketing strategy.
Custom Packaging Allows You to Apply Your Favorite Finishing Options and Add-Ons
Customization options are exciting and varied. In fact, we can say that you will never feel bored when customizing your packaging. Custom packaging allows you to apply your favorite finishing options and lovely add-ons. You will love this part as various options are waiting to make your packaging look more eye-catchy! What are they?
For finishing options, you can try out:
The famous silver or gold foiling technique
The foiling technique is famous in the world of custom packaging. Both gold and silver foiling techniques will make your Chinese takeout box look more exclusive.
The beautiful matte or glossy coating option
The beautiful coating can be your ideal option, depending on how you want your packaging to appear. The glossy coating is the right option if you wish to make your packaging look shinier. Meanwhile, you can go for the matte coating to get a hazy appearance.
The innovative UV Spot can be your best option if you wish to give an extra shield to your takeout boxes. This technique will not only help in making your packaging boxes more durable. Better than that, it will make them look more luxurious.
For add-ons, you are free to choose from:
A window shape to give a lovely sneak peek to customers
A hangtag to add a personal touch to your packaging
A tie or ribbon to make your packaging look more dazzling
Customizing Your Chinese Takeout Box Allows You to Make the Box More Durable
Yes, customizing your Chinese takeout boxes allows you to make the box more durable. Now how can you possibly do this?
By choosing the right suitable packaging material that fits your business needs. We know that you can choose various packaging materials to produce your packaging box.
Customizing the box means you can choose from various materials, including:
Cardboard – The perfect option for custom packaging, which ideal for any type of product
Corrugated – The best option if you wish to deliver your Chinese food safely and securely to customers
Kraft – The eco-friendliest packaging material to let you highlight a sustainable brand image
Rigid – Imagine delivering your Chinese food in luxurious rigid boxes. Yes, your customers would love to purchase more from you!
Customizing Your Packaging Enables You to Highlight Your Brand Name Easily
No matter how delicious your food items are, customers will be hesitant to try them out if they are not familiar with your brand. Many newly launched brands have been experiencing this challenge. Of course, you need to tackle this hustle if you want to grab high sales.
Customizing your Chinese takeout box enables you to highlight your brand name in the market. How? Custom packaging comes with an innovative printing style. By getting full customization options, you will be free to print any details you want on your product packaging.
Imagine when you deliver your Chinese food with the packaging that has your stunning brand logo on it. This marketing effort will make your brand more recognizable by the market customers. As a result, they will no longer feel hesitant to purchase your Chinese food in the future!
Can You Microwave Cardboard Takeout Boxes?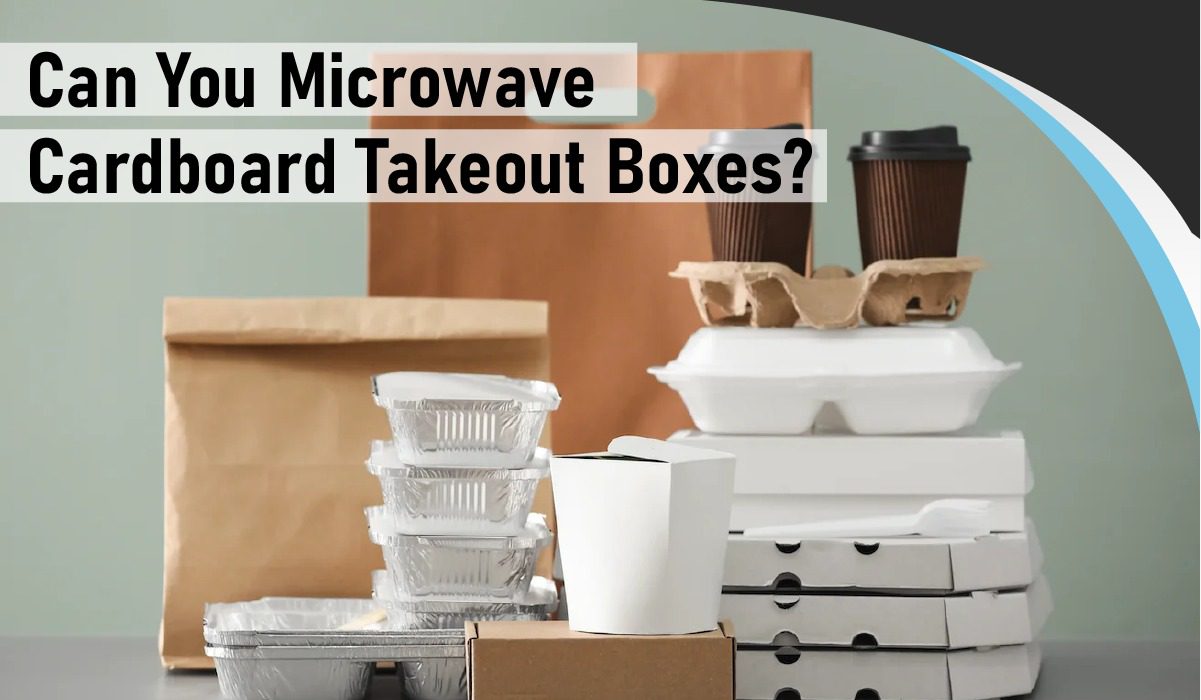 Sometimes, customers might be busy and unable to finish their food. In this case, they will keep your Chinese food in the fridge. Then, when they want to have your Chinese food, they will surely heat it up in the microwave. But can they microwave cardboard takeout boxes?
Yes, they can.
You don't need to worry, as customers can safely microwave a cardboard takeout box. However, the box they can microwave is the one that doesn't have metal handles, not lined with plastic, wax, or glue.
To help them out, you can apply a label to mention that your Chinese takeout box is microwave-safe. In addition, you should also mention on the box that cardboards have very low moisture. Thus, the boxes will not heat up fast. This simply means that your box will be safe to use in the microwave if customers intend to microwave it for a short time.
To make things easier for your customers, you can also provide other essential details on your product packaging box. What are other details you need to provide on your product packaging?
How Long Should Customers Microwave Your Box?
We should never microwave cardboard boxes for a long time. Inform your customers that they can microwave the boxes in shorter periods of 1 to 2 minutes at the most.
If they intend to microwave it for more time, they should do it in 30 seconds to a minute intervals. Underline that customers should not microwave your Chinese takeout box for more than 2 minutes.
Is Chinese Takeout Box Recyclable?
You can also provide the information if you produce your Chinese takeout box from recyclable packaging material. This way, customers can recycle your box and contribute to saving the environment. People love it when they know that they are taking part in saving the planet. Thus, by providing this information on your box, you can grab more customers to love to purchase from you.
Chinese Takeout Box – The Qualities You Should Focus On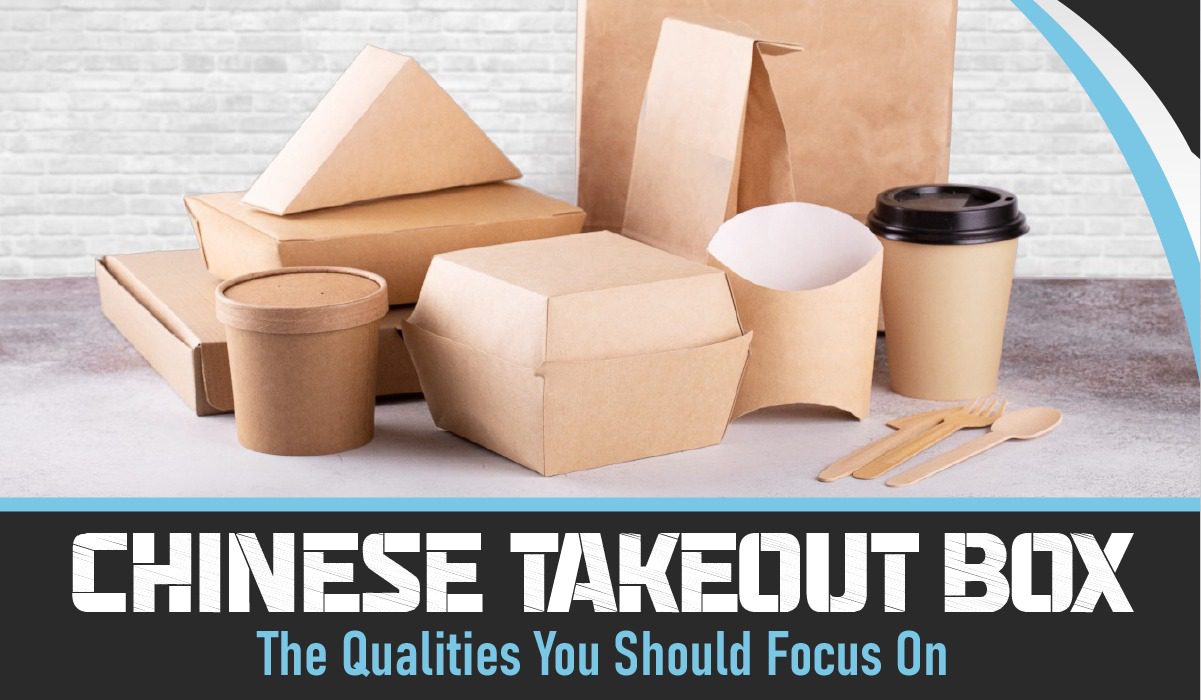 If we want to count, there will be many wonderful ways kraft takeout boxes help you boost your sales. Yet, you can get all the benefits ONLY if you design your packaging box accordingly and properly. So, what are the qualities you should focus on in this context?
Your packaging should be highly durable to preserve your Chinese food all through the shipping journey
Your product packaging should come with an appealing and unique design to give a wow product display
Your packaging should be genuine to differentiate your Chinese food and brand
Your product packaging should look trendy and convincing to compete with other brands
Your custom packaging should reflect your brand image accurately and as positive as possible
Your packaging should be (of course) budget-friendly
When you design the packaging for your Chinese food, you must remember the qualities above. After all, we know that you can never go wrong when you have the right packaging wrapping and delivering your delicious edibles.
Wrapping Up
No doubt, there are many wonderful features of the Chinese takeout box. Accordingly, if you can design the box properly, it will be easy to level up your business. With us, you can design the packaging that will sell more and highlight your brand at the same time! So, if you are ready to increase more sales and strive in this competitive market through your packaging, you can count on Instant Custom Boxes.