In this modern market competition, staying one step ahead of your competitors is always a smart marketing move. After all, we know how much time and effort goes into creating the finest product you want to offer to the market. But have you thought about the best way to present your products? There is a huge difference in how customers see the products visible to them and those not. This is where you will see creatively designed custom display boxes come to save the day. Many top brands have been using these boxes for convincing reasons. What are they? Let's discuss this further!
The Ways Display Packaging Design Makes Your Products More Visible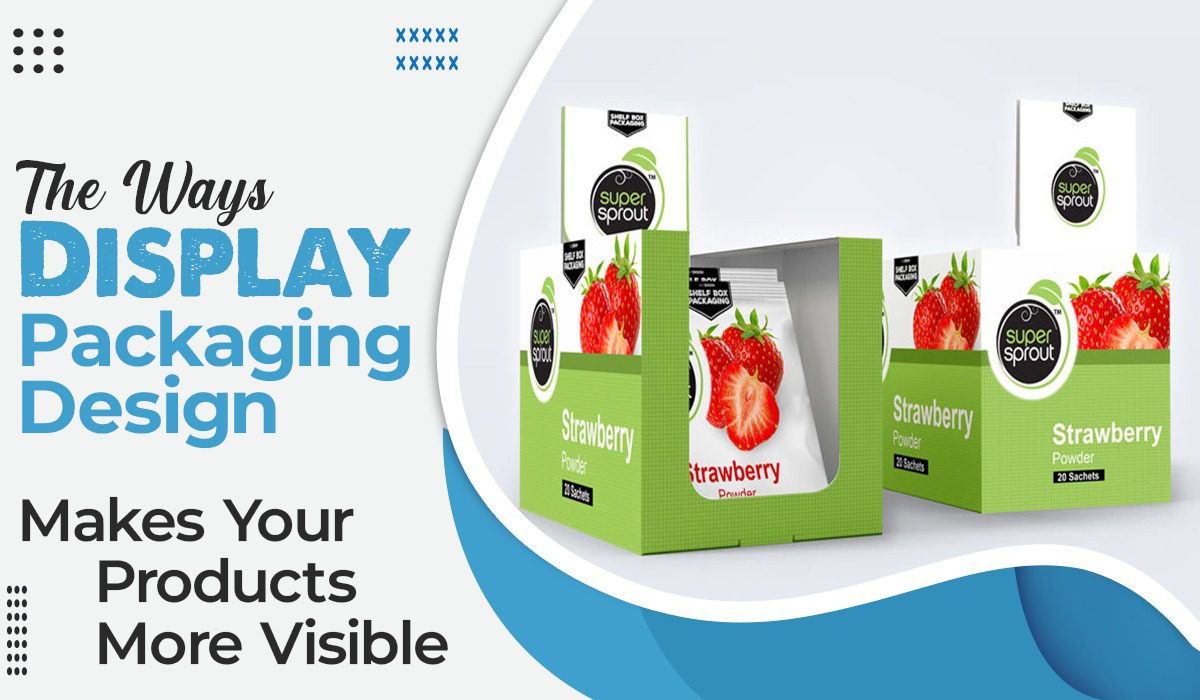 Product visibility is the biggest difference between display packaging design and other standard packaging types. With custom display boxes, everyone can easily see your products. When you place the boxes in strategic places in retail stores, they will work perfectly to draw the audience. How? Let's dive in.
A Design That Makes Your Products to Be Seen
Do you know that the first impressions of any type of product are made in only 7 seconds?
Innovative packaging design will surely help your brand stand out in the ocean of boring standard packaging boxes. How can we say this? Well, the visual presentation is the key to any marketing strategy. This applies further if you offer some types of products that are offered by many other brands.
If you want your products to stand out immediately, custom printed display boxes will help a lot when every other brand comes up with ready-made boxes.
We also know that when it comes to purchasing a new product, some customers make their buying decisions based on packaging. The packaging design of these amazing boxes helps you drive customers to pick up your product. Then, they will surely take a closer look, read the information you provide about your product, and decide to purchase.
In simple words, these boxes make it easier for you to make them pay attention!
Display Packaging Design Reinforces Your Brand Visibility
Display packaging design features all the branding elements more than simple standard packaging boxes. How? Well, this packaging design provides more space for you to write down your branding essentials. Think about every single thing that you have worked so hard to create. Definitely, you want to make it perfect for your market customers.
In addition, we all know how branding plays a huge role in marketing and promoting any type of product. This happens whether you sell your products on the shelves or online and deliver them to your customer's door.
Essential elements such as your brand name, color scheme, logo, and more will let customers instantly recognize your products. When you have plenty of space to provide strong and consistent branding, you can emotionally attach customers to your products easily.
Although it might sound a little far-fetched for newly launched brands, branding can raise positive memories and feelings. This can help you build strong relationships with the market customers.
Transform Your Retail Strategy with Custom Display Boxes: Innovative Design for Increased Sales
The design of custom display boxes serves a functional and practical purpose. By incorporating innovative, unique, and creative design elements, along with the use of inserts, these custom boxes make it easier for customers to spot your products. When your products are more visible and easily accessible to customers, they are more likely to choose them over others.
Furthermore, with a custom display box design that catches the eye and draws attention to your products, you can expect to see your products succeed without any additional effort. By focusing on the design of your custom display boxes, you can effectively showcase your products and increase the likelihood of customer purchases. It's important to note that a visually appealing and well-designed custom display box is a key element in creating a successful retail strategy.
Display Packaging Design Allows You to Provide More Product Information
As we mentioned above, first impressions happened only in the first 7 seconds. In this context, if you want your brand to establish itself as a frontrunner, you will need to be familiar. A unique and well-designed display packaging design allows you to provide customers with more information.
Without you realizing it, your packaging design creates an effect on the subconscious minds of customers. How?
Well, this is exactly how your customers will perceive it:
If you will put a lot of time, money, and effort into designing the best packaging, then your product must be exceptional. The packaging design of custom display boxes lets your products speak without saying anything at all.
Your packaging design subconsciously communicates information. In addition, well-designed packaging will provide a clear space for essential readable information for customers. Thus, you will have more space to provide information such as:
Your product's key features
The benefits and ingredients of your products
Contact details
And more
Providing all essential information clearly will help customers in making their purchasing decisions.
Creative Packaging Ideas to Design Attractive Custom Display Boxes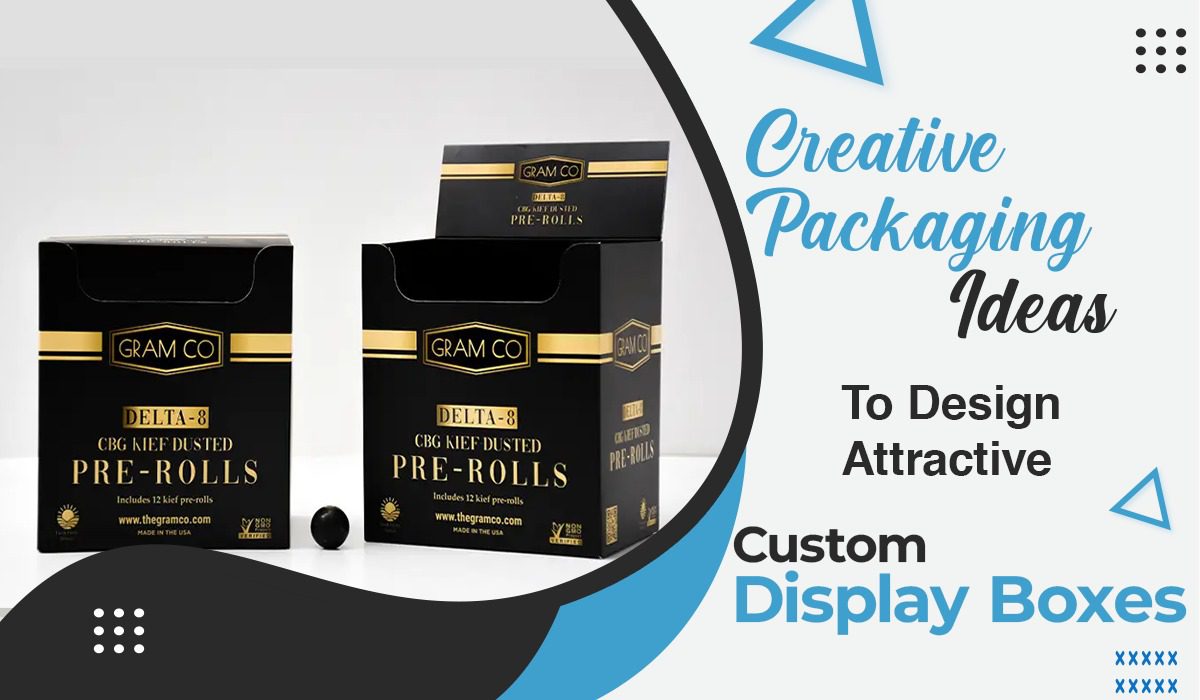 Designing custom display boxes requires some qualified skills and effort. Of course, getting help from a professional packaging supplier will let you reduce the problem. Below are some creative packaging ideas you can try out to make things easier for you!
Streamline Your Sales Strategy with Simplified Display Packaging Design
Simplicity is key when it comes to designing effective display packaging. A complicated design can distract customers from properly viewing and understanding your products, ultimately hindering potential sales. Therefore, it's important to keep your design as simple as possible, while still making your products clear and visible to customers.
In addition to a simple design, it's crucial to provide all necessary information in easy-to-read language. This allows customers to quickly and easily understand the benefits and features of your product. By simplifying your display packaging design and language, you can create a more effective and engaging experience for customers, leading to increased sales and brand loyalty.
You can also read out blog which is about All Question Answers Related to Display Boxes You Should Know
Following the Market Trends Is Always a Good Idea for Designing!
Staying up-to-date with market trends is essential when designing effective packaging solutions. Just as social media trends can influence daily routines, packaging trends can impact the success of your products. By following these trends and incorporating them into your custom display box design, you can make your brand stand out and increase the visibility of your products.
By aligning your packaging design with the latest market trends, you can tap into the desires and preferences of your target audience. This can help you create a more engaging and memorable customer experience, ultimately leading to increased sales and brand loyalty. By remaining flexible and open to new ideas, you can stay ahead of the curve and effectively compete in a constantly evolving market.
Design Your Boxes from the Customers' Perspective
Now let's put it simply here. You create your packaging boxes to facilitate customers, right? And obliviously, you choose custom cardboard display boxes to get their attention which will increase your sales.
In this context, you should prefer the customers' choice to yours. What does it mean?
This simply means that when designing your boxes, you should put yourself as your customer. Accordingly, you need to think about which things must be present and which should not be on the boxes. This creative idea will help you make more productive designs that draw more customers' attention.
Be Trendy and Exciting with Your Display Packaging Design!
Make your brand stand out with a trendy and exciting display packaging design! While it's important to provide concise and simple information on your packaging, that doesn't mean it has to be bland or uninteresting. Injecting humor and a little bit of fun into your packaging design can help create a positive relationship with customers and increase the appeal of your products.
By designing your boxes in a way that represents a pleasant and engaging experience, you can attract more customers and encourage brand loyalty. Incorporating playful and trendy design elements can also set your brand apart from competitors and increase the overall success of your sales strategy. By balancing both simplicity and creativity, you can create a memorable and effective display packaging design that resonates with your target audience.
Sync The Design with Your Products
The design of your custom display boxes should sync with your products. Remember that your boxes will be the foundation of how customers will check the quality of your products. Both your products and your boxes have a relationship like a soul with a body. Hence, as we say that we should act the way we think, your boxes should be relevant to your products.
What's more, when designing your boxes, you should keep in mind that your design should reflect the usage of your products. For example, if you offer bakery items, you need bakery boxes representing your delightful bakeries.
No customer will be attracted if there is no relation between the packaging design and your products.
Customer Satisfaction Should Always Be Above Everything
Last but not least, you need to keep in mind that the goal is not to make just any packaging boxes. Instead, customer satisfaction should always be above Everything. You can easily boost your sales with eye-catching customer-specific packaging design. How to create such a design?
You will get complete customization options, including:
The design
The shape
The color
The font style
The brand logo
This way, you can design what your customers are searching for.
A unique packaging design offers you a prime opportunity not only to remind your customers of your products. More than that, creatively designed boxes such as rigid boxes offer excellent protection for your products.
Eventually, custom display boxes offer your customers a good experience and a good atmosphere in your products. As a result, these boxes will help you captivate new customers while maintaining the existing loyal customers you already have. Yes, more sales to grab!
Wrapping Up
Indeed, custom display boxes provide many reasons for your business to have them. Investing in these boxes will help you level up your brand image while making your products more visible. Are you interested in having these amazing boxes? Now you can get the best boxes you can customize on Instant Custom Boxes! Give us a call!