Your products deserve the perfect packaging boxes that showcase their beauty. The fact you can never ignore is that it doesn't matter in which industry you are competing right now. You surely want to get the most impeccable packaging boxes that make your products look unique in customers' eyes. Exclusively designed customized gable boxes can be your ideal option in this regard. These boxes can make your products look unique to your customers without you realizing it.
Why Should You Choose Exclusive Custom-Printed Gable Boxes?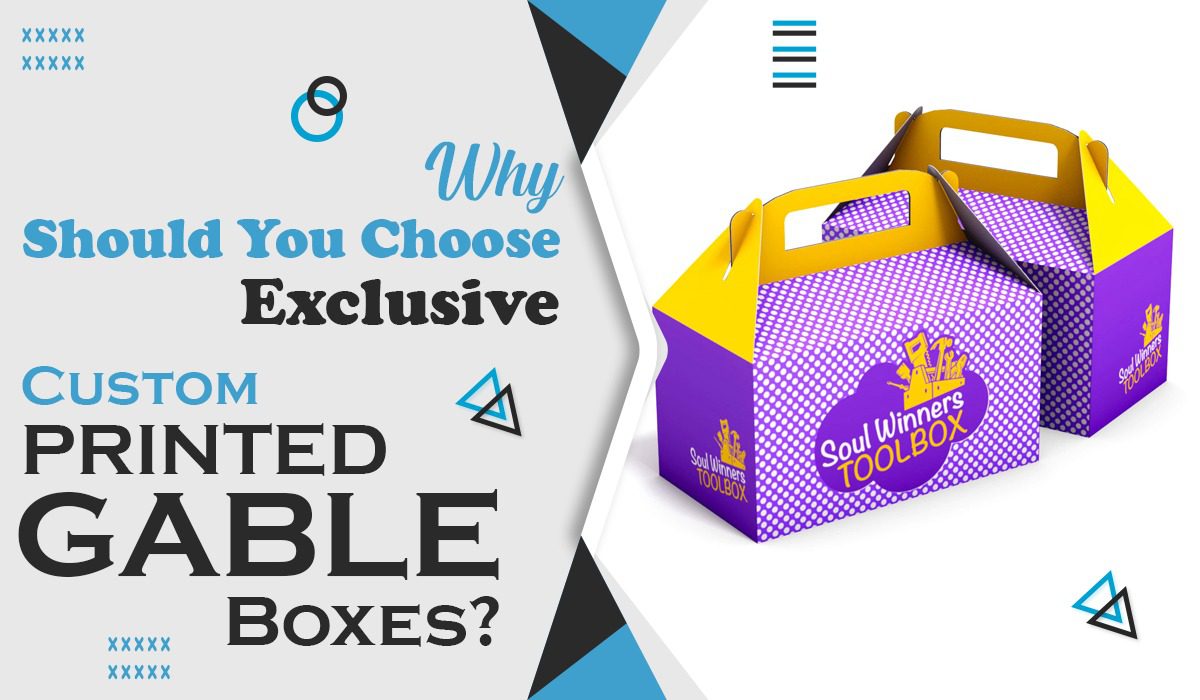 Are you wondering why you should opt for custom-printed gable boxes over standard packaging options? It's true that ordering pre-made boxes may seem like an easy and efficient choice, but have you considered the potential consequences of neglecting the packaging of your exclusive products?
After putting so much effort, sweat, and tears into creating your exceptional products and building your business, why settle for unattractive packaging that may detract from your brand's image? Investing in custom-printed gable boxes allows you to present your products in a way that reflects the quality and uniqueness of your brand.
Furthermore, it's important to remember that your packaging is often the first interaction a customer has with your brand. By choosing a packaging option that stands out, you can make a lasting first impression and increase the likelihood of repeat business.
Whether you're selling food, beauty products, or any other type of merchandise, custom-printed gable boxes can help you differentiate yourself from the competition and create a lasting brand image in the minds of your customers. So why settle for average when you can stand out? Make the right choice for your business and choose exclusive custom-printed gable boxes.
Exclusively Designed Custom Gable Boxes Reflect Branded Products
First of all, note that even in this modern business world, those customers will still buy with their eyes. In fact, we can say that customers in every market will do the same thing when it comes to purchasing any product. Exclusively designed packaging boxes reflect branded items. Why?
As we know, today, customers are spoiled with many similar products even in one retail store. This is why they will pay more attention to every detail when choosing and purchasing your products. The color, design, texture, and appearance of your custom gable boxes are all very important. By wrapping and presenting your products in these amazing boxes, those customers will not hesitate to bring your products home.
Durable Custom Printed Gable Boxes Can Help in Your Shipping Journey
Whether you sell your products in a retail store or online, in some cases, you will need to deliver them to your customers' front doors. This is where exactly those customers will judge your products' quality and brand image.
Well, no one wants to receive a damaged product at their doorstep. If you want maximum protection for your branded products, Durable Personalized Gable Boxes are ideal. Remember that a little shock or pressure can easily damage some products. Despite the fact that some products can also get melted easily.
Therefore, ensuring that your products will be safe and sound during the harsh shipping journey is necessary. Thus, your boxes will have to contain some important characteristics. What are they? Keep on reading!
The boxes for shipping your products should be made of durable material that provides maximum product protection
The boxes for shipping your products should be in the accurate size and dimension that match your product's specifications
The boxes for shipping your products should look convincing to appeal to more prospects during transit
In short, whether you need the boxes for food boxes or bakery boxes, you should remember the characteristics above when designing them.
Let's Design Unique Custom Gable Boxes for Your Unique Products!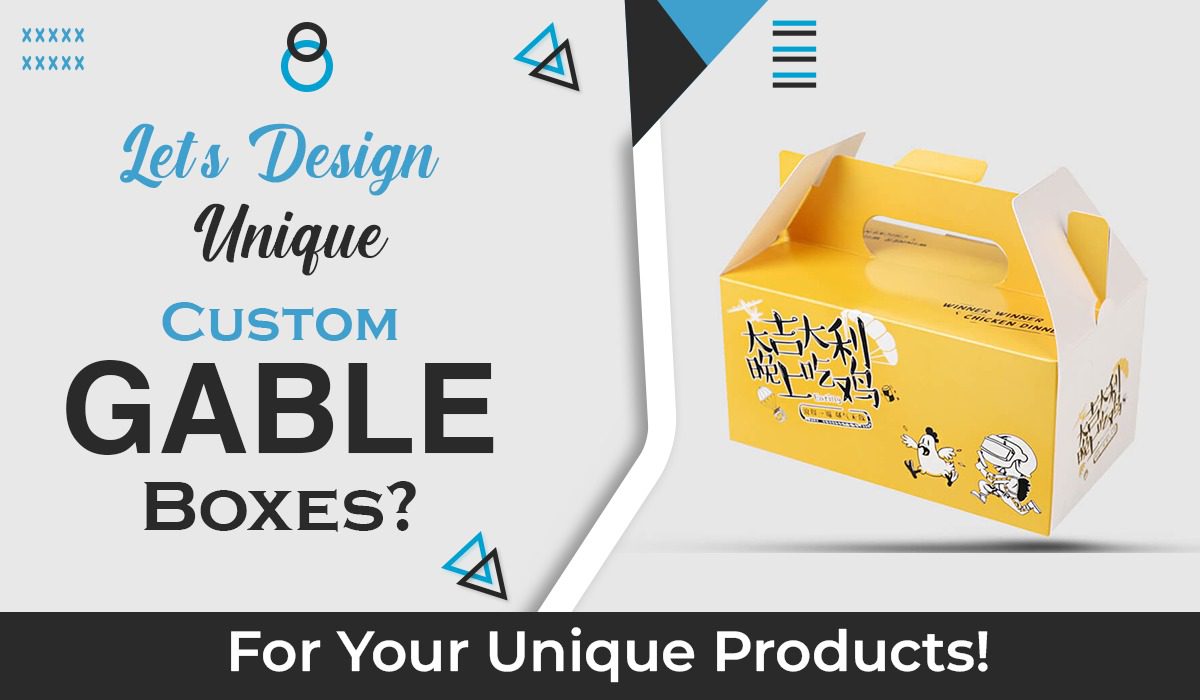 Let's admit it, even the most branded products require strong branding strategies to increase their visibility. Without any doubt, we can say that having unique custom gable boxes for presenting and delivering your products is very important. After all, without proper marketing and branding strategies, your products will end up failing. If this ever happens, your products will not bring many profits to your business in the long run. On the other hand, an appropriate strategy of marketing for your products also depends on appealing product packaging boxes.
One thing you should note is that modern customers will love to purchase those products that come with a unique appearance. This case still applies to all types of products in the market. Whether you sell food items or specialty candles for restaurants, your product packaging boxes play a big role in driving sales. With the introduction of different design techniques, many brands are using custom boxes to enhance their product presentation. Why?
Because they know that these boxes will make a big impact on their sales. Unique boxes can be very useful for commercial as well as general use. Eventually, the right boxes can help you easily reach your business goals and expectations. Well, you can make your product presentation unique by applying your creative ideas to your boxes.
Let's start then!
Beautiful Custom Printed Gable Boxes Are Perfect for Grabbing the Attention
Each product's packaging relies heavily on the images used on the box. In fact, you know that your product packaging will be the first thing that grabs customers' attention. Once you can grab their attention, your product packaging will be the one that encourages them to purchase your products.
If you are really interested in selling your products better, you can grab their attention at first sight. This is exactly where lively images and text printed play an important role in helping you to grab customers' attention. With this in mind, many bakery brands now use custom cake gable boxes to showcase their cake products.
What's more, we know that the way you advertise your products on the packaging depends on your company's branding ideas. In this specific scenario, custom printing offers the perfect opportunity to design your packaging boxes according to the wishes of your customers. Authentic and stylish technology for these boxes helps you present your products with a unique display.
Apply Event-Specific Themes to Your Boxes
This is one of the best packaging ideas for custom gable gift boxes to be used at various events throughout the year. Yes, you will be free to customize the boxes in various themes from New Year to Christmas. Applying an event-specific design to your boxes can eventually improve their appearance.
In addition, an event-specific design increases your chances of grabbing customers' attention further. Even better, this design will make them want to purchase your products in bulk to celebrate a special event.
However, you need to note that designing the right boxes with an event-specific theme requires you to have a good understanding of market trends. You should also research some packaging ideas from other brands.
Try Out Using Luxurious Rigid Boxes
If your brand needs to deliver your products regularly, great care should be taken to create strong and durable boxes. Yes, you need top-quality boxes to protect your products in the best way. This is an important point that many brands somehow tend to forget. Of course, you can easily produce the most perfect quality products. But your products might still easily break during the shipping journey. Why?
Because the packing boxes we use are not strong enough to protect our exclusive products. Poor packaging does not only damage the product. In the worst-case scenario, a damaged product will make a huge impact on your amount of sales as well. This is why you should pay attention to the packaging material you will use. No matter where you need to ship your products, make sure your boxes have security to protect their quality. Rigid boxes are very durable and keep your products safe. Yes, shipping your products in these boxes will be a smart move.
Read More: Create The Most Effective Packaging Using Gable Boxes
Make That Convenient Handle Special!
Customized gable boxes come with convenient handles on the top of the boxes. Well, you can eventually make these handles look more special with your creative ideas. How?
Add sparkling glitters to make the boxes look more dazzling
Combine a dim color with a glossy finishing option
Write down your brand's slogan to make the boxes look more exclusive
Apply cute hang tags on the handles to add a personalized touch
When you can draw the attention of your target customers, bringing your brand name into the limelight is just a piece of cake.
Wrapping Up
Indeed, when it comes to making your products look more unique, custom gable boxes can be the best option to choose. Not only will the boxes help you deliver a better product display. More than that, these boxes are highly customizable with any design you want. So, if you are interested in giving the best boxes your products deserve, Instant Custom Boxes will be happy to assist you. We have premium packaging solutions to meet your business needs and expectations.