Promoting food items is always a challenging task to do. Why? Well, we can see how thousands of food brands are competing in this profitable market these days. Don't forget to mention those new appearing brands as well. To compete and win in this fierce market, it is no doubt that you need the right strategy. Now let's talk about your food packaging. Do you think it is amazing enough to captivate those customers? If you still have doubts to answer this question, you need to check out the new market trends for food packaging boxes. Let's start then!
Attractive Food Packaging = Ultimate Sales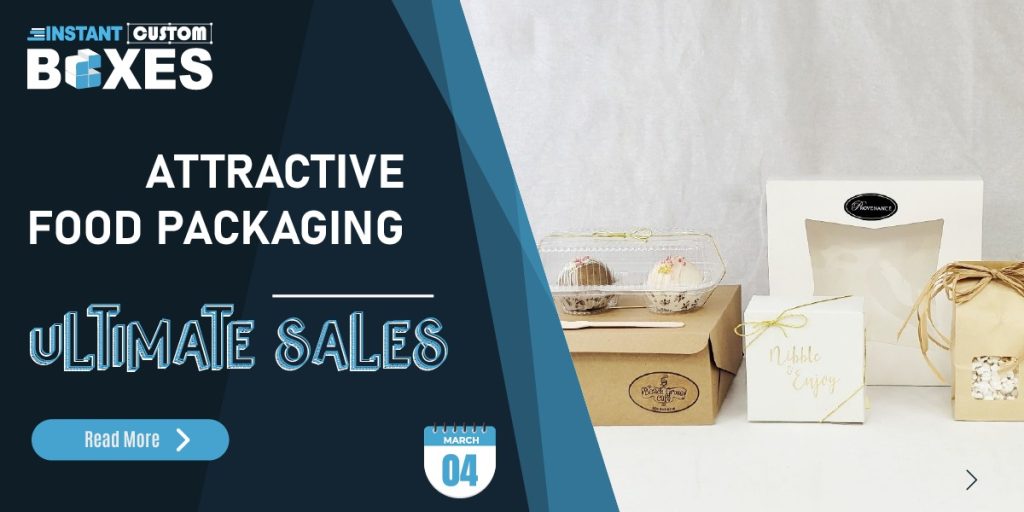 You can never communicate with every customer and convince them to purchase your items. Instead, your product packaging is the one that talks to customers. We know very well how customers in this food market are quite picky. This happens every time, especially when it comes to customers choosing their favorite food brand. In case you are still using standard packaging, well, sorry to say but, your food brand is going nowhere.
Now imagine if you want to purchase any food item. Will you go for any item packed in unappealing packaging? Or will you go for those in attractive custom packaging? Make sense? Yes, attractive food packaging = ultimate sales! In fact, we can confidently say that this trend is something you should never ignore.
Enhancing Brand Image through Eco-Friendly Food Packaging
Branding is the best way to introduce and promote your items in the market. Speaking of the food market, this turns out to be more essential. This is where enhancing your brand image through eco friendly food packaging comes up as the market trend – and will stay for years to come.
The branding here is not simply meant that you should only print your brand logo on the packaging. NO, it is more than that. Instead, by using eco-friendly packaging material, you are reflecting a sustainable image of your brand. We know how customers today become more aware of the issues appearing and damaging our environment. As a result, they prefer to get environmentally friendly items.
Another great idea, how about telling a bit of your brand story? Customers love to know more about their favorite brands. Thus, don't you think this will be a great marketing move?
A Simple Design Will Still Rock Food Packaging Boxes
Simple can reflect more. This applies more when it comes to designing your food packaging boxes. To attract those customers, you don't need to make your boxes overcrowded. In fact, jam-packed designs will only make customers confused about your items.
Instead, you can eventually apply a simple yet elegant design to your custom boxes. Simplicity reflects elegance and luxury. Hence, when customers see how elegant your food packaging is, they will surely choose your brand more. In the end, of course, more sales to expect!
Get the Right Packaging Material for the Right Food Packaging
The packaging material you use for producing your food packaging is highly important. Thus, when it comes to choosing the right material, you need to be very careful. Additionally, you need to understand your packaging purposes first. Various materials are available to produce the right packaging for your delicious food items. What are they?
Cardboard – This material is flexible and famous to produce custom packaging boxes
Corrugated – The best material you can choose if you need to deliver your food items
Kraft – This eco-friendly material will make sustainable packaging that preserves your edibles perfectly
Rigid – The most ideal material to make luxurious packaging
If you have no idea about the right material to use, you can work with a professional packaging service provider. Instant Custom Boxes will be your best stop in this case.
Be Honest with Your Customers through Your Food Packaging Boxes
Now what does this mean? Well, we know that some food brands still use different images on the boxes to appeal to those customers. Yet, there is nothing more disappointing for customers when they receive your edibles to be different from what they are presented. In the worst scenario, they might switch to another food brand. As a brand owner, you surely don't want to imagine this to happen, right?
It doesn't mean that editing the image of your item on your boxes is completely wrong. Instead, being honest with your customers here means that you should give them the real image of your items inside. In simple words, the product images you add to your food packaging boxes should reflect your items inside perfectly. For example, don't try to misguide your customers by displaying a chocolate chip cupcake in your bakery boxes if you are not adding those chocolate chips to your cupcakes. That's simple actually.
Another alternative you can do is use window boxes. These boxes say more than what words can do. How? Because your customers can simply look through the window shape to know the actual shape of your food items. This way, you would not need to bother printing the images on the boxes again.
Convenient Food Packaging Supplies Are Still Loved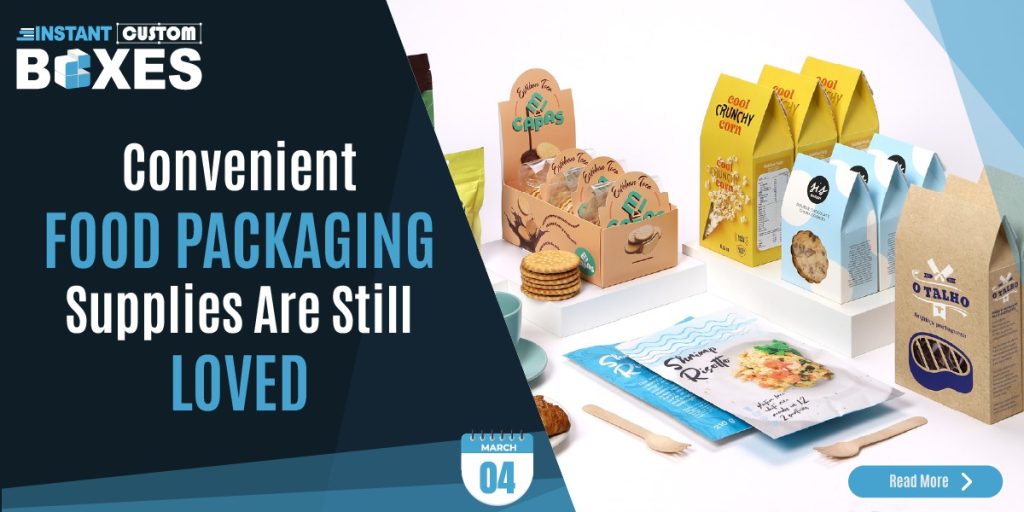 Speaking of delivering a better customer experience, offering them the most convenience will be your great tactic. People always love to bring food items to picnics. Or else, some of them present food items as gifts for parties. Accordingly, you can take advantage of this situation. How? By making your food packaging supplies to be more convenient.
In this regard, the gable box style will work very well. This box-style offers a convenient handle shape to make it easier for customers to carry your food items anywhere. This box has been famous in this industry as many food brands have been using it to deliver their food items. Eventually, this factor makes this trend remain in the market. Yes, convenient food packaging will still be loved by customers and brands in the food market industry. Thus, it is worth trying!
User-Friendly Food Packaging Boxes
No one would love to order their food items only to find it difficult to open up the packaging boxes. Imagine if your customers are hungry, and they order your food. Surely, they will get upset if your packaging boxes are difficult to open.
User-friendly food packaging boxes mean giving customers boxes that are easy to open and use. Don't make your boxes complicated. Instead, make those customers happy to get your edibles and enjoy them with ease. This is surely another great trend to consider.
Budget-Friendly Food Boxes Wholesale
Every single business activity should be according to your budget and there is nothing wrong with this. We can say that this is the best way for any business to manage its existence in the long run. There is also nothing wrong if you wish to get luxurious packaging boxes to pack and present your edibles. Yet, getting the best boxes for your items doesn't mean you have to break the bank either.
To solve this issue, you can get budget-friendly food boxes wholesale from Instant Custom Boxes. By working with an expert packaging company, you can get a full customization offer. Another beneficial thing is, you will be able to customize the boxes. Yes, everything will be according to your needs and requirements. You can get the accurately measured boxes, choose colors, and decide the materials, even applying your own creative design ideas.
In the end, you will only have to pay the number of materials used to produce your custom boxes along with the customization options you applied. This way, you can save more on budget while getting unique boxes at the same time. Sounds great, isn't it?
Also Read: Top 10 Food Boxes Designs
Wonderful Coatings Make Dazzling Food Packaging
To grab more attention, of course, you need to make your boxes more dazzling. Polishing your food packaging with a wonderful coating will be a clever move in this context. When you work with Instant Custom Boxes, you will get the chance to choose which finishing effect you want to apply to your packaging. We provide you with an impressive variety of collections including:
Matte coating – This coating is perfect to make your packaging look more decent
Glossy coating – This method is ideal to make your packaging look shinier and more lavish
Spot UV – Will shield your packaging with an extra layer of protection
Gold or silver foiling – These coatings are the best options to make your packaging look more classy
Embossing or debossing – Innovative techniques to make your brand logo pop up on the packaging
Wrapping Up
It is undeniable that your product packaging is the one that will reflect your brand image – for better or worse. In this scenario, you need to always be a step ahead of your competitors. In the food market industry, following the market trends to make your food packaging supplies will help you to grab more customers.Well, we have explored some of the market trends that will give your food brand a competitive edge. All you need to do now is get the best packaging partner to help you create the most impeccable food shipping boxes. Instant Custom Boxes will be your one-stop solution to satisfy your packaging needs. We provide the most innovative packaging boxes in custom designs, shapes, styles, sizes, and colors. With us, you can catch every single eye to pay more attention to your delicious edibles. Always feel free to contact us and get your custom packaging with hassle-free shipping!