The food industry is a thriving world of its own. Food Boxes are not just ordinary products. They are one of the most special items in this field that differentiate the elegant brand image of a company from others. 
A custom food box design can make or break your business! It has been discovered that 15% of shoppers purchase products with customized packaging. Thus, it's no wonder why many companies are looking for ways to get their hands on beautiful and high quality food boxes these days.
Here, we will provide some examples of the finest available designs presented by various businesses all over the world. We have prepared 10 stunning tips for you to look through. We hope it will serve as inspiration the next time you find yourself in need of designing a food box!
Tips to Create Eco Friendly Food Packaging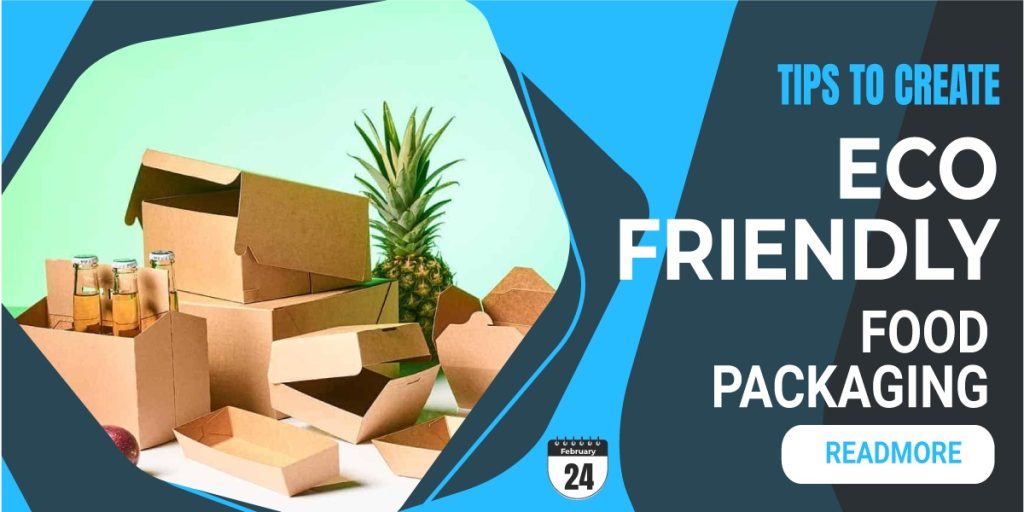 Creating a unique design for Eco Friendly Food Packaging is so important. We want to give you some advice on how to go about getting that done:
1. Hire Only Professional Designers
Only those with years of experience behind them can create designs that will increase your business' profit margins! They know what works and what doesn't. They also understand the importance of balancing between beautiful aesthetics and brand recognition. And, if critically acclaimed brands rely on professional designers with expertise for their packaging, why shouldn't you?
2. Always Remember Your Brand's Mission
If it represents a high quality, make sure the design on the box is stylish and suave! If it has funny taglines or concepts, go with something creative to allow the consumer to identify your product within a few seconds of seeing it.
The last thing you want for consumers not to mistake your product with another company merely. Both of them offer similar products. This would be extremely detrimental to your business' profits!
3. Look Through All Kinds Of Packaging Designs
Never limit yourself by looking at just one category! Variety sparks creativity. So, take note of all types, boxes, and other designs such as bags and tins. You can draw inspiration from anything available these days.
The market is bombarded with merchandise. It all depends on what you're making and how you want to present it to your customers!
4. Get Some Good Tips
Running your food packaging department for years now. It's safe to say that you know what looks good. When in doubt, always look up at the top brands. They are usually very experienced by now, given how vast the industry can be.
5. Don't Forget The Label!
No matter how perfect a custom box is. It becomes useless if there isn't an accompanying label! Make sure both go together. The label should describe the product and what makes it special while also providing information such as:
Ingredients
Nutritional facts
Company address
A coupon code for buyers to save on the next purchase
We'll let you know when we find some more design inspiration. In the meantime, feel free to look through our list of 10 inspiring designing of gorgeous food boxes. We tried hard to pick out only the best, so expect these ten options to be far from ordinary.
Lastly, don't forget that with great power comes great responsibility. If you are ever unsure about what type of design will work best for your company or product, always consult professionals first before personally taking charge of how it looks like. That way, you can ensure no major faux pas' are made along the way!
Size & Shapes for Custom Food Packaging Boxes
Food packaging boxes can come in several shapes and sizes. What you choose will depend on the kind of food you want to package. Some foods such as soup or cereal might require a bowl or other container. Others such as pies or cakes call for clamshells.
When it comes to which design you should use for food packaging, there are many things to consider other than just the type of food they contain. It depends on whether you need the product shipped domestically or internationally, along with any weight requirements. Can all play vital roles in which packaging is chosen.
10 Best Designs for Innovative Food Packaging Boxes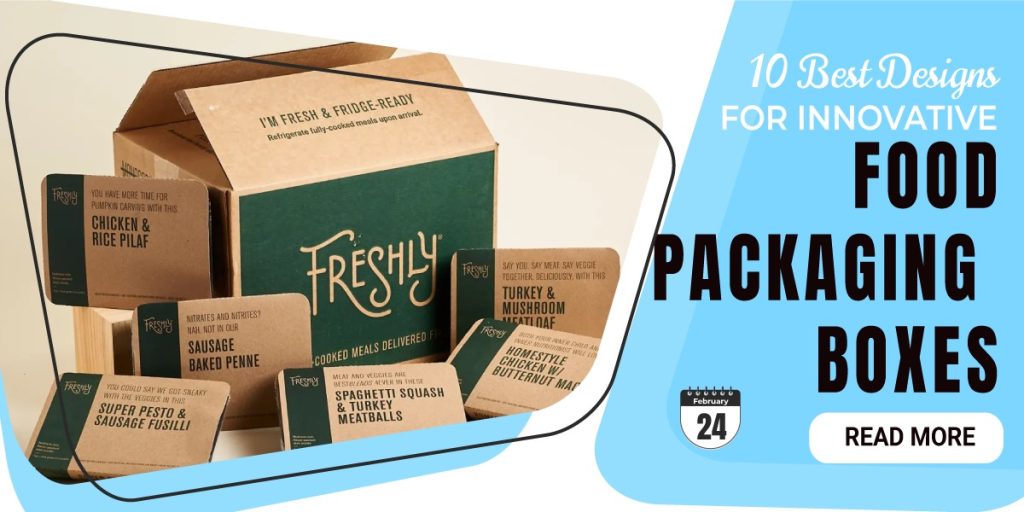 1) Large Rectangle Designs
Large rectangle food packaging boxes are typically used for 8 or 9 inches long products. The 4 by 6-inch design is the most popular option for this box. You can also use a 3 by 5-inch box if you prefer.
2) Tall and Narrow Designs
Tall and narrow boxes come in handy when you want to package:
Macaroni noodles
Rice sticks
Ramen noodles
Fettuccini pasta
Other large diameter foods that measure no more than around 10 inches in length
3) Rectangular Slotted Food Packaging Boxes Designs
Rectangular slotted boxes are designed to keep small objects from falling through the open spaces in the box. They are typically used for
Sprinkles
Nuts
Cereal
Anything small enough to fall through
4) Small Square Designs
Small square food packaging boxes are intended for cookies and other baked goods. It's common to use 2 by 2 inch or 4 by 4 inch slotted cardboard container options for this product.
5) Poly Mailer Designs
Poly mailer boxes are designed to provide ample protection while keeping shipping costs as low as possible. This type of box is lightweight yet very durable. Thanks to its polyethylene construction which can be used a few times.
6) Custom Food Packaging Bowls Designs
Custom Innovative Food Packaging bowls are typically used for soups and cereals. So, this type of box comes with a foldable plastic handle. It's important to realize that these handles can be more expensive than the food packaging boxes themselves.
7) Window Boxes for Custom Food Packaging Designs
Window boxes for packaging are an excellent choice when you want people to see what they're buying before opening up their purchase. These typically come in several sizes.
So, it's important to pick one that will fit whatever product you intend on selling or shipping out. Be sure not to pick one too small as the customer might think they are getting ripped off.
8) Custom Rectangular Food Packaging Boxes Designs
Custom rectangular boxes are typically used when shipping products or selling them in stores. This type of box comes with either an open top design or closed off. It uses a piece of cardboard across the front side by side with another piece of cardboard on the backside which is folded over the top and glued into place.
The second version will allow your product to see by prospective customers. At the same time, protect it from damage during shipping.
9) Custom Clamshell Food Packaging Boxes Designs
Clamshell boxes are typically used for cakes, pies, cookies, pastries, donuts, and other square or rectangular shaped food items. This box typically has a hinge on one side to stay closed when the product is being shipped out.
10) Custom Ice Cream Packaging Boxes Designs
Custom ice cream packaging boxes either have an open-top or hinged on one side with another piece of cardboard across the front. You can fold them over by using creases already in place for this purpose.
They keep your product cool during shipping and offer extra protection if needed. There are many factors to consider when picking out custom food boxes. You'll need to choose materials that will work best for
The size of the product you intend to sell
The number of products you want to sell per box
The type of design that will be most appealing to potential customers
As you can see in the list above, you can use many different designs for food packaging boxes. Your options include rectangular, square, poly mailers, clamshells, and more.
Depending on your needs and the type of product you sell or ship out, pick out custom food packaging boxes. It could prove to be very helpful when it comes time for selling or transporting items.
However, there are some things to keep in mind about these types of packaging. One thing is that it may not be as durable as other options. Another thing is this type of box does not usually have much branding value since buyers will quickly remove it from the shipment during presentation prep.
By choosing custom boxes with pre-printed graphics and ideas, a company can increase its appeal without spending the extra money on the box itself.
Why Choose Instant Custom Boxes
Many packaging solutions are available to companies shipping their products. While a company needs to find the solution that fits them. Many choose one of the most popular options — instant custom boxes!
We are great choice because they don't require any customization ahead of time. A business can ship our products in bulk and then store them until needed. They are also cost effective, which is important for smaller companies with limited resources.
We also allow graphic designers to utilize their creativity fully. Can design something that fits in with other marketing pieces or create an eye catching image to display by itself.
Whether or not you choose instant custom boxes depends entirely on your company. You may favor our wholesale custom boxes if you want durability and branding value. Thus, if you want to save money and don't mind the lack of visual creativity, we are perfect for you.