You might have seen how printed gable boxes come up as one of the most innovative packaging solutions. The unique layout of the boxes has made them a favorite choice of all business owners. These boxes come with an integrated handle on top. The handle opens automatically when you assemble the boxes. By creatively designing them, you can increase your business sales. To know more about them, here are some interesting facts you should know about these exclusively designed boxes!
Let's Know About the Various Purposes of Custom Printed Gable Boxes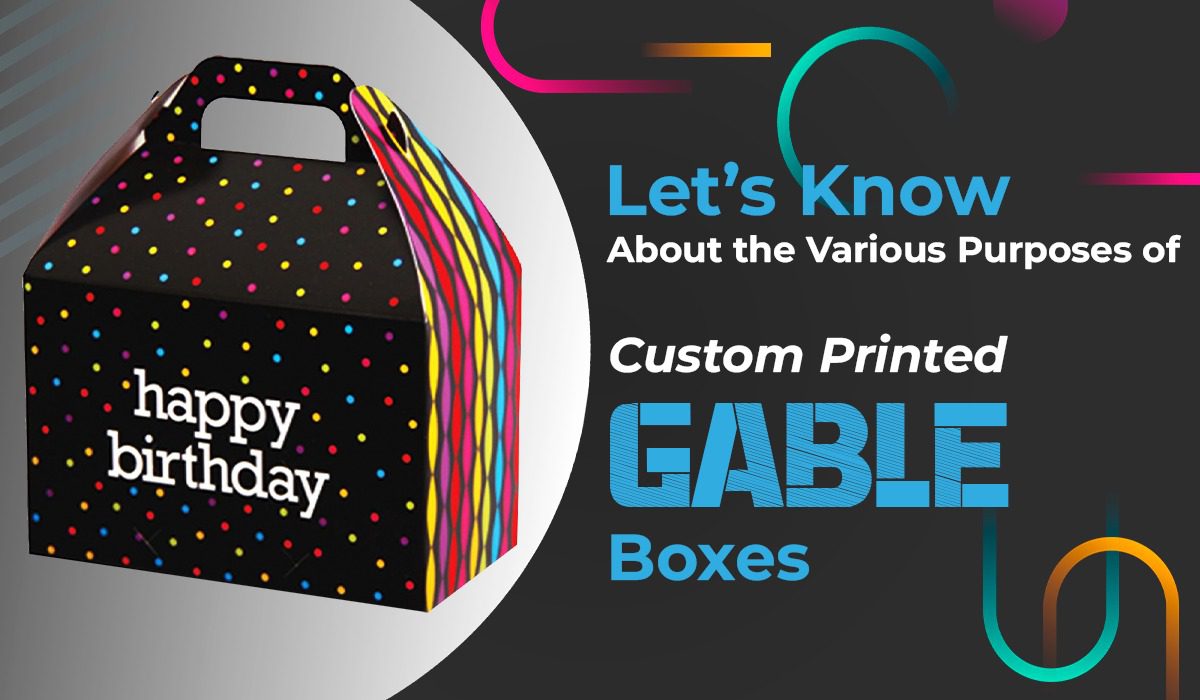 Custom-printed gable boxes are versatile. Different stores can use it to pack different items. Additionally, there are various ways to improve the appearance of these boxes. You can design the boxes with windows and attractive patterns to appeal to everyone. These boxes are lightweight, inexpensive, and very easy to customize. The features make the boxes perfect for various purposes. What are they? Keep on reading!
Ideal for Wrapping Beautiful Gift Items
Personalized gable boxes are known for their unique shape and design, which features a sturdy handle and a charming gable top. This makes them easy to carry and transport, making them a popular choice for gift wrapping.
In addition to their aesthetic appeal, customized gable boxes offer practical benefits as well. They are made from durable and high-quality materials, which ensures that the gift items inside are protected from damage during transportation or storage. Moreover, they are available in a wide range of sizes, designs, and colors, allowing you to choose the perfect box for any occasion.
Gable Boxes Are Perfect for Food Boxes
These convenient gable boxes are excellent for food boxes. Another thing to note is that the boxes are made of sturdy materials in different shapes, sizes, and colors. The nature of the material to make these boxes also makes them highly resistant to abrasion. Additionally, the handles are another unique part of the boxes that are perfect for packing food items.
The Best Option for Lunch Boxes
Another great purpose of custom-printed gable boxes is as the best option for lunch boxes. The handles are especially attached to the boxes and are strong enough to support your food items inside the boxes. Another interesting thing about the boxes is that you can customize them to any shape, size, and color. Eventually, the customization will improve the usage and desirability of the boxes.
Help Many Restaurant Owners
Many people take their food home or take them to another location with comfortable custom gable boxes. You will see many restaurant owners use these boxes to wrap food. The lovely handles on the boxes make it convenient for people to carry them along.
How Can Your Business Take Advantages of Custom Gable Boxes?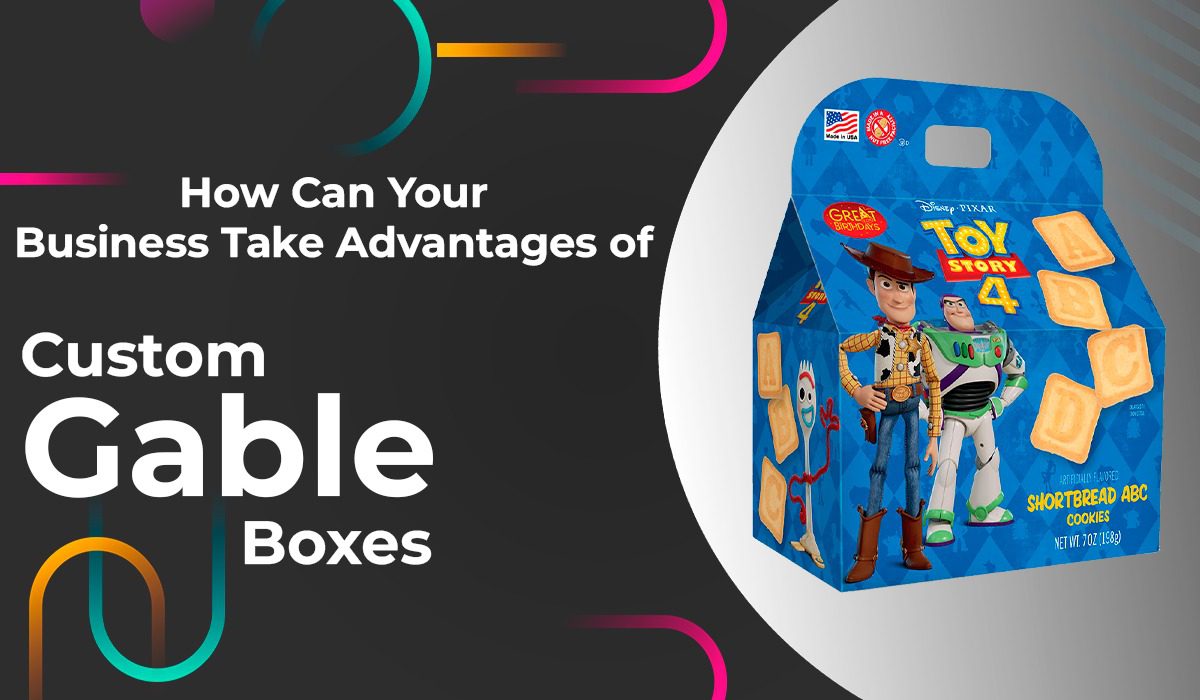 Gable boxes come with a unique and effective design; we all know about this. Yet, do you know how your business can make the most of these appealing boxes? Check out the tips below!
Apply Custom Designs to Your Gable Boxes
Keeping your customers happy with their purchases is very important. Let's admit it, if your customers are not happy with your products, they will never want to be your loyal customers. This will lead to lost potential customers and loss of business. Indeed, this is every brand's worst nightmare.
We know that every brand depends on sales. Otherwise, you might not be able to thrive in the market and maintain your brand's value. To this end, customer acquisition is a legitimate necessity.
To attract customers, you can frame your custom gable packaging boxes with creative and memorable designs.
For example:
Playing with colors is always a smart move – The brighter your boxes are, the more likely they can grab the customers' attention.
Design your box with custom options such as colors, prints, and patterns
Create elegant and beautifully designed boxes that are pleasing to the eyes
In the end, being creative with a custom design will definitely get you more customers and benefit your business.
Consider a Variety of Shapes and Styles When Designing Your Boxes
When designing your packaging boxes, it is essential to consider a variety of shapes and styles that align with your product's requirements. Different products have different packaging needs based on their shape, size, and fragility.
Choosing the right box size and shape is crucial for ensuring that your products are protected during storage, transportation, and display. Improperly measured boxes can harm the safety and integrity of your products, causing damage and potentially leading to product failures and business losses.
In addition to functionality, the design of your packaging boxes also has a significant impact on your customers' perceptions of your brand. Poorly fitting products may appear unprofessional and give the impression that you are not committed to delivering high-quality products.
Yes, you need to consider a variety of sizes and styles when designing your custom luxury gable boxes.
Be Unconventional and Unique with Your Gable Packaging Design
There was a time when a standard rectangular box was enough to sell any product. It wasn't printed or made to order, but it was used for product packaging. Well, standards have increased significantly today. In these modern days, brands use custom boxes to pack, present, and deliver their products.
What makes custom gable gift boxes stand out is the added flair and uniqueness. Even better, you can decorate the boxes and make them look more attractive.
You can be unconventional and unique with your packaging design by:
Adding a window shape and combining them with an attractive design
Try out some different shapes such as square boxes, rectangular boxes, or even triangular gable boxes
Apply a lovely ribbon and tie it around your boxes
Different shapes and styles for your boxes will make your products inside to be unique and attractive. Remember that modern customers will always look for something new and unique. You can support this by using unconventional boxes. This way, you can use the boxes to engage customer experience.
Perform Your Branding and Marketing Strategies
Both marketing and branding play an important role in the success of any business in every industry. Many brands spend huge amounts of money developing marketing strategies and effective branding campaigns. What if marketing and branding could happen automatically on store shelves?
Yes, you can make this possible with custom-printed gable boxes. These amazing boxes are perfect to print your brand name, logo, and all the details about your products. When you print your logo on them, these boxes will speak loud for your company.
What's more, you should also make your brand logo and design that will catch customers' eyes. With attractive and elegant brand logo designs on your boxes, your products will take charge of marketing and branding. In the end, they will promote your business in many ways and create a positive brand image.
Go with an Economical Package
As a brand owner, you are surely aware that running a business doesn't come cheap. After all, you have already spent a lot of money to manufacture your products. Thus, you definitely don't want to spend more money on packaging boxes. Instead, achieving the goal requires a lot of budget and investment.
Custom gable boxes are the best option to help your business in saving more money. If you order the boxes in bulk, you will get a discount on the wholesale price. This ensures high-quality boxes at an economical and affordable price.
This way, your boxes will be very good options for money-saving issues. Having these budget-friendly boxes allows you to get quality packaging without breaking the bank. Better yet. These boxes can also minimize manufacturing and production costs and ensure maximum profitability.
Introduce Transparency through Your Boxes
You can introduce transparency by adding windows to the boxes. Gable boxes with windows will be an effective way for your business to increase sales. Additionally, those customers will love to see what's inside the boxes. A design with a window stimulates the customers' purchasing behavior. This effort will help you increase product awareness. Better yet, it will help you make your brand popular.
Choose Eco-Friendly Packaging Options
Eco-friendly gable packaging boxes are trending these days because they are recyclable. Using eco-friendly materials to produce your boxes gives customers a positive impression. Yes, those customers will love you when they see that your brand cares about a greener environment.
Custom gable boxes from kraft or cardboard will be the best storage solution. Moreover, these eco-friendly boxes are easy to handle and dispose of. In the end, these boxes allow your brand to save costs through sustainability.
Apply Gold or Silver Foiling to Highlight Your Packaging Design
In this age of technology, the printing style plays an important role in promoting product sales. An interesting idea for your custom-printed gable boxes is to apply a silver or gold foiling.
Or else, you can also choose metal foiling to make the boxes more attractive to customers. In addition, you can also choose from various finishing options such as:
A glossy or matte coating option
The embossing or debossing technique
Spot UV and water-based coatings
All the wonderful finishing options will add elegance to your boxes in customers' eyes.
Final Notes
The perfect blend of creativity and customization can take your brand one step further. Modern customers will always look for something new and unique. Working with custom gable boxes can be a lot of fun. So, if you are ready to design your boxes, you can work with experts at Instant Custom Boxes! Give us a call!