Perfumes, these items are loved for their beautiful fragrance. In fact, we can say that perfumes are at the heart of the appeal of all retail stores. Of course, these sensitive items must have protective packaging. But do you know that your business can get more benefits from applying perfume packaging ideas?
Luxury perfume packaging plays an important role when it comes to capturing maximum attention. This packaging not only protects your fragile perfume bottle. Even more, it will also improve the product's appearance as well. You need to design your packaging to be so gorgeous that no one can leave without purchasing your lovely perfume. Let's dive more into this!
What Makes Perfume Packaging Boxes Important?
Good fragrances are part of our daily lives where everyone, from young people to the elderly, men to women, has their own opportunities. Perfumes can eventually reflect a person's nature and personality. Therefore, people would choose the right perfume for them wisely.
Perfumes today are no longer serving as body care. Today, these items can be the most sentimental gift items for anyone. Therefore, the design of perfume packaging boxes is very important.
Uniquely shaped packaging makes your perfume look more exclusive
If the shape of your luxury perfume packaging comes in a unique shape, your perfume inside will be more attractive and unforgettable. Creative perfume packaging ideas will help you attract the customer's attention with the beautiful appearance of your packaging.
Exclusive product packaging can turn any prospect into a permanent and loyal customer.
Perfumes might come in a variety of bottle shapes. The demand for this is strongly influenced by the target audience. For example, if a bottle has a feminine structure or characteristics, then the perfume is surely made for women. On the other hand, it can also have a general shape for either male or unisex.
With an innovative printing style, you can print your perfume packaging boxes with any image, text, or any essential you want. For example, you can print flower images such as orchids, jasmine, roses, and other flowers on the packaging boxes. This will end up being one of the smartest perfume packaging ideas you can apply to your packaging.
Additionally, you should also match the design of your perfume bottle as well. For example, a perfume with a scent of jasmine should have its packaging designed with jasmine flowers. Accordingly, the color should also match the packaging.
What about the color?
Without any doubt, the nature and features of your perfume are closely related to the color chosen. For example, we know that some perfumes use essential oils. Each of these oils comes with its unique color. Most of them can be in light or golden color.
In addition, some of these essential oils are subtle. Some even come with beautiful transparent hues. Depending on this packaging design, you should apply the relevant color combination to your packaging.
Why Do You Need Luxury Perfume Packaging?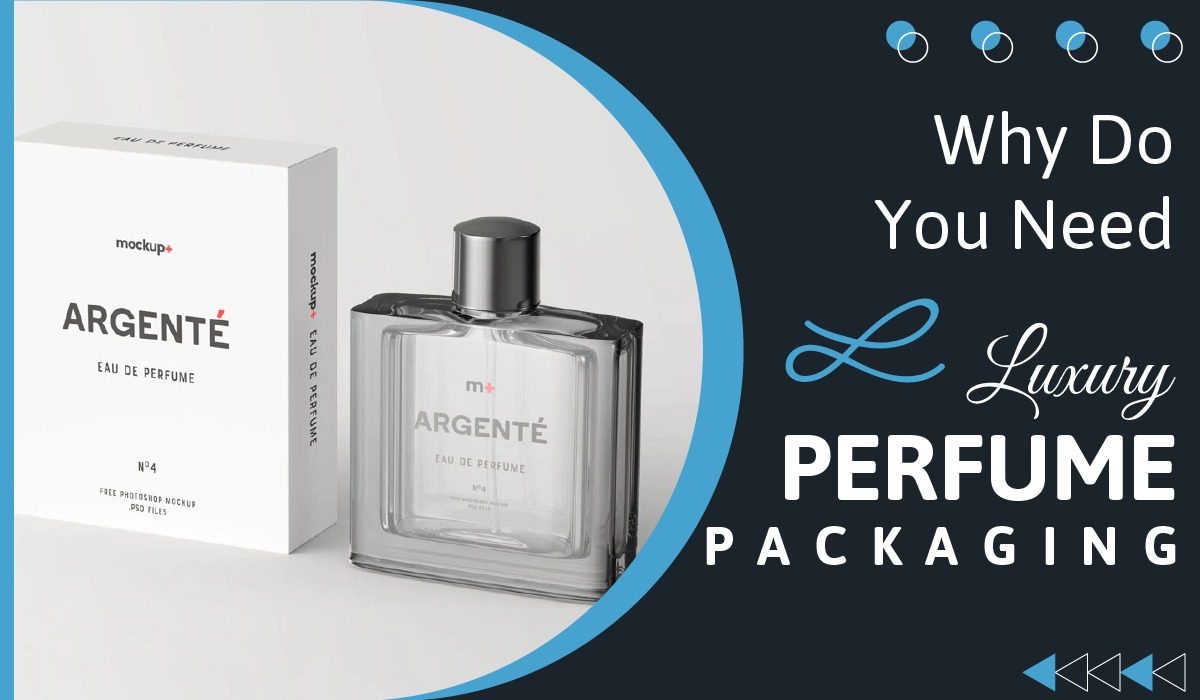 Again, perfumes can be an expression of individuality and class. As a brand, you also know that each perfume you produce comes with the power to convey a different meaning. The design of your luxury perfume packaging plays an important role in communicating that style.
Even more, your packaging can be the one that makes your brand to be more impressive and popular.
Below are some convincing reasons to get the right packaging and how to apply the right perfume packaging ideas!
Your product packaging is an important selling point
To get the first attention, the packaging for your perfume needs to stand out. For this, you can apply special coatings, metalized paper, or holographic patterns. These add-ons will help to enhance the design of your perfume packaging boxes.
In the end, the elements above will help to make your perfume design stand out on the shelf. You can also try to combine the paperboard with clear plastic. Or else, you can try out adding some textural elements like embossing technique. This technique works amazingly for creative lettering or making your brand logo pop up.
Yes, we can never deny that the real selling point of your perfume is, of course, the fragrance it offers. In this context, the packaging should tie into the fragrance as well. Be it the colors,, font style, or graphic elements, you will need to give customers a hint at the fragrance of your perfume. For instance, perhaps you use certain floral features or fruit scents, so why don't you mention or display that on your packaging?
Luxury perfume packaging and the wonderful features
Some packaging boxes for perfumes evoke the feeling of a specific season. Well, you can eventaully describe that by using a relevant color scheme to enhance this perception. For instance, you can use pastel colors to reflect the spring season. Or else, bright colors will bve ideal for warm perfumes that reminiscent the summer season.
The most evocative fragrances for your luxury perfume packaging can be applied with elegant and classy lines. In order to create a unique packaging design to give character to each bottle, you should work with professionals at Instant Custom Boxes. We will love to help your brand to add elegant features you want for your packaging.
To deliver a more luxurious look, you can go with die-cutting, stamping, and embossing techniques. These features will add essential elements to beautify your perfume packaging design.
Protect your delicate perfumes with defensive boxes
We know that perfume bottles are by far the most delicate and fragile products. They often come in uniquely shaped glass bottles. These bottles are gorgeous and beautiful to look at. Unfortunately, we also know that these bottles can easily break if they are not packed properly.
Your fragile perfume bottles require special care and consideration. This is where you need to follow perfume packaging ideas when choosing the right packaging to prevent scratches, breakage, and leaks. You should ensure to choose the correct size for your packaging to keep your perfume bottle safe and secure.
Elegant packaging attracts more customers
An attractive way to get the customers' attention is to display your beautiful perfume in elegant packaging. Your packaging should tell the story of your perfume inside. You can do this by telling the fragrance with attractive colors and graphics. This will also help explain the extravagant nature of your perfume and set them apart from the competition.
Help customers know more about your perfumes
When it comes to discussing perfume packaging boxes, you can distinguish between different categories. You should make customers understand your perfumes. For example, you can mention "Eau de Toilette," which means that your perfume contains 5 to 10% of essential oils. Or else, you can mention "Eau de Parfum", if the concentration of essential oils is 10 to 15%.
Consider the storage function
When it comes to the storage function, your perfumes should be stored with the utmost care. It is common practice that customers would throw away an empty perfume box after getting your perfume bottle. This might result in the loss of perfume scents and other properties. Why? Because your perfumes might be exposed to light which may affect the quality.
This is exactly why you need luxury perfume packaging. When you design your packaging trendily and classily, no customers would want to throw your packaging easily. Instead, they would love to keep your perfume safe inside the packaging. Problem solved…
Try out gift-like packaging design
Perfumes can be very beautiful gifts. Accordingly, when you want to present gift for your loved ones, the first thing you want to get must be the lovely packaging. Your perfume will look extremely inspiring if you include a gift-like packaging design in your perfume packaging ideas.
To decorate your packaging, you can add:
Lovely ribbons
Fancy ties
Glossy coating
Glitters
And more
Make an exclusive packaging for multiple small perfumes
Most customers perceive that the best perfume always comes in a small package. Most perfume brands offer an exclusive packaging box with a unique perfume collection inside. Imagine how a small bottle of perfume can bring the happiness of only a few milliliters of perfume. Exclusive packaging with multiple small perfume bottles inside can really make a huge difference.
Affordability is one of the best Perfume Packaging Ideas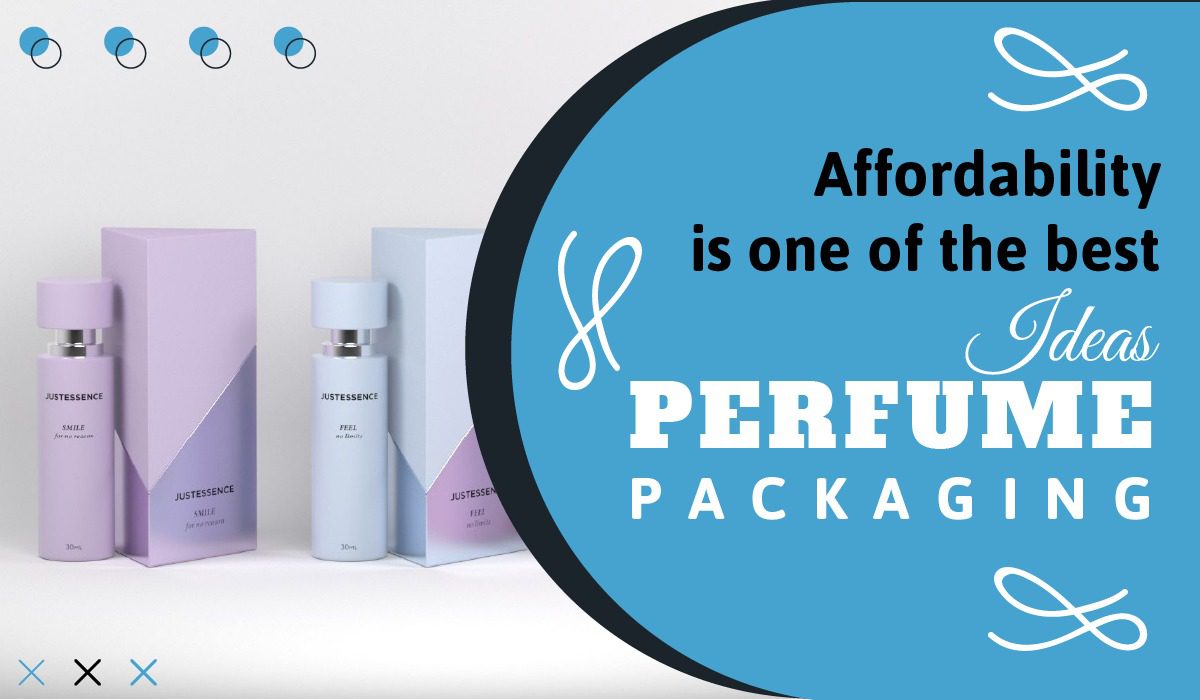 If you want to start your own perfume business, you would have to focus on many things. Along with other basic details, you would need to collect information about where to get affordable perfume packaging boxes. You can analyze different options by talking to some other experienced brands. Compare the prices and quality of some packaging providers.
Getting affordable boxes is one of the best perfume packaging ideas you can follow. In this regard, you would love to work with Instant Custom Boxes. We offer affordable and effective packaging solutions. Our high-quality custom boxes will provide you with long-term results by playing an important role in building your perfume brand.
Wrapping Up
So, are you ready to design the most impeccable boxes for your perfumes? Hopefully, the easy perfume packaging ideas above can inspire you to get the best design!
Have a great day ahead!