The soap industry today turns out to be one of the most beneficial market industries all across the world. We know that soap is essential for everyone for hygiene reasons. In fact, we can see how people usually use more than one soap in a month. Yet, even in today's busy world, customers still choose to judge books by viewing the cover. Accordingly, when it comes to displaying your products perfectly, you need soap packaging ideas to hit all the perfect points! So, speaking of getting the most value from your soap packaging boxes, this post will dive further into it!
How Can Soap Packaging Ideas Help In Your Marketing Strategy?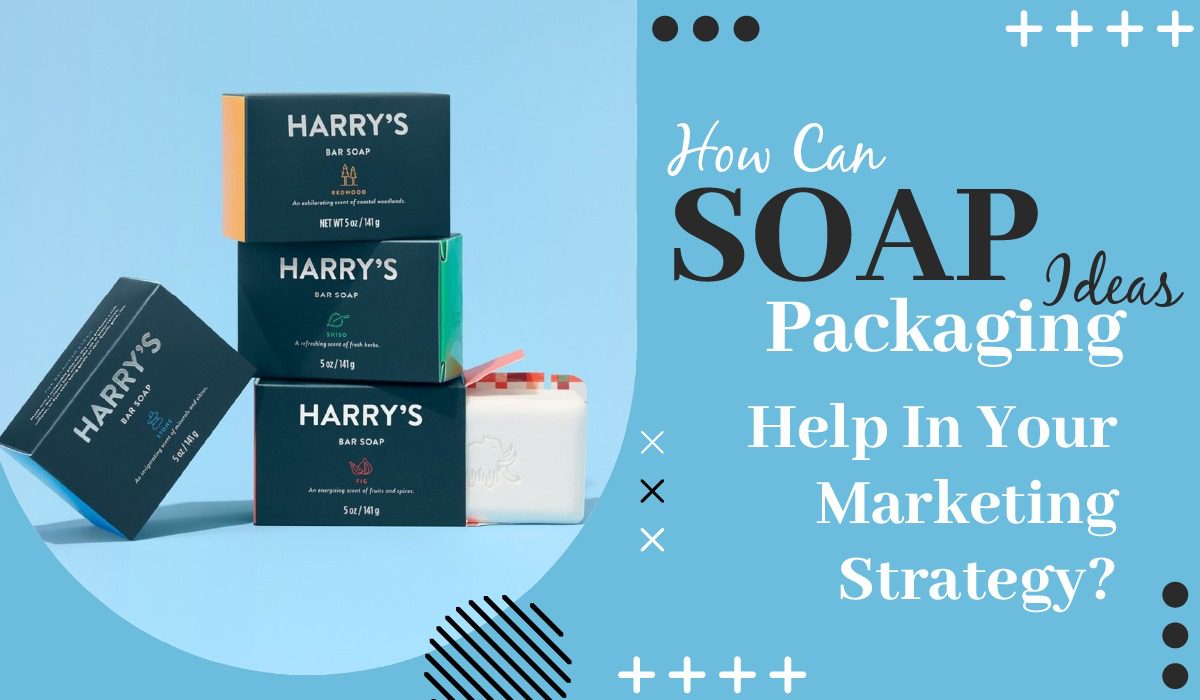 The design of your product packaging will be a central part of the marketing plan of your brand that manufactures and sells your products. At the same time you are creating a promising packaging for your soap with an attractive design, you will need to deliver the perception of the product's quality. In addition, you should never forget to reflect and highlight your brand image as well.
Creative soap packaging ideas will help you design the packaging to open up the supreme opportunity for you to visually convey your brand's message. This is exactly where your soap packaging boxes will do the work in underlining your brand amongst other competitors.
What about Customizing Your Soap Packaging Boxes?
In this competitive business world, the market customers have thousands of options to get any kind of product they want.  The perception they get from your product will totally depend on your product packaging design. In other words, your product packaging will be the one that directly communicates and influences your customers.
Custom soap boxes, in this context, can be a great way to sell your beautiful soaps effectively. The unique layout of the boxes can be made to be very interesting. By having these captivating boxes, your lovely soaps will look more interesting. In addition, you could attract the attention of customers within no time! Now let's imagine where there is a standard soap box on a shelf and a beautifully customized soap box. Which packaging box do you think will captivate more customers and sell the product more? Without any doubt, the customized one!
Customized boxes play an important role in your product sales process. Therefore, you need to design them very effectively and intelligently. You can try to check out the latest market trends for your boxes. Or else, you can see how your market competitors are doing with their boxes.
Soap Packaging Ideas – How Your Custom Boxes Should Be?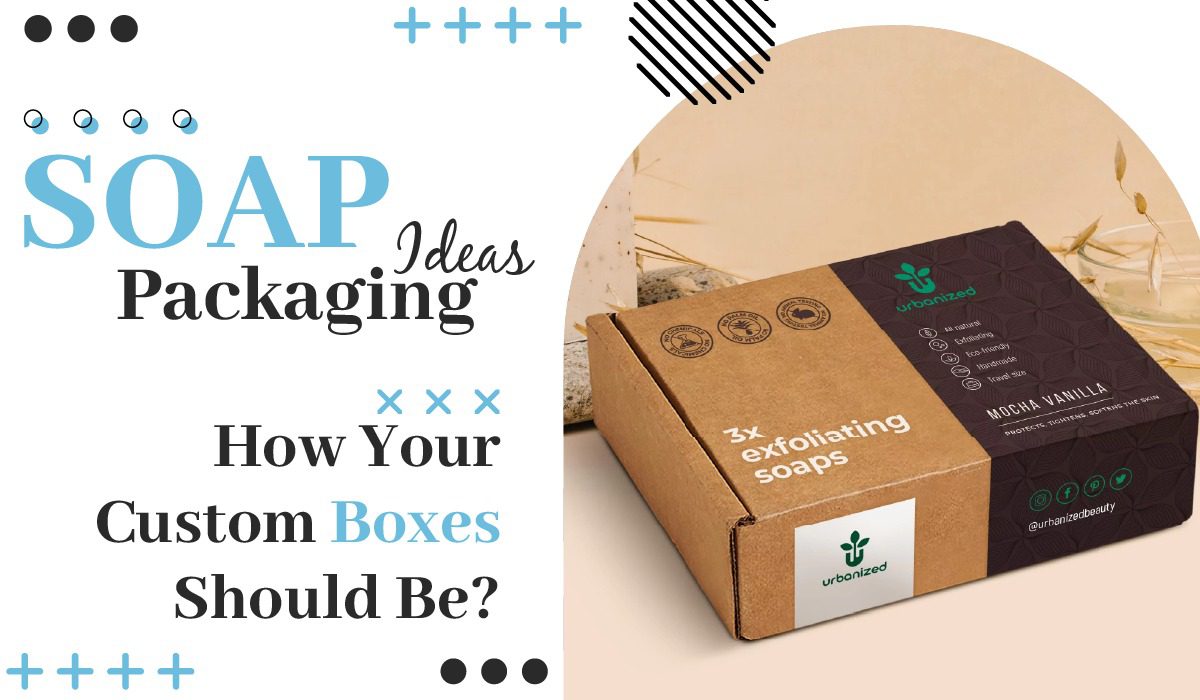 Alright, now that we know how important it is to have the best custom boxes to promote your soaps, you might be wondering how your boxes should be? Below are some creative soap packaging ideas to give you hints on how you should design your boxes.
Reflect the ingredients
Modern customers today turn out to be very wise in choosing their favorite soaps. In fact, those customers would not simply go by brand name. Instead, they would do a survey on the internet before actually purchasing any soap.
At the same time, the list of ingredients used in producing your soaps is also very important. Accordingly, your target customers would want to use soaps that contain all the natural ingredients to get the benefits from natural resources. After all, no one wants to use chemicals or processed products on their face or body. Keeping this in mind, you should consider the soap packaging ideas that best reflect the ingredients of your soap inside.
For instance, in case you you used all-natural ingredients for your soaps, then you could and should show it off to your target audience.
Now what is the best way to do this? Your soap packaging boxes would be the best and affordable ways to show off the quality of your soaps. Or else, in case your soaps are made from natural goat milk, you could design the packaging boxes that reflect it as much as possible.
Create the boxes that interesting to the market customers
Try to do some research to find out what types of packaging boxes are interesting to your market customers. For this, you need to think out of the box and then come up with unique and creative soap packaging ideas for your custom boxes.
We know that there are countless soap products on the market. As competition intensifies, you need to invest in unique product packaging boxes to increase sales.
Reusable nature will be a good idea
Today, many people love reusable items. This is why you should consider using reusable material for your soap packaging boxes. You would find many solutions in this regard. Accordingly, you would see that one of the best packaging boxes for soaps will be beautiful and reusable. Even better, reusable packaging boxes can be very convenient because your customers can then use them for other items and displays.
Design sturdy and best fit packaging boxes
You need to make sure that the packaging boxes for your lovely soaps will be sturdy and shock-proof when placed on shelves. In addition, the boxes need to have the optimum sturdiness to hold and preserve your soap products.
Another thing you should note here is that you need to make sure that your soap packaging boxes will perfectly and tightly fit your soaps inside. To do this, you could measure the accurate size of your boxes and let the packaging experts at Instant Custom Boxes do the work.
The Small Details That Matter When Designing Soap Packaging Boxes
When it comes to designing the best soap packaging boxes for your products and brand, the small details matter a lot. Hence, you need to give more attention to these small details. What are they?
The color combination you apply on your packaging plays an important role in influencing your beloved customers. In fact, we know how color can eventually help to show the nature of your soap product. For example, if you want to deliver a premium look, you can focus on colors like white, gold, black, and so on.
When choosing a font style for your boxes, make sure to use a clear and visible font. This way, you could rest assured that customers would be able to see your boxes visible from a far distance. Additionally, your font style can provide its own description to the packaging boxes. Far better, it will help you to reinforce the message you are trying to convey. So, make sure to not avoid this element.
The feel and appearance of your packaging design also play a great role in determining the nature of your soap inside. One of the most creative soap packaging ideas is to create packaging that is elegant to the touch, shiny, or soft to the touch. This way, your packaging will attract customers toward your soap products and stick with your brand forever.
Maintain transparency on your packaging
Another most important factor you need to consider is that the packaging should never give a wrong perception to customers. In its place, you always need to be honest and transparent to gain customer trust for a longer time. For example, a beautiful window shape on the packaging will make your soap look like a reliable product in the market.
Show off your product persona
For a moment, try to consider your soap product as a human being. Then, your packaging design should consider the brand individuality going along with your target audience. Your potential customers can always feel the credibility of your soap product while choosing it. In fact, the product persona is the one that will make them make their purchasing decisions.
Eco-friendly soap packaging ideas
The packaging boxes for soaps are usually generated from many packaging materials. To dazzle more customers, you can get eco-friendly soap packaging ideas by using environmentally packaging material. Go with cardboard, kraft, corrugated, or rigid packaging from Instant Custom Boxes. All these materials are popular as eco-friendly and can be recyclable.
The best approach to grab customers' attention is to choose a unique shape for your soap packaging boxes. Modern customers are always looking for an ideal and creative thing. Hence, they would love to get their favorite soaps in unique shapes.
You can try out the triangle, leaves, and oval shapes for your boxes. By having unique custom soap boxes, you can make your soaps stand out more than any other soap on the shelves. This effort would ultimately allow you to quickly get the attention of your target customers.
Wrapping Up
Indeed, when you have attractive packaging boxes wrapping your soaps, you would find no difficulties catching customers' eyes. Hopefully, creative soap packaging ideas above can inspire you on how to get the most value of your soap packaging boxes.
If you are ready to design your own custom boxes, you could simply contact Instant Custom Boxes. We provide reliable and professional design support at a free cost!