Paper bags are a useful and ecological packaging choice. They are considered an alternative to plastic bags in our daily lives. Well, there are eight types of bags that are used by different customers. Additionally, each bag is designed with an exact purpose in mind. These bags include Kraft bags, carry-out bags, takeaway bags, grocery bags, and more. Further, custom bags come with secure seals that protect the items. The awareness about where to use these bags promotes your packaging and storing experience. They are the best option for food packaging as they come in carry-out and takeaway styles.
Let's explore the top eight types of paper bags!
1. Custom Brown Kraft Bags
Brown Kraft Bags are a popular choice for businesses and customers looking for a recyclable and customizable packaging solution. Additionally, these bags are made from brown Kraft paper, which is famous for its strength and durability. Plus, it can hold a variety of items without tearing or breaking easily. No doubt, these bags are the most demanding and common choice of customers and sellers.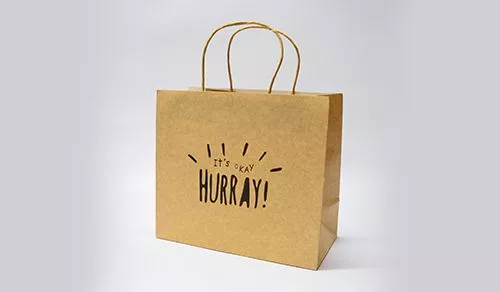 Which features are offered by these bags?
The best part of these bags is that you can personalize them to fit your brand or event. For instance, you can print these bags with your brand logo, a special message, and a unique design that makes them stand out.
Can I customize these bags?
Yes, why not?
These bags come in various sizes and styles to make them suitable for different purposes. Well, whether you need a small bag for carrying out or a large one for packaging products, there is a size for all.
When to use these bags?
Indeed, you can use these bags for multiple purposes. These bags are not only designed for specific items. However, you can use them for packaging merchandise, clothing, groceries, accessories, and small gifts.
After all, if you are thinking about organizing an event or trade show, these bags are an ideal option as promotional items. On the other hand, you can give these bags as gifts, people love to receive them because of their appealing look.
2. Custom Carry-Out Bags
Another fantastic type of paper bag is popular as custom carry-out bags. These bags are super handy and versatile packaging solutions. Also, they offer convenience and branding chances for a brand. Moreover, these special bags are widely preferred by restaurants or food serving companies. Why? Because they provide a secure and hygienic way to move food to customers and workplaces.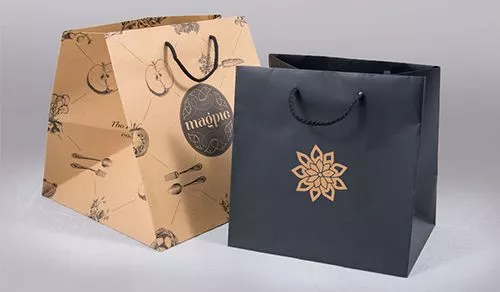 So, are these bags specifically designed for restaurants or food supplies?
No, they are all-rounders!
Especially in clothing stores, boutiques, shoe packaging, and many more items packaging. Further, they are designed to hold them easily by customers which makes them a favorite choice of buyers. Above all, they are also popular in a retail business, for protecting items and enhancing the overall shopping experience. In short, these bags are a smart way to win customers' hearts and delight them.
When to use these bags?
Well, the options are limitless, but some of them are as follows;
Use them for takeout, food delivery, or cookery to ensure that meals are safely moved and the taste remains unchanged.
These bags enrich shopping skills by allowing customers to carry out their purchases with ease.
Customize the bags with your logo or design to promote your business. Plus, they create a long-lasting imprint on buyers and inspire them to make wise purchasing decisions.
They are ideal for meetings, trade shows, and promotions to distribute things and leave a positive impression on people.
3. Custom Coffee Bags
Custom Coffee Packaging Bags are specially designed to preserve the freshness and flavor of coffee beans. In addition, they protect the special aroma and taste of ground coffee while offering branding chances. Further, coffee shops and roasters often use them to package their products.
Above all, these bags come in various sizes to put up different quantities of coffee. Thus, from single servings to bulk purchases opting for these bags is a smart decision.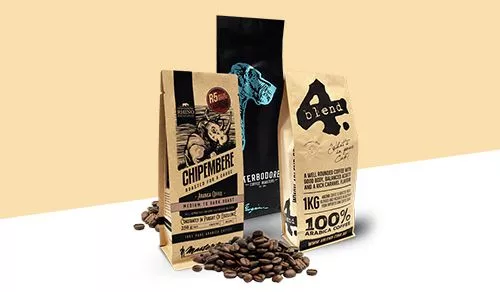 What are these bags able to do?
These special bags offer a secure seal that helps to keep your coffee beans fresh and retain moisture as well. On the flip side, these bags are strong enough, protecting coffee from external effects such as dust, humidity, exposure to light, and more.
Who can use these bags and in which condition?
Are you a coffee retailer? So, you can use custom bags to package and sell your coffee beans or ground coffee while showcasing your brand. Hence, the tight seal of these bags keeps the taste, aroma, and flavor locked for a long time.
Custom bags are the first choice of roasters. Why? The reason is that when the roaster roasts the green coffee beans, they wants to preserve that special odor of fresh beans. Certainly, nothing is a better option than these bags.
These bags offer a resealing service at home. So, homebrewers love to have them to keep their coffee fresh at home. Also, they are a convenient way to reseal your coffee after each use.
4. Custom Kraft paper bags
Are you looking for an ecological packaging solution for your multiple products? well, you are at the right place, the custom Kraft paper bags are a way to go. These bags are specially to promote sustainability and contribute to a healthy environment.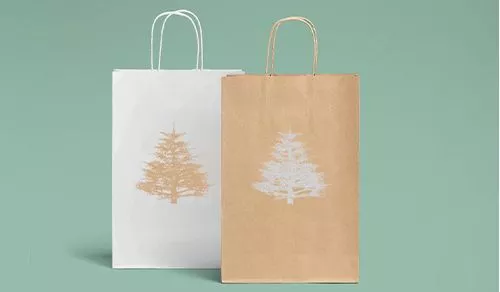 Are these bags reusable?
Absolutely, they are reusable and recyclable for new objects. Also, leaves a positive impact on buyers by reducing the use of plastic bags. Moreover, you can customize them in any shape, style, and size. Importantly, they are printable, so you can use natural sources of printing to promote greenery.
Are custom paper bags food-safe and hygienic?
No doubt, these bags are 100% secure and safe for food packaging. Their natural brown color gives them a rustic and organic look, which appeals to customers. Additionally, paper bags give direct benefits to your business.
Ideal situations for using these bags are as below!
Branding and Promotional Events
Do you want to show your brand cares about the environment? These bags are the ideal option to promote ecological packaging solutions.
Staging of Handmade Products
If your business sells handmade crafts, these bags enhance the appeal and crafty feel of your brand.
Food and Cafes
These bags are the best choice for packaging bakery items, takeaways, and other culinary products. Yet, the design of the bags keeps your food secure from damage and keeps its quality preserved.
Small Business
Small businesses prefer to use these bags for the packaging of small items. Plus, they are not only suitable packaging solutions. But, more than that, they can also adjust their budget. Moreover, you can also read a blog which Is about Why Businesses use custom-printed bags.
5. Custom Fast Food Bags
Custom Fast Food Bags are practical and customizable packaging solutions. They are specially made to meet the needs of fast-food restaurants and food delivery services. Additionally, they ensure food remains hot and fresh while reinforcing branding.
Moreover, they are typically made to preserve the food from outer harm and hurt. Importantly, for the promotion of the brand, these bags allow you to print them. You can print your brand logo and delicious and catchy words such as ''Crave & Crunch," "Zest Zing," and more.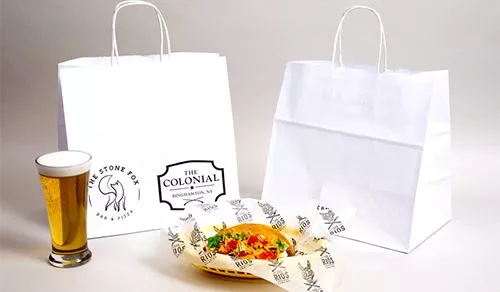 What is the potential of these bags?
Beyond their basic use as meal carriers, fast-food bags have a lot of promise. First of all, they serve as a branding tool that displays your logo on the front of the bags. After that, they advertise your brand at a vast level by printing a QR code. These codes give customers access to your website for quick and easy online orders.
When should you opt for these bags?
Fast delivery service
When it comes to fast delivery of food, nothing else is a better option than these bags. Still, they keep your food order secure and at the right temperature during transit. As a result, your food remains warm, and fresh whether you pick it up or call for a delivery.
6. Custom Flat Handle Paper Bags
Special events like weddings, meetings, or promotional giveaways can benefit from custom flat-handle paper bags. You can use them to fill any event material or gifts for the people. Remember, these boxes are printable; you can design them with new ideas. Plus, choosing vibrant colors to match the theme of the event can be a great idea.
On the other hand, the lightweight and ease of handles make them easy to carry. A heavy-duty material is used to make them sturdy and ensure they can carry multiple items safely.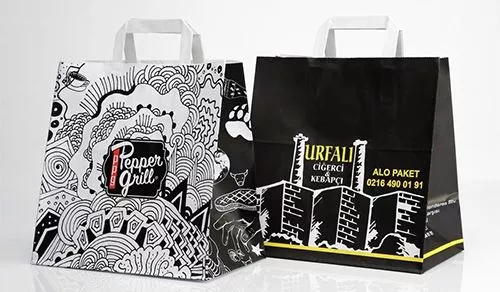 Which items can you pack in these bags?
These bags are an ideal option in retail stores to pack clothing, accessories, shoes, and small to medium-sized retail items.
Books, stationery, and office stores
You can pack books, magazines, stationery, and office supplies in these bags easily. Further, you can use them for craft supplies such as yarn, papers, paint, brushes, etc.
Businesses that sell gourmet goods such as chocolates, popcorn, and bakery items can use these bags for effective packaging.
These bags are a superb option for packaging lightweight grocery items such as fruits, vegetables, and other foodstuffs. Hence, the flat handles make them easy to carry and increase the customer's shopping experience.
7. Custom Foil Bags
Custom Foil Bags are specialized packaging solutions designed to protect and preserve the freshness of many products. Additionally, these bags are crafted with a layer of foil, which acts as a barrier to moisture, light, and oxygen.
Certainly, this foil layer makes them ideal for items that require enhanced protection from external factors. These bags are perfect for packaging medicinal items such as vitamins and suspensions that need to be protected from moisture. On the other hand, they preserve the quality of medicine for a long time.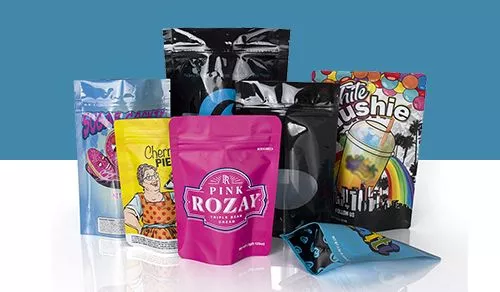 When is the best time to make use of these bags?
Security of medicinal product
When it comes to keeping your medicines safe bags are the best option. Furthermore, the foil sheet helps to prevent the medicine from uneven temperatures.
Custom bags can be used to pack fragile items such as chocolate and candies. Also, the foil layer acts as a shield that not only protects the foodstuff but locks its freshness. These foods include beans, snacks, tea, coffee, etc.
8. Custom Makeup Paper Bags
Custom makeup paper bags are the most stylish and eco-friendly packaging solution for beauty items. These bags are not only beneficial for the environment. But, their appealing look grabs the attention of potential buyers and makes your brand stand out.
Moreover, they offer you to add a window on the front of the bag. This window helps to give a glimpse of beauty products from inside the bag without even opening it.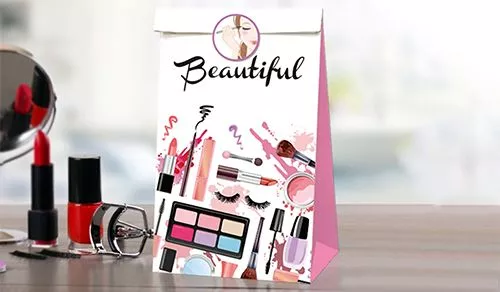 What is surprising about these bags?
The most surprising thing is that they allow you to print them in the way you desire. So, no need to wait! Decorate these bags with eye-catching printing. For example, you can add floral themes to truly align them with your brand personality. Plus, a unique graphical touch is a great way to create a sense of professionalism.
In which conditions using these bags is a smart move?
Utilize them to add a personalized and stylish touch when providing makeup products to clients or customers.
Launching of new products event
Include these bags in beauty-related events, workshops, or product launches. they create a visually appealing and memorable experience for buyers.
Wrapping Up
There are 8 main and most demanding types of paper bags. Additionally, you can use these bags for various purposes like packaging, storing, gifting, and more. Further, these bags offer customization, so you can design them in any style, shape, and size. Most importantly, to give them a classy and trendy look you can print them with the brand logo, information about items, and other stuff. Graphical touch is the best to catch the attention of buyers. In short, these bags offer you a complete packaging solution for multiple products.
So, if you are interested in getting the right paper bags for your products, you can rely on packaging suppliers like Instant Custom Boxes!