Food items will always be the most important part of our lives. Many restaurants and food brands have been delivering their food items to their beloved customers with their best effort. Thus, promoting a brand with simple, standard packaging is impossible. Yet, you can promote your food brand easily with appealing custom takeout boxes. How? By designing them with your branding theme, you can let the boxes speak about your brand!
Why Does Your Business Need to Invest in Custom Printed Takeout Boxes?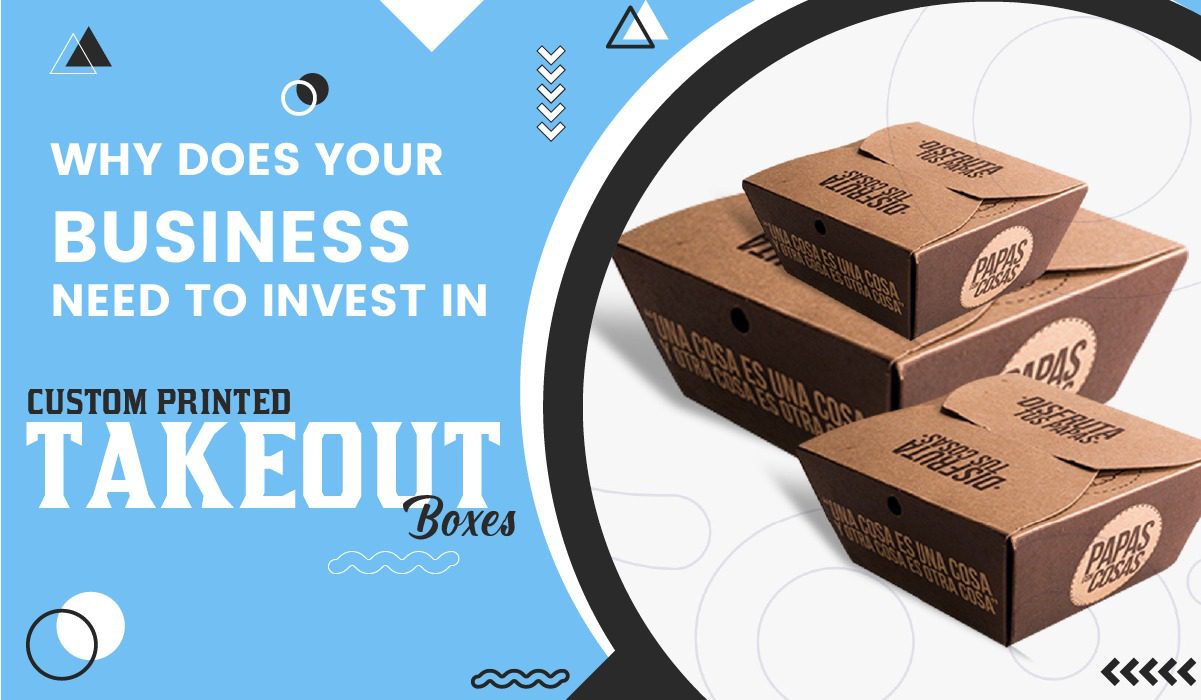 In this busy lifestyle, it is a common practice to see some customers rush into having their food. You can eat out every day in the office or get in the habit of eating out on weekends. Whatever your reason, one thing is for sure, you will come across a wide variety of custom printed takeout boxes. For brand owners, the packaging boxes can eventually increase or decrease their sales.
These boxes make a lot of sense not only to the food items but also to your brand. How?
First of all, the boxes come with the ability to keep your food items fresh. Additionally, the boxes can help you to:
Effectively preserve the taste, aroma, and conditions of your food items all through the shipping journey
Prevent external influences such as temperature changes and fluctuations, dust and humidity
Protecting your food and changing a customer's view of your food items
The main focus of customers is to receive food in well-wrapped form. They can give various reviews either negative or positive, depending how you present your food items. Additionally, their feedback depends on the quality of your product packaging. By providing customers with sticky, unappealing food items, your brand will not only lose their trust. Even worse, it will also negatively impact their feedback.
Instead of expanding your brand's reach, poor-quality packaging drives customers to provide negative feedback.
Therefore, investing in custom takeout containers is highly essential for your food brand to win the market. This simply suggests that your packaging boxes significantly impact market popularity and success, regardless of product category.
The Benefits of Using Custom Takeout Boxes
Without any doubt, you want your food items to be at their original essence and conditions when reaching customers. Well, custom takeout boxes offer more benefits than that. What are they? Keep on reading!
Your Food Items Will Stay Protected
Maintaining product safety is necessary because customer trust is based on this one factor. If your product packaging looks messy when customers open your packaging, they will certainly think negatively about your brand. This is the most effective way to lose the number of customers you have.
To avoid this, you should use a durable and robust packaging solution. Sturdy custom kraft takeout boxes will be valuable in this context. The boxes come with customizable thick and dense nature. Thus, they are the perfect choice for maintaining the quality of your food items.
Act as Free Marketing Tools
To maintain the reputation of your food business, you need to know some solutions or marketing techniques to promote your brand further. Looking at the fierce competitive market in this regard, we can see that different food brands do this with different approaches. Some of them employ solutions like graphic designers, social media marketing, and promotional videos. But when you look at the budget you have to invest in getting these solutions, you might not want to take a look at them again.
On the other hand, custom printed takeout boxes can easily enhance your brand image with their quality. You can easily communicate with your customers by printing your bespoke boxes. This is the main reason why getting these boxes in premium quality is perfect for your brand promotion.
Come with Multiple Customization Options
Custom takeout boxes are one of the many customized solutions. As customization rules in the packaging world, manufacturers and food brands now have different ways to present their food items. Whether you need a unique design or perfect boxes to protect your food items, they are available in all formats.
Due to their excellent printability, the boxes will effectively achieve the highest print resolution. Better yet, they will also be suitable for coatings, laminations, foiling, embossing, and other finishing options. What's more, you can apply the style according to your brand, your customers, and the nature of your customers to appeal to your audience.
All you have to do is use your creativity to come up with the perfect presentation. Eventually, these boxes will differentiate your food brand from others.
Let's Design Attractive Custom Takeout Boxes for Your Brand!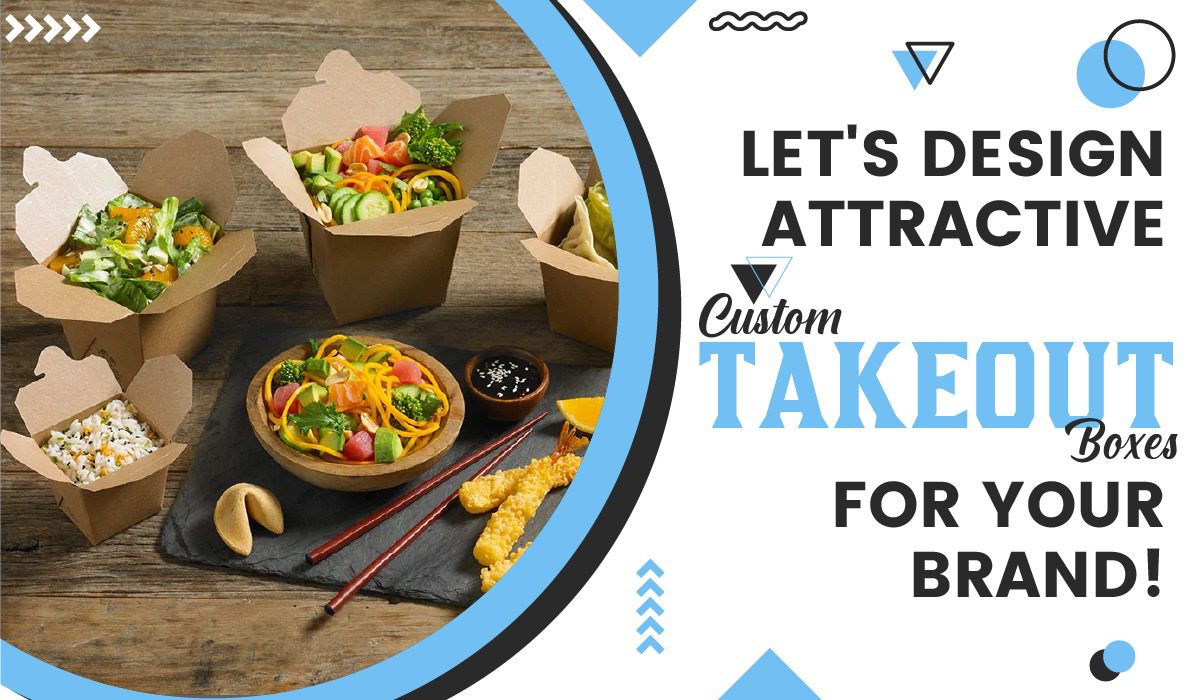 Some boxes are well designed, and some are unsightly. These unsightly boxes can leave a negative impression on your mind. In this regard, it is important to ensure that your packaging boxes look good and attract customers. To help you out, below are some tips for designing attractive custom takeout boxes for your brand!
Apply A Unique Design with Your Brand's Theme
Many restaurants and food brands in the market offer a wide variety of dishes. Some restaurants serve Chinese food, while others serve Italian foods or Western foods, and so on. In this scenario, you need to focus on finding a unique design for your packaging boxes.
Your custom food boxes should be designed to reflect the value of the company and the product. Remember that the more unique the design you apply to your boxes, the more attractive they will be to customers.
Make Sure Your Boxes Are Durable
Without any doubt, you also need to make sure that your boxes will be durable. Additionally, they must be convenient so customers can easily carry them around. For this, you should carefully decide which packaging material best suits your business needs and requirements. For example, you can go with custom dura takeout boxes, which come with remarkably sturdy features.
Provide Complete Product Details
Customers love to check the details on the boxes before making a purchase. Without any interesting details or images, they might not be interested in purchasing your food items. It is also important to include a list of ingredients you used to cook your delightful food items. Why? Because some people are allergic to certain ingredients.
Use Bright Colors On the Packaging Design
Bright colors on custom takeout boxes not only will make them look more attractive. Better than that, they will give you the opportunity to evoke emotional reactions from your customers. For example, in the summer season, you can use a bright yellow box with a red or orange lid.
In addition, you can also add a window to let customers see through what they are getting. These small details will make your food items and brand look more convincing in customers' eyes.
Make Your Boxes Easy to Carry and Use
This is important when it comes to designing custom printed takeout boxes. Don't try to make your boxes complicated for your takeout staff to carry. Additionally, you would not want to give any difficulty for customers to open up the boxes.
Print Your Logo as an Ideal Branding Tool
No one can deny the power of a brand logo in building a positive brand image. It is undeniable that the logo you use is the face of your business. By printing your logo on the boxes, you can attract more customers and make more people familiar with your business.
To spice it up, you can also write your slogan or motto. Yes, you can print these all on your custom takeout boxes! Better yet, you can eventually tell your brand story.
Consider Your Customers' Preferences
Customers are always expecting you to add value to your food items. This point will let you open up your chances of building long-term relationships with customers. We know that the way you present your food items is important. In simple words, you need to consider the customers' preferences when designing your boxes.
Yes, this is the main key to brand marketing. The colors, shapes, labels, designs, branding materials, and external or internal images, all contribute to the effective development of your brand. On the other hand, you also need to research what your target customers like and dislike. This way, your design stage will never go wrong.
Final Ideas
When it comes to presenting and delivering delicate food items, your custom takeout boxes need to be durable. At the same time, the boxes also need to attract every eye and reflect your brand's quality. So, if you are interested in designing the best boxes that speak about your brand, Instant Custom Boxes is a reliable packaging supplier you can always count on!
Contact us to get more details!