Speaking of the best way to sell beautiful hair extension products, we cannot deny mentioning custom packaging. In some cases, product packaging might eventually be more important than the product packed. Why? The reason is obvious; it is your product packaging that impacts how customers see your products inside. The same applies to hair extension products. When you have luxury hair extension packaging, no customer can ever resist your products.
But how can you make your product packaging look more captivating? By customizing it! Yes, there are many reasons for you to customize your product packaging. After all, when it comes to promoting your hair extension products, unique designs will work perfectly.
Why Should You Customize Your Hair Extension Packaging Appealingly?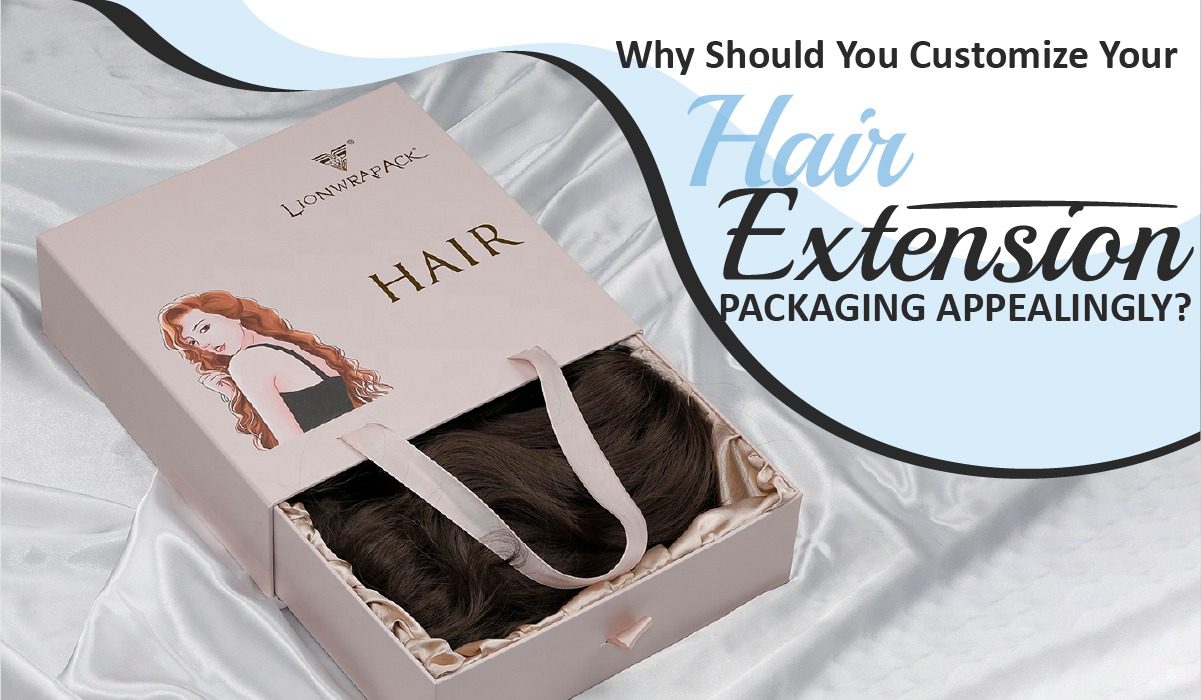 Of course, this question may come to your mind right now. Yes, why should you customize your hair extension packaging? What difference will it make? After all, customers will not reuse the packaging after getting your hair extensions, right? Well, not really…
Let's dive further.
Luxury Hair Extension Packaging Is Highly Customizable
We can see how customization has revolutionized the world of packaging. Today, various brands from different industries are customizing their packaging boxes. The main goal is to differentiate their products. Luxury hair extension packaging is highly customizable. Yes, this means that you can design and customize the packaging according to your creativity.
Everything from the packaging is flexible to customize, including:
The packaging design – You can make it more attractive with your brand's theme
The packaging style – You can choose your favorite style, or applying your own style will be better
The shape – You are free to decide the right shape according to your product needs
The size – You can measure the exact size to protect your hair extension products inside
The color – You will be free to apply vibrant color combinations that match your brand logo
The Best Tips to Customize Your Luxury Hair Extension Packaging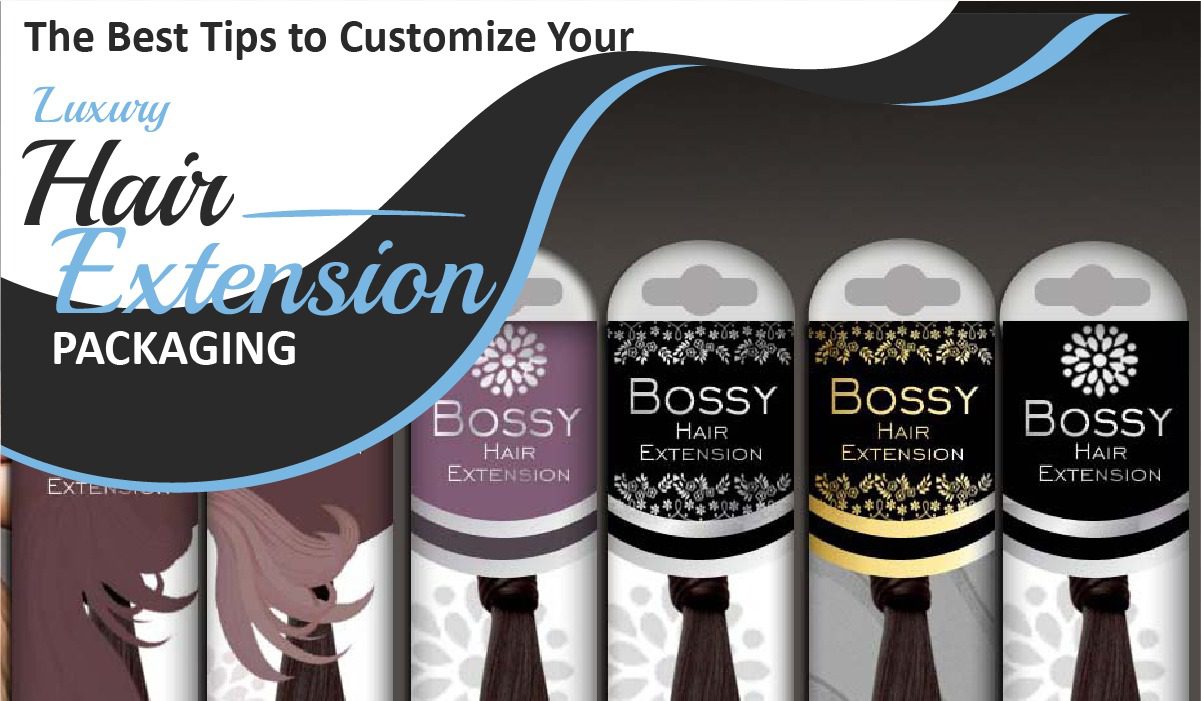 Without any doubt, having appealing packaging delivering your exclusive hair extensions is your responsibility IF you want to win the market. Additionally, you know that this packaging provides various benefits for your business.
So, how about customizing your luxury hair extension packaging with the creative packaging ideas below?
Let's get started!
Turn Your Product Packaging into Your Brand Ambassador
To easily attract customers in the market, the first thing you need to do is make your products and brand more prominent. You can do this by turning your product packaging into your brand ambassador. How can you possibly do this?
By including all your branding elements in your custom hair extension packaging.
So, what to do with the packaging design?
Apply a genuine and authentic brand theme
Match the color of your product packaging with your brand logo
Write down your slogan and provide a part of the brand story to grab more attention
The embossing or debossing technique is perfect to make your brand logo more pop up and visible
When you can turn your product packaging into your brand ambassador, nothing will stop customers from knowing more about your brand.
Choose a Unique Style to Differentiate Your Product Packaging
The unique packaging style is a valuable thing that will draw people's attention to your hair extensions. The best part is that you will be free to choose the packaging style that will suit your business needs.
For instance, you can go for custom hair extension pillow boxes to make your products look trendier. You can also choose a sleeve box style or other great options such as custom hair extension rigid boxes. Keep in mind that a unique packaging style will help you add a high angle to your hair extensions. Eventually, this packaging will make your products look more adorable.
Apply a Luxurious Color Combination
We can never deny the importance and role of color combinations in packaging design. This is why many brands are so focused on color decisions. Choosing the right color combination can make your luxury hair extension packaging with logo look more attractive. We know that some hair extension products come in different colors. In this context, you can customize the packaging accordingly. You should choose a luxurious color combination to make your products look more branded. Then you can combine it with striking images and lively graphics to make your packaging more splendid.
Try the Gift Wrapping Ideas!
The gift wrapping ideas for hair extension packaging will make your products look more beautiful. There are some creative ways to design this amazing gift-like packaging.
For example:
Make your products stand out with the sparkling theme
Apply a lovely hangtag to make customers happier
Tie your product packaging beautifully with an elegant ribbon
Slip in a gift card to your packaging
All the wonderful personalization options you apply will add beauty to your product packaging. Ultimately, a proper and calm color combination can balance the overall look of your products.
How About Applying Holiday Theme to Luxury Hair Extension Packaging?
We know that hair extension products can be amazing gifts, especially for holidays. Whether it is Christmas, New Year, or birthdays, you can present these fashionable products as the best gifts.
As a brand owner, if you are interested in incorporating your holiday theme into luxury hair extension packaging, you can always consult with an expert packaging supplier. A reliable supplier such as Instant Custom Boxes has the most innovative equipment to allow you to print the holiday theme to your luxury hair extension packaging wholesale.
Adding a Unique Window Shape Will Always Be Excellent
Another great idea you can do to make your custom hair extension packaging look more eye-catching is adding a unique window shape. This window provides your product packaging with a great display that you should not skip on.Guess what? You will be free to decide the size of the window according to your products.
A beautiful window shape will surely make your products look more appealing for every eye. Most importantly, you can also customize the window into different shapes you like. For instance, you can go with:
A square shape
An oval shape
A heart shape
Or other custom shapes you need
Do note that no matter what you choose, it needs to be done correctly on your packaging to be truly attractive.
Custom Inserts Make Your Products Lovelier
Custom inserts will help you manage your hair extension products inside the packaging. Eventually, by adding custom inserts, you can make your products look lovelier in customers' eyes.
Remember to Include the Sustainability Features
When it comes to designing custom hair extension boxes with window, you should remember to include sustainability features. Sustainable packaging simply means that your product will be completely environmentally friendly. Yes, you can get peace of mind as this packaging will not pollute or harm the environment.
Yes, there is a big opportunity to help save Mother Earth by creating eco-friendly and sustainable packaging for your hair extensions. The best part? This packaging will make it easier to build a credible image in front of customers.
So, how should you design sustainable packaging for your hair extension products?
Use eco-friendly packaging material such as kraft, paperboard, or cardboard
Measure the exact size of your packaging to avoid the waste
Ask your packaging partner to use eco-friendly ink
Place a custom label on your packaging to inform and encourage customers that your packaging is recyclable
Always Try to Make Your Hair Extension Packaging Durable and Budget-Friendly
Whether you need to deliver your hair extensions to customers or retailers, your packaging will act as a shield during transit. For this reason, your hair extension packaging must be very durable and reusable.
In addition, your product packaging should be designed in a budget-friendly manner. When you customize your packaging, you will be free to decide about the amount of packaging materials. As a result, you can guarantee the most budget-friendly packaging for displaying and delivering your products.
Remember That Product Quality Is IMPORTANT
Even if you have the most beautiful and custom luxury hair extension packaging, customers will still be disappointed if you provide a poor-quality product. Indeed, you should never neglect to maintain the quality of your hair extension products.
Again, make sure to choose durable packaging that keeps your products safe during tough shipping. In this case, you need premium packaging material with the finest quality. In other words, you should never try to make any compromise when it comes to protecting your products. After all, product return will only leave a bad image for your brand.
In Summary
Without any doubt, we will find many reasons why you should customize your product packaging. Not only will customized packaging make your products look exclusive. Better yet, specially designed luxury hair extension packaging will be an ideal tool to help you win the market more easily. So if you are ready to set milestones in the market, you can rely on Instant Custom Boxes to design eye-catching packaging!