When it comes to designing the most appealing custom packaging, you can never ignore the color models. The color models used to print your product packaging will influence the result. There might be various options you will find in this regard. Yet, RGB and CMYK are two popular color models for many brands. But which is better for custom packaging? Speaking of RGB vs CMYK, there are many things we need to consider. What are they? Let's explore more!
A Brief About CMYK Vs RGB Printing
CMYK and RGB are the two most commonly used color models or spaces in graphic design. Of course, we can never deny that both these color models come with their own advantages. However, of course, each model is suitable for different types of projects.
It is essential to understand the differences between the two models so that you can choose the one that works best for your design.
For example, when designing new boxes, such as custom rigid boxes, you often have the option of using either RGB or CMYK color models. For digital display-only projects, RGB will be the right option. This color model offers "natural" colors for pixel-based displays.
On the other hand, when designing a project for printing, you should go with CMYK color models. Even though you might need additional steps or are not very familiar with their usage. Why? This is because all printers, from inexpensive home inkjet printers to professional or digital printers to offset printers, use CMYK color models. This option works perfectly to print images on paper. This feature makes CMYK come up to be the favorite amongst many brands from different industries.
RGB vs CMYK
Now let's define each color model according to its specifications.
What Is RGB Color Model?
In brief, RGB itself stands for Red Green Blue. The usage of different combinations of these three colors is to use additive light to form other colors. In simple words, RGB is considered an additive color model. This model can perfectly work on your computer or television screen.
CMYK Color Model
You might have known CMYK as a "subtraction" color profile. This is because each ink removes primary color light from the white light it hits.
The formula in the CMYK model is included:
The Cyan ink represents green and blue light color models; but not red shade
The Magenta ink represents blue and red light color models; but not green shade
The Yellow ink represents red and green light color models; but not blue shade
To use this model, you can start with white paper that reflects each color of light. Then, the next step you should do is use cyan, magenta, and yellow inks. These inks will help you subtract the light of a particular color to get a wide color gamut.
In theory, we can fairly say that combining these cyan, magenta, and yellow inks will produce black ink. Yet, since the inks do not exactly match the RGB vision, you should add a black ink (Key) that does not reflect light and more. This will help you create dark tones and achieve more accurate black tones.
CMYK Vs RGB Printing – The Design Method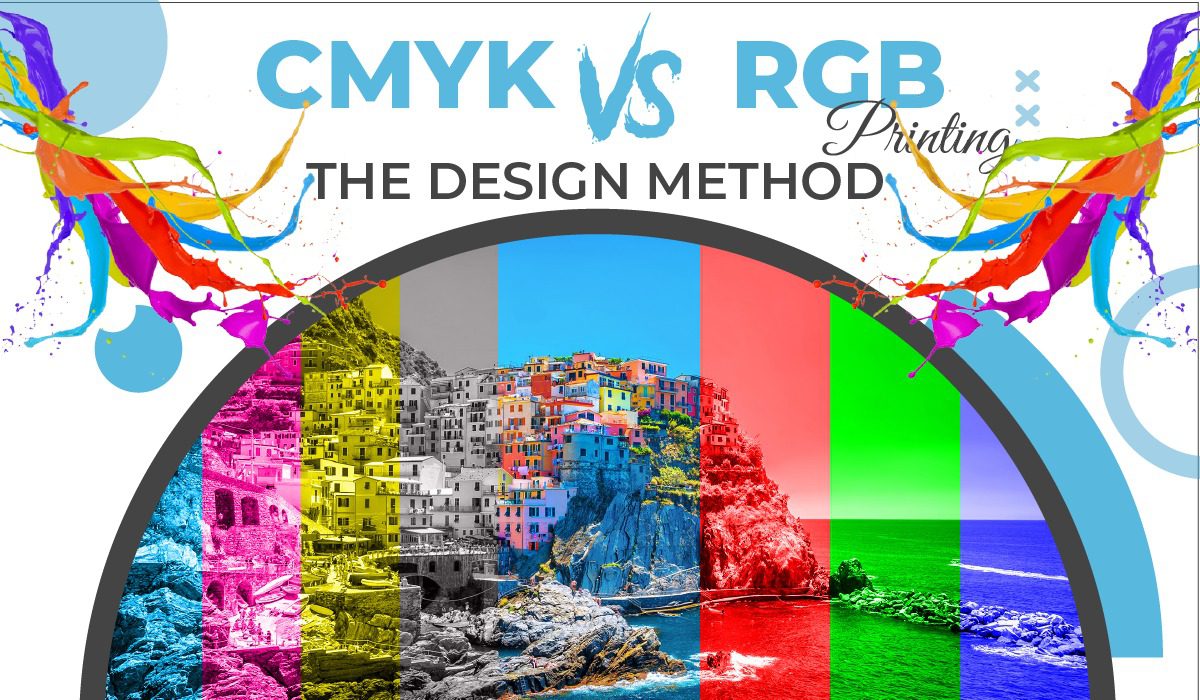 To start printing the projects, you need to understand:
The differences between these two color models
How do the design tools handle these differences?
The limitations of creating another spectrum in one spectrum
Modern apps and printers that convert RGB screens transparently handle most of these issues. Additionally, you can eventually convert the file information to CMYK print values ​​according to your need and requirements. This feature makes it easier for both home and business users to use this color model. However, it can be a trap for careless print designers.
When designing custom packaging or commercial printing, the RGB on the screen may not be transferred correctly to the material. Why? Because the printing is CMYK in nature. As a result, the colors might shift, or the image may not be processed correctly on the surface.
Some printing service providers do not read colors. This is where you will need extra work to prepare the file for printing. Or else, because the system knows the translations it applies, RGB images and colors, it will not accept print files containing the definition. In the end, you might not always get acceptable print results.
In other words, there is one simple rule you should keep in mind here. When designing for printing, you should design your project in CMYK colors. You can't lay it out in RGB and send it with good results, whether it's from a laser printer under the hall or from a commercial printer. It is completely up to you to complete the steps to define images and colors directly in the app. Then, you can print the file sent and convert them to CMYK.
RGB Vs CMYK – How to Operate the Color Profile?
Now that you know the features and difference between CMYK and RGB color models, you might have one big question in your mind. What is the best one to choose?
Let's dive further!
If you need to create a print-only piece like the flyers and printed programs, it will probably be best to start with CMYK and stay there. Why? Because your work will never be displayed on your computer screen by anyone other than you.
On the other hand, if you are mainly working on digital media (such as webcomics), working with CMYK can actually limit the colors you can use. This can eventually be more restrictive for most developers. In this case, the best strategy is often to work in RGB, convert the file to CMYK before printing, and then adjust the shifted colors in unnecessary ways.
Yes, unfortunately, you can't physically display RGB colors as you want by using the CMYK values. However, if you can display colors as you want in CMYK mode, you will have a much better idea. The end result will be what the printed product actually looks like.
CMYK Vs RGB Printing – What Are the Benefits of Printing Your Custom Packaging?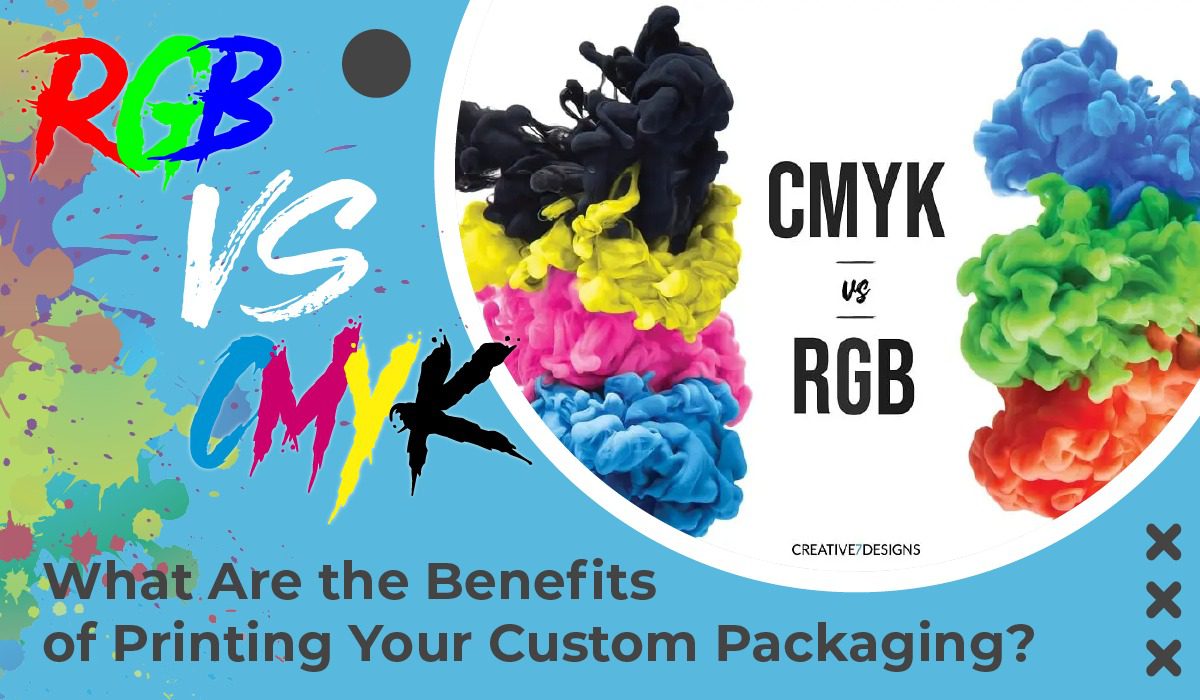 Yes, what are the benefits of printing your packaging? Wouldn't it be enough to pack your products in standard packaging? Well, there are various reasons to print your custom packaging correctly.
The Printing Style Makes Your Product Look Branded
Customers love to purchase branded products everywhere. The unique printing style on your packaging can make your product look more branded amongst thousands. Modern printing style enables you to print all the detailed product descriptions. More than that, you will get the chance to explore your creativity by printing lively graphics and images. Plus, you can also make your packaging look more captivating with vibrant colors.
The Printing Style Makes Your Product and Brand Visible
Now we know that customers can easily find thousands of products available in any retail store. In this scenario, what should you do to make your product visible and highlight it on the shelves? What is the best you can do to make your customers familiar and recognize your brand?
The printing style will be your savior at this point. A unique printing style will surely help you make your product and brand more visible in the market. Yes, printing your brand's authentic design on the packaging will let you highlight your product on the shelves. Eventually, printing your brand logo will make it easier for customers to be familiar with your business. This effort will eventually give you a competitive edge over others competitors.
The Printing Style Reflects the Product Quality
Premium packaging reflects the excellent quality of your product inside. Printing style will be your best tool to make your product packaging look more premium. Printing your contact details and brand logo on the packaging makes it easier for customers to reach you.
Even better, the printing style on your packaging will make your customers trust your brand and see it as a reliable business. After all, we all love to purchase any product from a reliable brand. So, why don't you show those customers how reliable your brand is?
Printing your packaging professionally encourages them to share your products and recommend your brand to others. As a result, you can expect to see a boost in your sales and an improvement in your customer base. Well, the benefits are some things you can never ignore!
In Summary
In summary, when it comes to designing an on-screen digital display, you can stick to the comfortable, familiar, and appropriate RGB color model. This model is famous as all applications use it by default. On the other hand, when it comes to creating PDFs or other print files for offset printing, you should use, convert, and learn the process of (CMYK).
At the end of the day, printing style on custom packaging can give a competitive edge to your business. Thus, it is definitely worth trying! You can rely on Instant Custom Boxes to print your custom packaging perfectly.
So, RGB vs CMYK? The option is yours to decide!