Well-designed custom cereal boxes improve the customer experience and get them to purchase more. Find creative tips to create your own boxes in this post!
The grocery stores are overcrowded with thousands of cereal brands. Nevertheless, more and more new brands are entering the competition. The reason is obvious; the cereal market is profitable for each brand. Considering thousands of new and famous brands competing in this competitive market industry, you know that you need to be different with your healthy cereals. However, as a brand owner, this thing should not be a headache for you either. All you need to do is put your healthy cereals in attractive packaging boxes. Well, why don't you start creating your own custom cereal boxes with your branding style then?
How Does Kraft Cereal Boxes Help You Catch More Customers?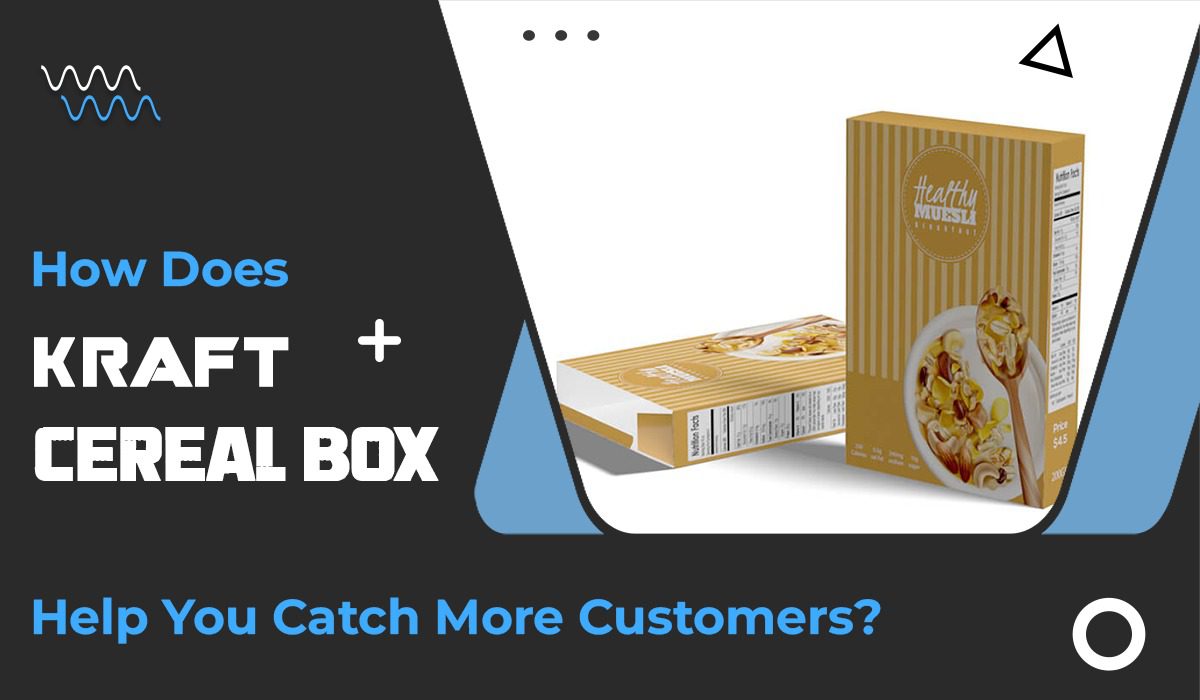 As a brand owner, you know that customer experience is at the core of your business's success. Customer experience can be seen in many factors, from customer service to the quality of healthy cereals. Another important aspect is, of course, your packaging box. The way you package and serve delicious cereal can add rhythm to your entire business.
A strong and authentic design for the Kraft cereal box will help create an emotional connection with your target customers. This way, you will keep those customers coming back for more. Yes, your product packaging can be the "gateway" to facilitate customers' purchasing decisions. Eventually, you can provide a better customer experience by designing the right box that can influence how your customers feel about your healthy cereals.
So, let's check out the factors that can help influence the customer experience including:
Innovative visual cues to catch more eyes
Beautiful brand colors to highlight your business
Properly printed images and graphics to promote your healthy cereals
A well-designed brand logo
In short, well-designed packaging can improve the customer experience and get them to purchase more. In the end, of course, it will lead to more sales for your business to get!
Let's Make a Big Difference with Your Custom Cereal Boxes!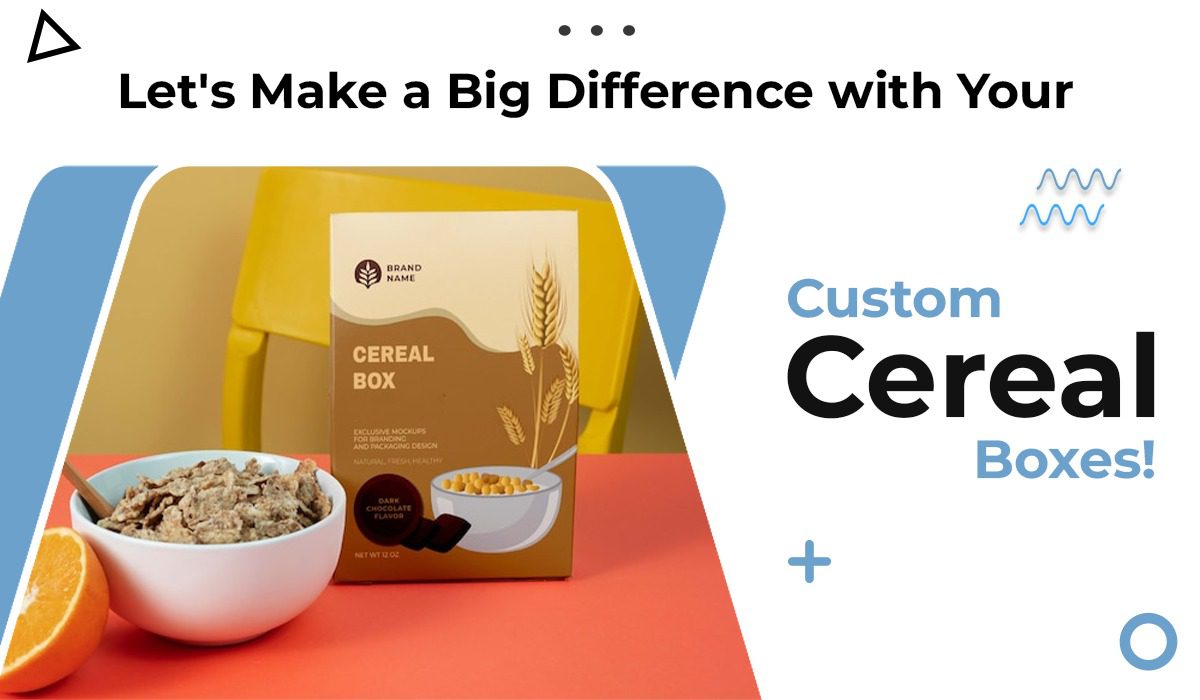 Indeed, we can never deny the fact that cereals end up being the most popular breakfast item worldwide. People of all ages really enjoy these healthy breakfasts. This huge market demand also attracts more brands to try their expertise in this area.
Several new brands emerge daily to bring grain products to the market. Therefore, the market shelves are always flooded with cereals of various brands. In this particular scenario, we know that your cereals need to be different in order to grab attention. Sounds difficult? Not really… All you have to do is be creative and make a big difference with your custom cereal boxes! How? Let's start designing!
Consider Using Sustainable Kraft Cereal Box
We can see that customers are becoming more environmentally conscious about products and packaging in modern society. If you want to appeal to this target audience, you should switch your packaging to a sustainable custom Kraft cereal box.
Using the Kraft packaging material will let you eliminate the need for a plastic inner bag in your product packaging.
Apply Bright Color Combinations and Combine Them with Eye-Catching Images
To make a big difference, you need to make sure your product branding is consistent across all of your packaging boxes. This way, you can ensure customers that they are getting the same quality of healthy cereals every time they consume them.
To do this, you need to use clear, simple branding and special messaging to help your customers "win fast."
For example, you can print a unique and striking brand logo. Plus, you can also draw some relevant images on the boxes. Customers who see your stunning logo will recognize your brand as soon as they pull your custom design printed cereal boxes off the store shelf.
Add a Personal Touch to Your Packaging Design Is Smart!
Adding your personal touch to your packaging design can create a memorable experience. This experience will leave customers wanting more of your delicious cereals. To do this, you will first need to identify your customer base market.
For example:
When selling cereals for children
For this type of target audience, you should use large fonts, bright colors, and custom patterns to attract customers. In addition, you should not forget to add cartoon characters and games to make your packaging design more fun.
Most children love to enjoy a cereal-filled breakfast. Plus, they will be even more excited when they can answer a silly trivia quiz about their favorite cartoon characters. Yes, for them, breakfast is to be enjoyed. Also, keep in mind that your packaging design should not be overly complex. Instead, keep your design simple and legible.
Know the Market Trends Is a MUST!
When it comes to creating custom printed cereal boxes with your logo, you must know the ongoing market trends.
This simply means that you should know and understand about the things below:
The trending designs that most cereal brands apply to their product packaging boxes
The packaging style that customers would love to see when searching for cereals
The ways other cereal brands highlight their brand names on the boxes
And so on
By getting to know the market trends better, grabbing maximum attention will only be a piece of cake.
Understand Your Brand's Unique Identity Better Than Anyone
Yes, when it comes to designing unique boxes for your delicious cereals, you need to apply your branding strategy well. After knowing more about your target audience and the market trends, you must also understand your brand's identity better than anyone else. Well, you don't need to follow those trends if you think they will not suit your brand identity in packaging design.
So, the solution is, when creating your Kraft cereal box, try to answer the following questions yourself:
How do you describe your cereal brand to the market customers properly?
What expectations do you think those market customers have from your cereals?
What type of image do you want those market customers to get when they see or hear about your brand in the market?
Don't forget to include all your branding elements when designing your product packaging. All of your branding elements are essential to bring your brand name perfectly into this competitive cereal market industry.
Now wait, do you know how to present your branding elements through your custom cereal boxes properly?
Apply your authentic brand-oriented design ideally on the boxes
Combine and matching the color of your packaging boxes with the color of your logo perfectly
Remember to write all the contact details, brand story, slogan, and logo of your brand on the design
After all, you know that you are the one who knows best about your business. Thus, you can perfectly represent your brand image when you design your own boxes.
Make Your Custom Boxes Impressive and Attractive
Keep in mind that your custom boxes should not be boring at all. In fact, you should make your custom boxes look impressive and attractive. So how can you possibly do this?
Impressive here means that you should write down all the important details your customers want to know about your cereals. Yet, that doesn't mean your boxes should look dull and average either.
Instead, you can try to do the followings:
Use trendy and legible fonts to provide all your product descriptions
Apply the latest graphics and images to suit your healthy cereals inside
Design your boxes with unique styles and shapes
When you customize your boxes, you will be free to decide how they will look. This also means that you can apply your creativity to any part of the boxes. Sounds good, isn't it?
In simple words, there is no restriction to expressing your creativity here. Instead, you should feel free and apply your branding elements properly on your boxes. Yes, captivating those eyes will let you grab more sales!
Wrapping Up
If you can present your delicious cereals on the most attractive display, you can immediately increase your sales. For this, you can eventually create your own custom cereal boxes with your brand-new concepts and creativity. Many cereal brands have tried this method and grabbed more benefits from their cereals. So, are you also interested in designing your own custom boxes? If you are, contact Instant Custom Boxes to get the most exclusive boxes for your cereals today!