To sell your sweet macarons properly, you will need outstanding macaron boxes wholesale. Find creative tips and tricks to design your boxes in this post!
It is undeniable that even today, there are people who judge a product by its appearance. No matter what product you want to sell to the market, how it looks in customers' eyes is important. Your product packaging provides a product appearance. For better or worse, your packaging plays an important role here. Speaking of bakery items, macarons come up as one of the best-seller ones. To sell them properly, you will need outstanding boxes. To make this easier, below are creative tips and tricks to design your custom macaron boxes wholesale appealingly!
Macaron Packaging Wholesale – Why Is It So Important?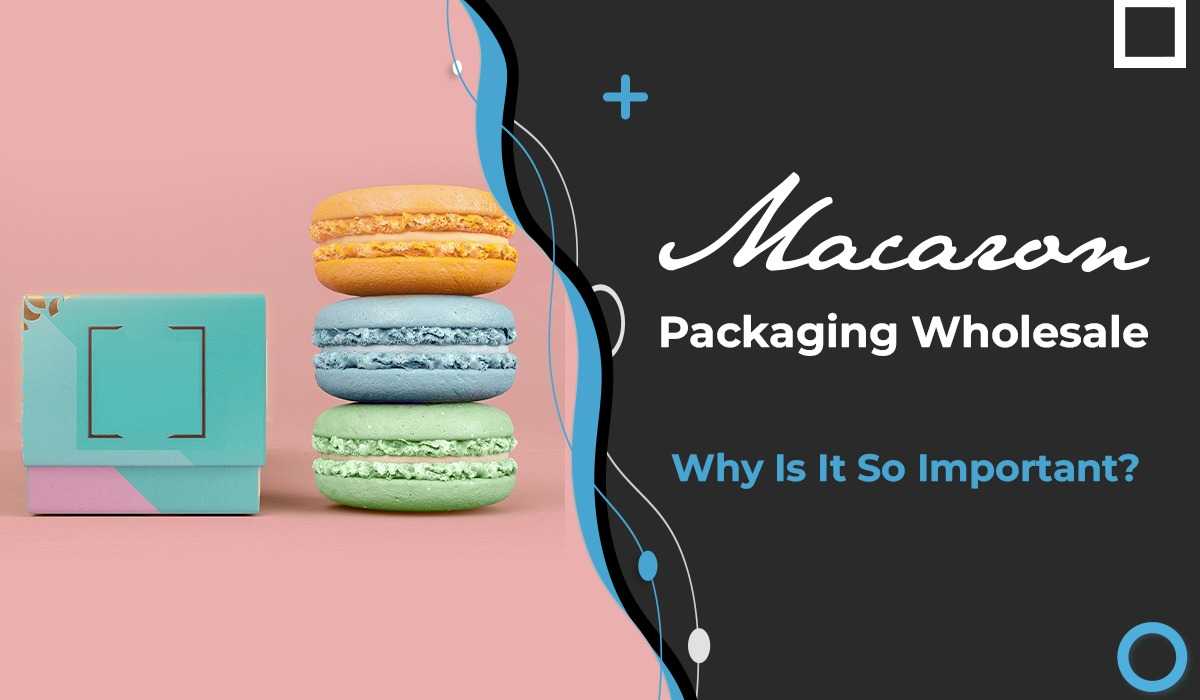 Simply put, your product packaging is a key factor in determining your brand's first impression. In addition, your macaron packaging wholesale influences how you will be able to attract new customers while retaining the existing ones.
Yet, there are more reasons that make this packaging important for your brand to have. What are they? Read on!
Influences Your Brand Awareness
We must admit that the first thing customers see when they receive your macarons is the product packaging. For this reason, having quality packaging presenting your macaron items can ultimately have a huge impact on your brand awareness.
More people will be attracted to your items when you deliver your sweet macarons to customers in appealing packaging. Additionally, printing your brand logo on the packaging will help you improve your brand awareness.
Helps You Deliver a Memorable Customer Experience
Even after they receive your macarons, your customers will still use your packaging to place them inside. In this scenario, they will admire your brand if your packaging design is visually appealing, informative, and compelling.
On the other hand, if your product packaging is ugly, customers will not be happy to receive your macarons at their doorstep. This happens the same when customers see your macarons on the shelves. In short, we can fairly say that your product packaging plays an important role in delivering a memorable experience for customers. Thus this is something your bakery brand should never ignore.
Your Product Packaging Influences Customers' Purchasing Decisions
Like it or not, it is your product packaging that influences your customers. Whether or not they will purchase your macarons depends on the display of your product packaging. This is why your packaging should match the contents of your macarons when they see them on the store shelves.
In the worst-case scenario, poor and boring packaging will only cost you money in the long run. Instead, having the most appealing Custom digital printed macaron boxes is one of the best ways to ensure your macarons fly off the shelf faster.
Here Are Tips and Tricks to Design Attractive Macaron Boxes Wholesale!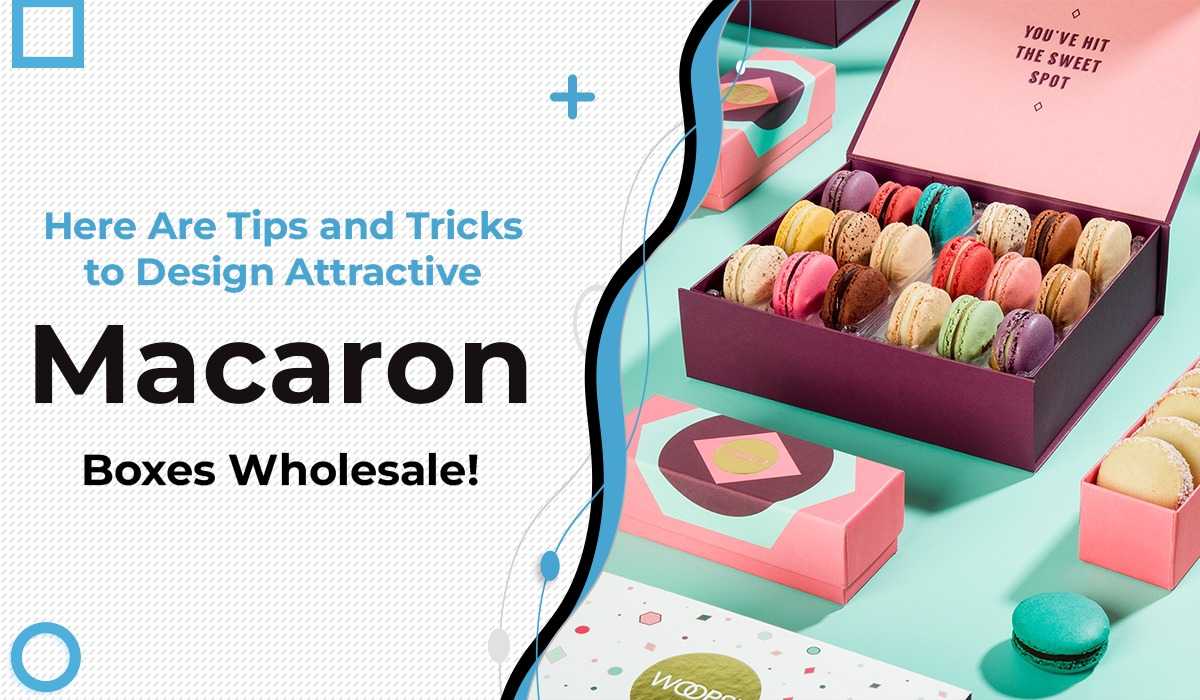 Running a bakery business requires you to know the importance of packing your items smartly and attractively. Additionally, your packaging boxes should match consistently with your brand image. So, let's break down some creative tips and tricks to design attractive macaron boxes wholesale!
Make Your Packaging Design On-Brand
The first and most important thing you need to do is ensure that your packaging design will be "on-brand." Now what is the definition of "on-brand" here?
This simply means that your packaging should:
Have the same color scheme or visual aesthetic as your macaron items inside along with your brand identity
Have a matching color with your brand logo and other materials of your brand
Fit your brand's core mission and unique identity
Now let's make an example that you are offering your sweet macarons in eco-friendly custom kraft biodegradable macaron boxes. In this regard, being "green" is the main part of your brand's identity. Of course, sending your macaron items in a huge packaging box containing a lot of plastic waste will be uncomfortable.
In simple words, you have to consider your brand identity here. You also need to consider what that means for your target customers. This way, you can then develop the best packaging solution that fits your brand's unique identity.
Some other important notes you need to consider are:
Your typography style
The relevant visual graphics
The right combination of colors
Most importantly, you should also consider other visual aspects that already define your brand identity currently. These aspects should then be applied when designing the boxes for your delicious macarons.
Always Prioritize to Deliver a Positive Customer Experience
You can actually take a good marketing approach when designing the boxes for your sweet macarons. Yes, you can do this by prioritizing to provide a positive customer experience with your bakery brand.
So, how should you do that?
By communicating directly to your customers through your packaging boxes. After all, you know that your packaging boxes offer a lot of space that you can use to address your target customers directly.
For example, you can provide essential details such as:
Describe your business goals or state your brand mission
The health benefits your macarons bring to your customers
A warm message as a lovely gesture to greet your customers
Express Your Gratitude to Your Customers
One of the easiest ways to build customer loyalty is to show your beloved customers how much you appreciate them. The good thing is that you can do this easily by designing your bespoke boxes appealingly.
Honesty Always Works to Help You Get More Customers
When deciding how to design your macaron boxes wholesale, remember that honesty is the main key to attracting more customers. Today, we can see customers left vulnerable to signs of brand counterfeiting.
Therefore, in order not to disappoint your customers, your packaging design should prevent:
Exaggerate your items or present a whole false fact
Present your macarons as something else, such as providing false images of your items
By being honest and transparent with your market customers, they will trust your bakery brand over others. As a result, they will always come back to you whenever they crave delightful macarons.
Essential Things to Consider When Designing Your Boxes 
Your custom macaron boxes in bulk should be very attractive and compelling to sell your macarons higher. To do this, you should consider some essential things. What are they? Keep on reading!
The Color Scheme
First and foremost, deciding on the color scheme for your boxes is important. You must know that color can eventually serve as a visual communicator. For example, red represents excitement with the meaning of passion and love. On the other hand, green reminds your customers of nature. Also note that color design elements can be a differentiator from your competitors in the same target market.
The Structural Layout
Another important factor to consider is the structural layout of your boxes. For example, make sure your boxes will be easy to open. Complicated packaging can ruin the excitement of customers purchasing any bakery item in your store.
Add More Information Related to the Shipping
Without your knowledge, you can use your packaging boxes to reveal all the details. For example, you can promote your macarons better by offering all the health benefits.
When it comes to shipping your delicate macarons, you may need to include important information on your boxes, such as:
A custom label for careful handling of your delicate macarons
Some guidelines to help customers in storing your macarons
Whatever information you need to provide, make it detailed, easy to find, and of course, easy to read.
Sustainable Packaging Is Perfect for Your Bakery Items
Do you know that switching to sustainable packaging can greatly benefit your brand and attract more customers?
Yes, sustainable packaging is great for presenting and selling your bakery items such as macarons. After all, we know that the packaging made from materials such as biodegradable cardboard and kraft paper is superior to plastic packaging. Most importantly, having sustainable packaging wrapping your macarons will make your brand more reliable in customers' eyes.
Today, we know that customers will pay more to get eco-friendly products. So, why wouldn't you use sustainable packaging to convince them to purchase your macaron items?
End Note
Undoubtedly, the way you pack and present your macaron items can have a huge impact on how many customers are willing to buy your items. In addition, it also influences what they actually expect from your items. Ultimately, it affects how long your brand stays in customers' minds. Thus, we can say that having eye-catching and attractive product packaging boxes is always a smart marketing idea.
Above, we have revealed some creative tips and tricks to help you design appealing macaron boxes wholesale. If you like to work with an expert to design your boxes, contact Instant Custom Boxes today.
Good luck with your design!