Soap is a lovely creation that we can use to express our feelings and passions. By combining the sensational fragrance and essential oils, making soap is just something that can inspire anyone, including me.
As I made my homemade soaps and admired the beauty of each soap, some things caught my mind. What if I could make a lovelier display for my homemade soaps? If I could present my soaps attractively, then I could proudly sell them to the world. Well, this is when I realized that how I pack my homemade soap for sale can influence the perception of everyone who sees it. And this is the time when some ideas for packaging homemade soap come across my mind. Let's get started, shall we?
What Should You Package Homemade Soap in?
And how to package homemade soap for selling nicely? You will love it when I say that the possibilities are practically endless!
In fact, it is a lot easier than you might think!
For sure, there's no perfect fail-proof packaging for homemade soap ideas. Sometimes, you might go through some errors because packaging and labels for homemade soap end up being an art these days.
So, in brief, the choice of your homemade soap men's packaging, or women's is entirely up to you. Definitely, if you want to sell your homemade soap, you should think of something cost-effective. What's more, if you make a lot of soaps, you will want something simple and easy to duplicate.
On the other hand, if you want to present your homemade soaps as gifts a few times a year, you surely want to spend more time on the end result.
Whatever your purpose is, you should let your creativity run free and have fun with it. Sometimes, speaking of how to design custom homemade soap packaging, the process is as fun as making the soap. Plus, there is no "SHOULD" or "MUST" thing when it comes to packaging soap. Why?
Because, in the end, everyone has different scenes, different weathers, and different timing situations. So, all you need to do is be your best judgment and select what works best for you.
However, we must say that there are limitless options you can get like muslin bags, scrapbook paper, kraft paper, twine, and the list just keeps on continuing!
What Is the Best Packaging for Homemade Soap?
First of all, you might be wondering if there's any best of the best homemade soap packaging box. As you might have known, there are plenty of ways to package homemade soap. We can mention here from shrink wrap to muslin bags and kraft pillow boxes, there are various options when it comes to knowing how to package homemade soap products.
But let's start with the basic one!
What Kind of Paper Will Be Perfect for Homemade Bar Soap Packaging?
You might be surprised to know, but the most popular choice is scrapbook paper. Yes, you read it right! You can have prints or colorful papers to fit different styles of soaps. The best part is that this type of paper is very much cost-efficient!
Or else, you can also choose recycled or natural linen paper. Well, you can stamp or embellish this paper to personalize it. But if you want to go for a practical yet beautiful option, your best bet is kraft paper. Without any doubt, kraft is the most ideal option for designing eco-friendly homemade soap packaging. Additionally also explores the importance of custom soap boxes.
Unique Package Ideas for Homemade Soap
So, how to design packaging for homemade soap that will sell your soap more?
It all depends on your creativity!
Have a look at some options to inspire you below!
Vintage Paper Wrap
Old is always gold. You will love this vintage paper wrap idea. You can print some amazing vintage images to wrap up your soaps. Then, you can simply tie them to a garden string. Well, this can be the best homemade soap packaging for stores!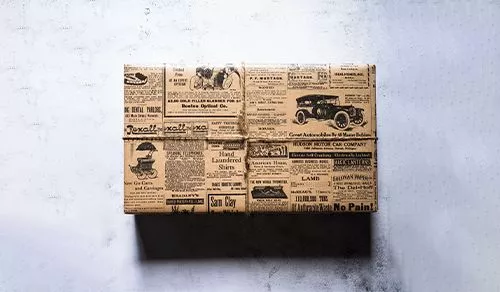 Personalized Biodegradable Gift Box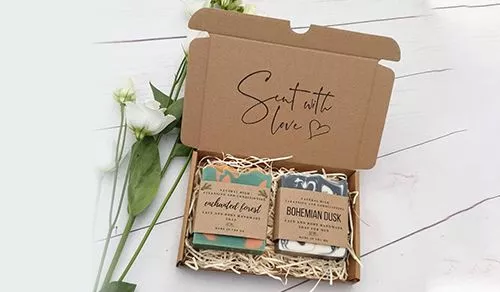 Let's not forget to be eco-friendly. This packaging idea is about making your packaging like a gift box. Better yet, you can personalize this beautiful box with a wooden monogram letter tied for a classy, elegant look. Also, you can add a perfect bow to present your homemade soaps at weddings or a bridal shower gift.
Stacked Your Homemade Soaps in a Beautiful Tray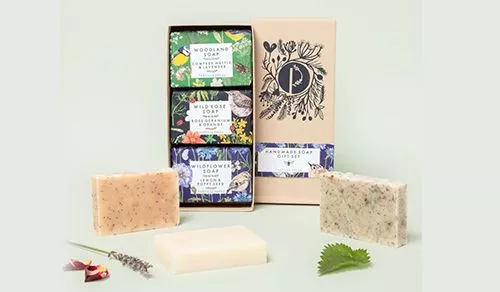 Do you have multiple homemade soaps you want to give, and do you want to package them together? Well, speaking of how to make homemade soap packaging, you can stack some soap in a soap dish. Then, you can simply tie it all together with twine. Trust me, you can create this beautiful look in minutes even if you're rushed on time. The best part? This packaging idea is perfect for any soap size or shape!
Try Out Ribbon Wrapped Soap on a Tray
Handmade soaps can be very beautiful gifts that show you have put time, effort, and care into creating something special. In this context, personalizing the scents, colors, and your homemade soap packaging supplies will help you showcase a handmade gift. Well, this idea is about gift soaps on a soap tray wrapped in raw chiffon ribbon. Lovely isn't it?
Colorful Gift Packaging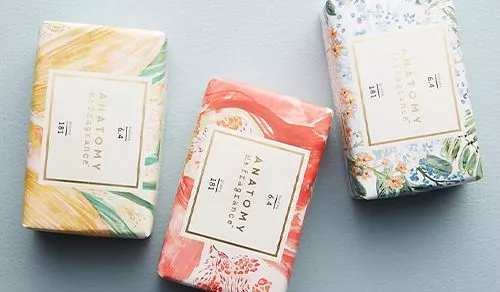 Yes, how to package homemade soap for gifts?
You can try reusing your jewelry box and shredding some paper for this sustainable packaging idea. Yes, it is that simple!
Wrap Your Homemade Soap with Patterned Paper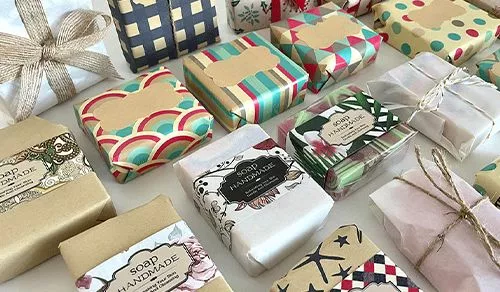 We all know that your packaging can be just as important as the gift itself. But wait, it doesn't mean that your packaging has to be complicated. Instead, you can simply dress your homemade soap up with patterned paper. Yes, you can use the paper as a band around the soap bar. Believe it or not, it works best if your soap doesn't have a textured top because you will get a clean and even wrap.
Don't Forget Those Simple Glassine Bags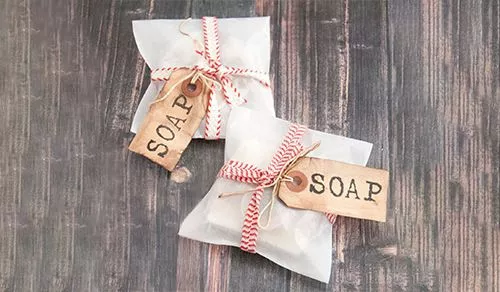 If your handmade soaps come with a beautiful design, like these honeycomb-shaped soaps, why don't you show them off?
Yes, you can slip one inside a small, transparent glassine wax paper bag. This idea will give you an elegant, eco-friendly look for your homemade soap.
Go with Custom Labels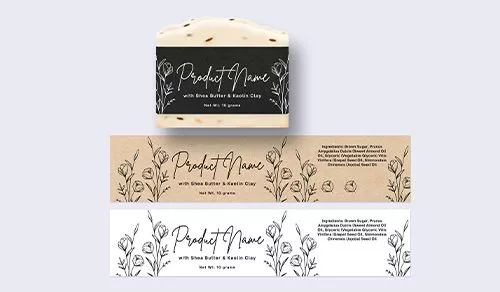 If you wish to design luxury soap boxes, you will love the idea of free printable labels. Whether you are looking to keep track of what soaps you have in stock or just want to make it easier for who you are gifting, custom labels will help you out. Better yet, these easy-to-use printable labels are ideal for any soap occasion you have.
Clear Soap Bags along with Washi Tape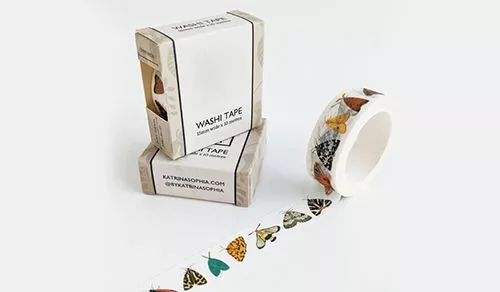 Now imagine the gorgeous pastel purple color highlighting lavender's delicate buds in your homemade lemon lavender soap bars. Well, it is just too irresistible to put in a box, isn't it?
As an alternative, you can simply slip them into clear soap bags. Then, you should fold each closed and secure the bags with butterfly print washi tape. Lovely and wonderful!
Wrap Your Homemade Soaps with Fresh Herbs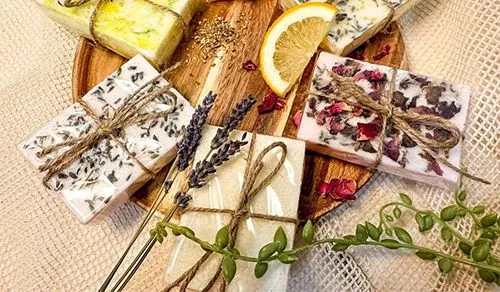 Another idea you can do is wrap your freshly made soap bars in brown wrapping paper. Remember that you should wrap it individually with some twine. Then, you can add a sprig of fresh rosemary or another herb, just perfect when you are thinking about how to package homemade rose soaps. For other wonderful options, you should consider lavender, mint, or thyme too! In the end, this idea will be a great way to let your soap ingredients shine! Want to read a blog about 4 stunning soap packaging ideas then click here!
How About Homemade Laundry Soap Packaging?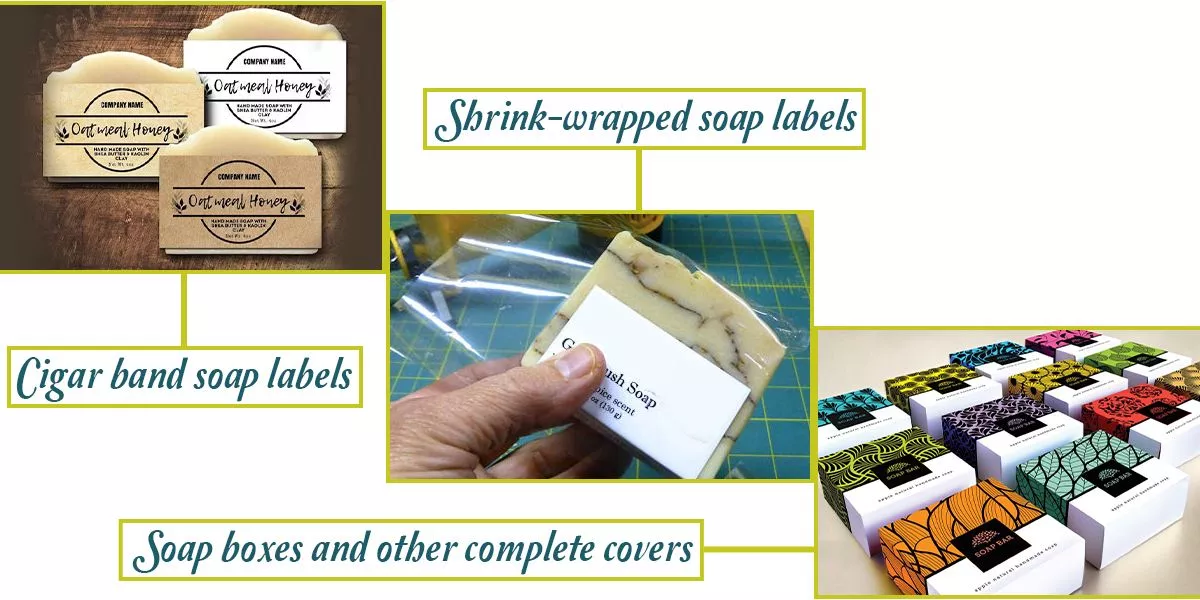 Don't worry, there are also some attractive and effective ways to design the packaging for your homemade laundry soap!
Here are some ideas you can try out!
This is a simple piece of cardstock with the name of your soap and ingredient information on it, wrapped around the soap either horizontally or vertically.
Shrink-wrapped soap labels
Shrink wrapping provides a clean, well-protected covering for your soap.
Soap boxes and other complete covers
Dropping your homemade laundry soap in an appropriately sized box is one easy way to package it. In addition, you can also use a custom box with a die-cut cutout in it. Trust me, this box will look professional. Plus, you can consider giving a little window onto the soap so that customers can see its color.
Which Packaging Idea Is the Best?
When it comes to choosing the best packaging idea, it completely depends on your needs and preferences. In simple words, it depends on how you want your homemade soap to look like. If you are still getting confused about which idea to choose, you can work with professionals in packaging!
Happy packaging!